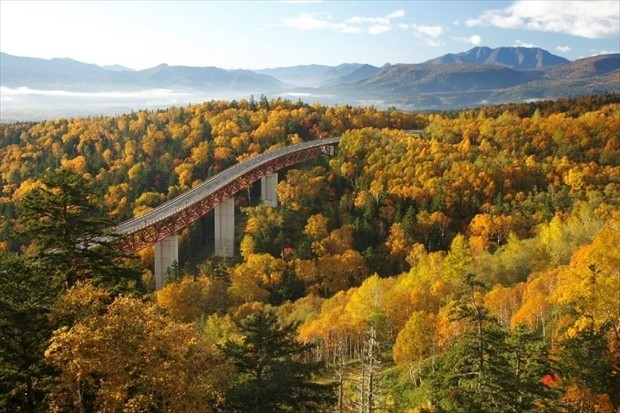 Hokkaido is extremely cold and autumn also comes earliest here in Japan.
In this article, we have summarized must-see attractions and events during the autumn season in October.
We provide a lot of information related to the autumn leaves (which changes colors the earliest in Japan), special events, and points of interest in October in Hokkaido!
For your reference, we also introduce the best type of clothing that suits Hokkaido's temperature and weather in October.

<table of contents>
1.Highlights of Hokkaido to Visit in October
・Tokachidake Bogakudai
・Onneto
・Mikunitoge Pass
・Daisetsuzan・Sounkyo
・Coral Grass in Notoroko
2.Hokkaido Special Events in October!
・Sapporo Autumn Fest 2015
・Akanko Marimo Festival・Senbon Taimatsu・Iomante Fire Festival
3.Hokkaido Local Specialties to Eat in October!
・Salmon Roe・Autumn Salmon
・Shishamo Smelt
4. Hokkaido Weather and Temperature in October.
5. Appropriate Clothing for Hokkaido in October.
Summary
1. Hightlights of Hokkaido to Visit in October
・Mt.Tokachi Obeservatory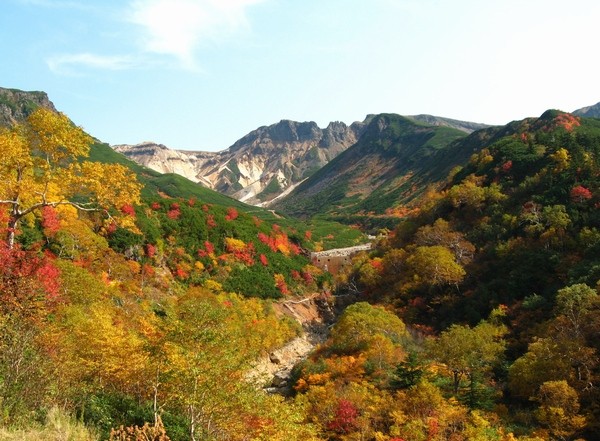 Tokachidake Bogakudai is located about 5km(≒3.1miles) from Biei-cho Shirogane.
It provides a beautiful panoramic view of Biei and Furano from an altitude of 930m(≒3051ft).
On a clear day, you can see Mount Shokanbetsu in the distance.
This is a place where you can enjoy the scenery of the majestic Tokachidake mountain range.
The autumn leaves season starts from late September to early October.
One of the best places to view the autumn leaves is the Tokachi district, where you can enjoy a vast amount of autumn leaves on foot.
Every year, many tourists come to see the autumn leaves.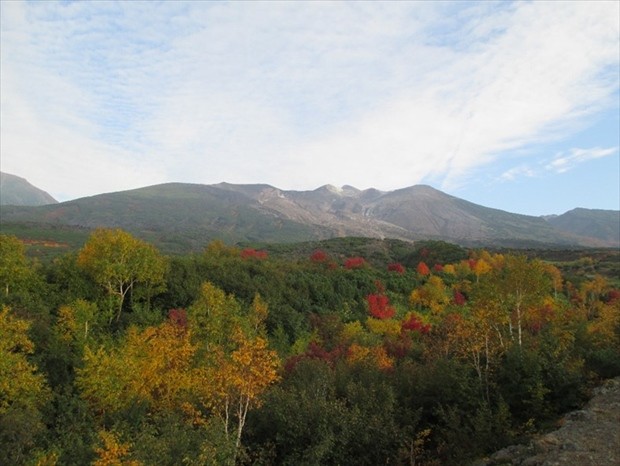 There is a walking trail around Tokachidake Bogakudai, so you can enjoy autumn while taking a relaxing walk. The air is also clear and refreshing!
Tokachidake is the source of the water for Shirogane Onsen, and it sometimes gives off volcanic gas.
It is a sobering place to experience nature.
While you're here, try to visit some of the surrounding sightseeing spots such as the 'Blue Pond.'
<Tourism Informarion:Mt.Tokachi Obeservatory>
Address:Shirogane
Kamikawagun Bieicho, Hokkaido
071-0235 Japan
Tel:0166-92-4378(Town of Biei Tourism Association)
・Lake Onnetō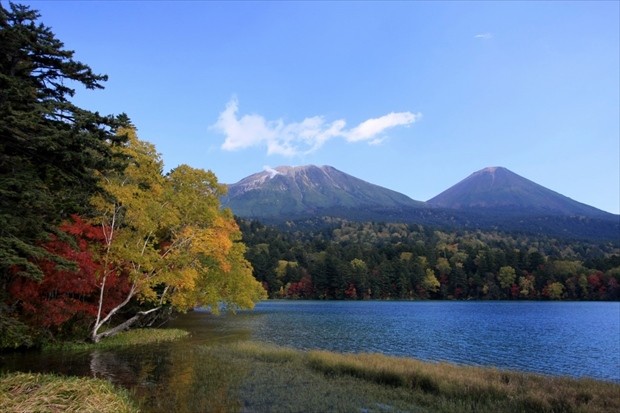 Lake Onneto is in Akan National Park, where you can feel the changing four seasons.
This location is popular for its 'unexplored lake' that changes between five different colors.
The autumn leaves season here starts from late September to early October. T
Here are mainly maple and birch autumn leaves here, and it is the best place to view the autumn leaves in contrast with Lake Onneto's five colors.
The juxtaposition of Akanfuji with the vast forest and the lake provides a glimpse of nature in ancient times. This superb view is impressive.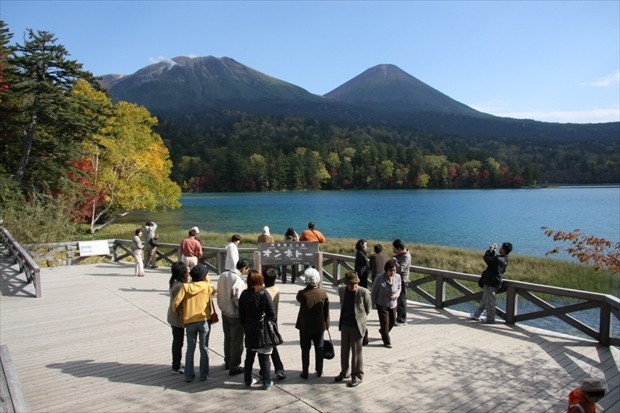 This is the best place to view autumn leaves in eastern Hokkaido, and the best time to see them is from mid-to-late October.
If your visit coincides with the first snow of the season, you can see the snow-capped figure of Akandake in the distance with autumn leaves.
This is an exquisite atmosphere, where you can feel autumn and the coming of winter.
We recommend going to Lake Onneto when the morning air is crystal clear.
<Tourism Information:Lake Onnetō>
Address:Moashoro Ashorogun Ashorocho, Hokkaido
089-3964 Japan
Tel:0156-25-2141
・Mikunitoge Pass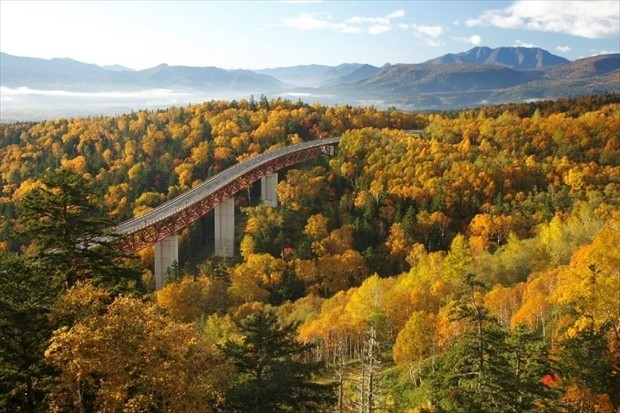 Mikuni Pass is part of Kamishihoro in Hokkaido.
It is the highest mountain pass near the national highway in Hokkaido at an altitude of 1,139m(≒0.7 miles).
Matsumi Bridge, which crosses over a thick forest, is a famous tourist spot in any season.
The autumn leaves season here starts at around the beginning of October.
You can enjoy a drive while watching the superb view in this autumn season!
If you're lucky, you might encounter a sea of clouds! You can take pictures of the scenery from the observatory.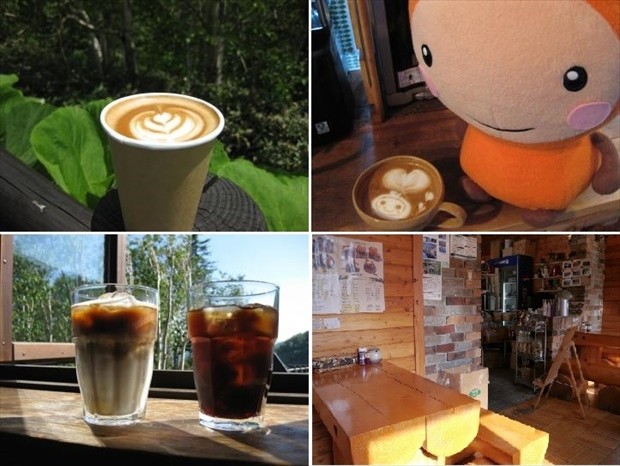 Photo credit by Kamishirohon
We highly recommend Mikuni Pass Café in Mikuni Pass.
You can enjoy a hand-dripped coffee in their chimney hut café on the side of the observation area.
Soft-serve ice cream and lattes are also very popular!
You can also have a meal at this café, so we recommend you to take a rest here after watching the autumn leaves.
Enjoy the superb view below you while drinking a cup of tea at the Mikuni Pass Café!
<Tourism Information:Mikuni Pass・Mikuni Pass café>
Address:Bangaichi、Mimata, Kamishihoro-cho, Hokkaido
Tel:01564-2-2111(Kamishihoro Office)
Opening Terms:Late in April – Late in October
Opening Hours:8:30-16:30
・Sounkyo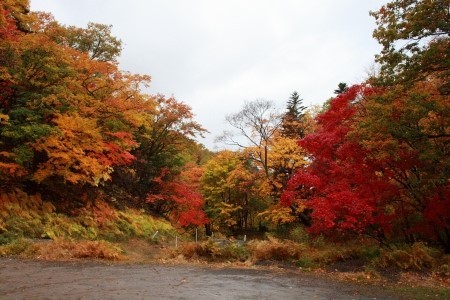 Sounkyo is one of the best fall foliage spots in Hokkaido.
The autumn leaves season here starts from mid-September to mid-October, which is the earliest place in Hokkaido.
In addition, it takes about 30 minutes to reach a beautiful 'autumn leaves waterfall,' where you can see the contrast of the autumn leaves against a waterfall as you explore a walking path.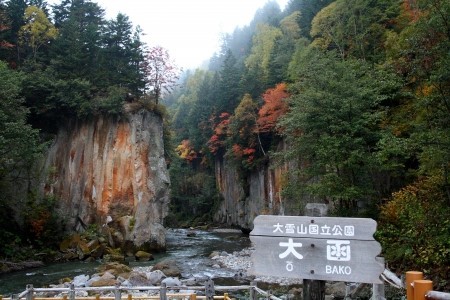 Those who visit Sounkyo always visit 'Daihako,' which has a reputation for being the most beautiful place there.
Trees grow from the steep edge at the top of the rock.
Sometimes, fog appears, adding more of a mysterious air to this place.
It should be noted that people are not allowed to enter "Kobako," due to the risk of falling rocks.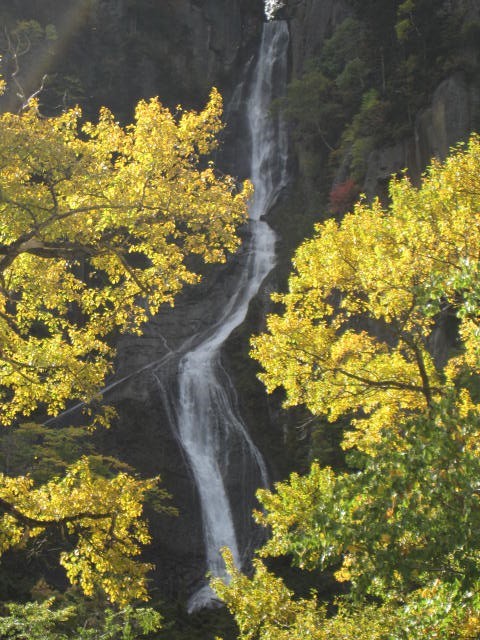 There are autumn leaves spots in Daisetsuzan National Park other than Daisetsuzan Asahidake, and Kurodake.
These spots are dotted in many other places, such as 'Ginga Waterfall' or 'Ryusei Waterfall,' which are included in the top 100 waterfalls in Japan.
You can only stop by 'Ginga Waterfall' and 'Ryusei Waterfall' for now, but you can fully enjoy the autumn leaves.
Please visit there by any chances!
<Tourism Information:Sounkyo>
Address:Sounkyo Onsen, Oyukiyama National Park, Kamikawa cho, Hokkaido
Tel:01658-2-1811(Tourism Association of Sounkyo)・01658-5-3350(Tourism Guide of Sounkyo)
01658-2-4058(Kamikawa-cho industry economy section business and industry sightseeing group)
・Corals in
Lake Notoro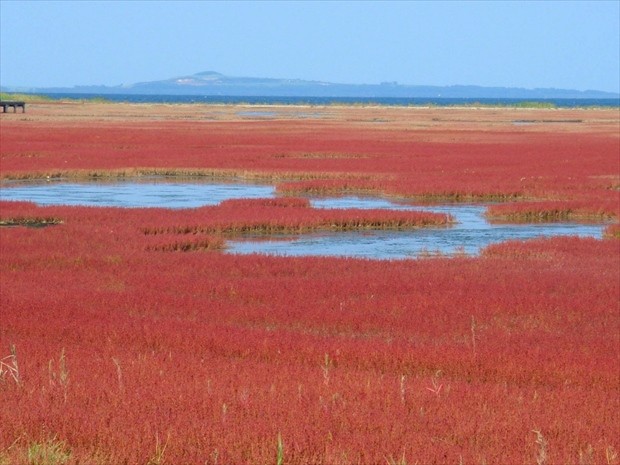 'Lake Notoro' is a 58,000m2 (≒58 ha)salt water lake located in Abashiri.
This lake connects to the Sea of Okhotsk, which is a beautiful sight.
You can see a beautiful bright red plant that grows in the lake.
The coral grasses grow in the early fall.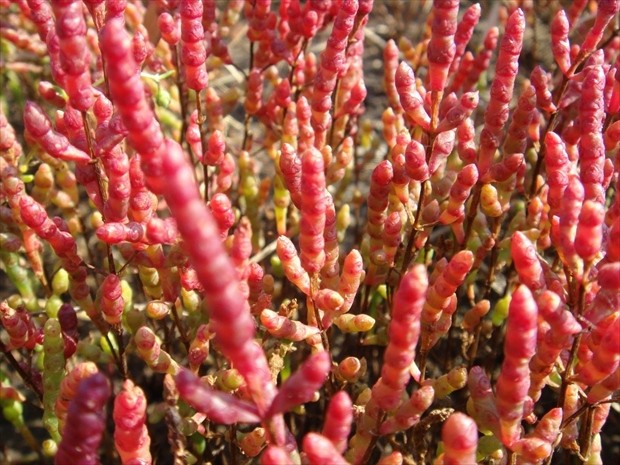 By the way, the coral grass does not grow leaves, but in autumn, it changes to a cardinal red color.
Its formal name is 'akkeshisou,' since it was discovered in the town of Akke.
It is in full bloom from mid-September to early October every year.
So please visit then!
<Tourism Information:Lake Notoro>
Address:Ubaranai, Abashiri, Hokkaido
Tel:0152-44-5849 (Abashiri Tourism Association)
2. Hokkaido attention events in October!
・Sapporo Autumn Fest 2015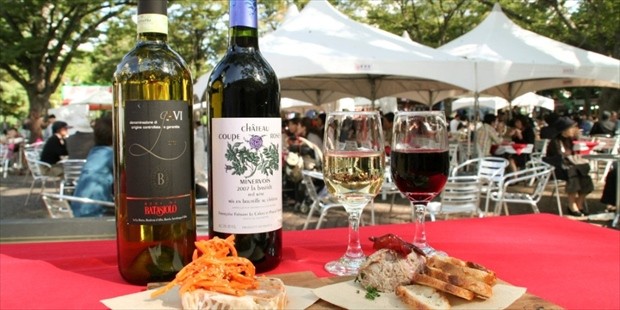 Sapporo Autumn Fest is a food festival, where food is gathered from all over Hokkaido and brought to Sapporo. It began in 2008.
Before that, Sapporo held winter, spring, and summer events, but there were no events in autumn.
The festival is held to celebrate the harvest between food manufacturers and people who eat their food. It has become a popular event year after year.
Crops and seafood are gathered from all areas of Hokkaido during Autumn Fest.
The best feature is that you can buy and eat local products from all over Hokkaido.
Furthermore, it is a festival where we can join with manufacturers to appreciate nature's blessings and celebrate life.
The food the chefs create, which is extremely delicious, is likely to be referred to as the world standard.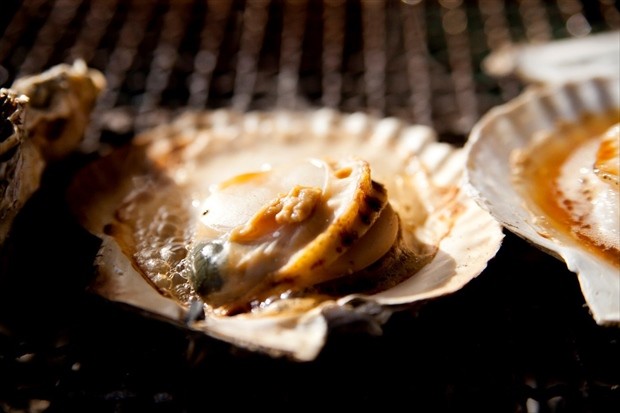 Many people feel Hokkaido's food is the best in Japan.
'Gifts from the land,' 'blessings from the sea,' and 'the grace of mountains and water' are intertwined here.
Please enjoy the food that's provided in its most delicious state!
Sapporo Autumn Fest 2015
Place:Sapporo Odori Park
Terms:September 11th – October 4th (Year 2015)
Hours:10:00~20:30(L.O.20:30)
※Hours are different in October 4th due to the Sapporo Marathon. (14:00-20:30)
http://www.sapporo-autumnfest.jp/
・Akanko Marimo Festival・Senbon Taimatsu・Iomante Fire Festival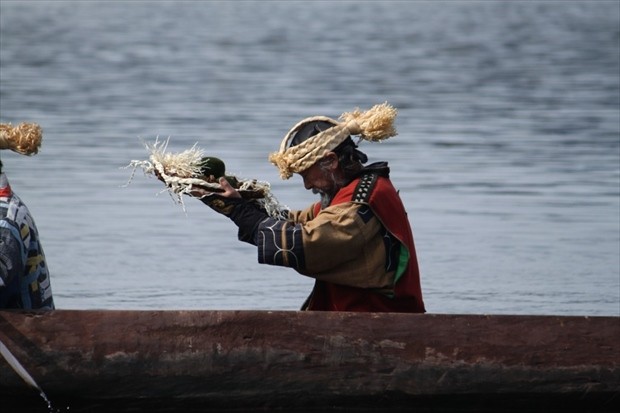 Photo credit by Lake Akan Tourist association
Lake Akan in eastern Hokkaido is a famous spot, known as "The Land of Marimo."
* Marimo is a kind of algae that creates a sphere. It has been designated a special natural treasure.
'Akan Marimo Festival' is an event where people perform the ritual of Marimo in Lake Akan.
This traditional Ainu ritual is performed to protect the abundant surrounding nature and to pray for prosperity.
The ceremony begins with people marching and then doing a Marimo dance to welcome the Marimo at night. Then they march from the orchards by the lake to 'Ainu Kotan' with torches.
We do Ainu folk dancing in Ainukotan Square as a ritual celebration to protect Marimo.
You'll feel a deep connection to the Ainu and Marimo that can't be felt anywhere else in Japan.
There is a ceremony to send off Marimo the following day, so you can enjoy the whole event in two days.
This year's event will take place on October 9-10th, 2016.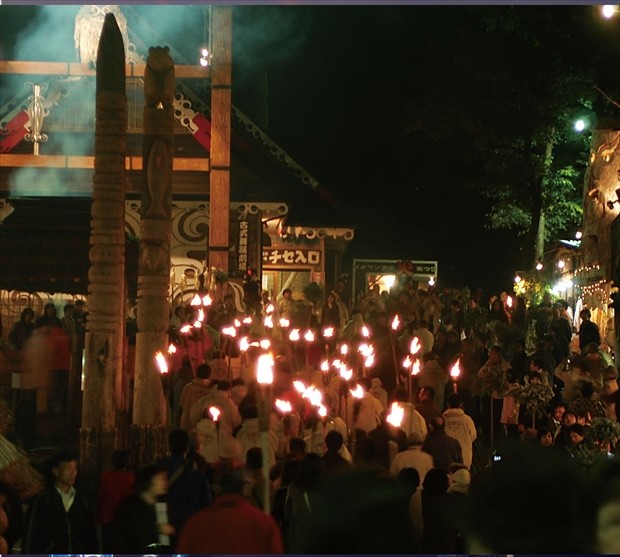 Photo credit by Lake Akan Tourist association
Marimo Festival and Senbon Taimatsu is held at the same time.
Running from September 1st to October 28th, 2016 this is a long-term event.
The Ainu people give thanks to their Fire God, 'Apekamui,' and the northern areas on Earth.
They pray with torches to protect the Marimo in Lake Akan and for their continued safety in the future.
While folk music flows, the chief of the Ainu leads people to thrust thousands of torches in the air, making it look like they are pointing to the street of the gods.
Anyone is welcome to participate in this event.
However, there is limited capacity.
So, if you are interested, you should make an early inquiry!
The 67th Marimo Festival
Address: Eco museum center in Akan Lake Onsen, Akan cho, Kushiro, Hokkaido
Terms :October 9th – October 10th (Year 2016)
Hours:October 9th(13:00~21:00)・October 10th(10:00~12:00)
http://www.lake-akan.com/event/
Thousand Torches
Address:Ceremony hall Ainukotan, 4 cho-me. Lake akan Onsen, Akan cho, Kushiro, Hokkaido
※It starts from 2 cho-me. Lake akan Onsen, Akan cho, Kushiro, Hokkaido
Tel:0154-67-3200(NPO Lake Akan Tourism Association and Faculty)
Terms:September 1st ~October 28th (Year 2016)
http://www.lake-akan.com/event/
3. Hokkaido local specialties what you should eat in October!
・Salmon roe・Autumn Salmon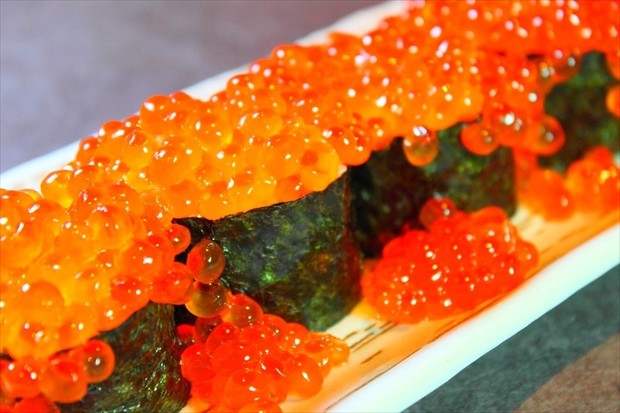 This photo is salmon roe. The Japanese love its popping texture.
Salmon roe is basically eaten all year round, but it is richest and most delicious in October.
Around mid-October, salmon eat a lot of food to prepare for spawning in November.
Since they are receiving more nutrition, their eggs are richer taste and fuller-bodied.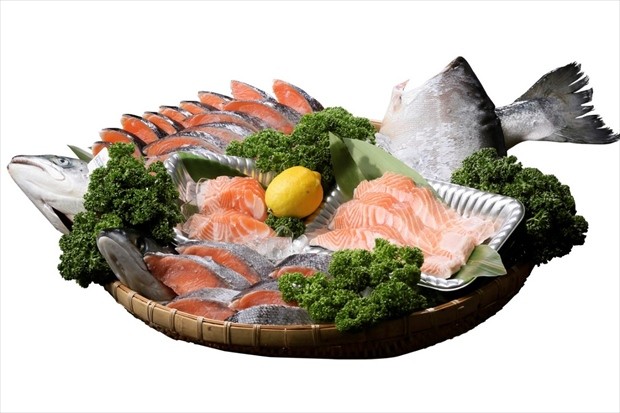 And, autumn salmon season begins from around mid-October.
Since this salmon comes from cold northern waters, their muscles are tighter than other salmon.
You can enjoy eating this salmon in autumn.
Please try it in its home of Hokkaido!
・Shishamo Smelt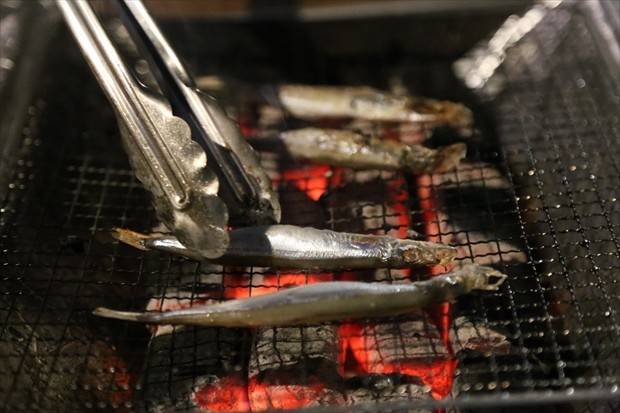 Shishamo goes best with sake.
In Japan, Shishamo can only be caught in the Pacific coastal areas of Hokkaido.
The fishing ban is lifted for a short period of time from October to mid-November.
We recommend you eat raw Shishamo during this time.
In Yūfutsu District in Mukawa-cho, the whole town sells various types of Shishamo, such as Shishamo sushi and Shishamo marinade.
There are various way of eating Shishamo depending on the shop.
4. Hokkaido Weather and Temperature in October.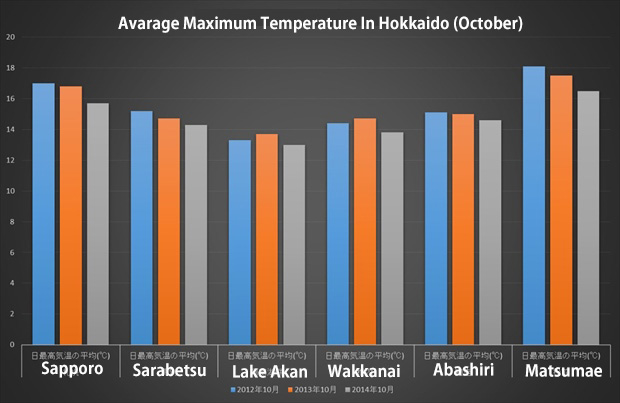 Data by weather forecast
The data above compare the highest temperatures in October for three years from 2012-2014 in five different locations in Hokkaido: Sapporo, Sarabetsu, Lake Akan, Wakkanai, and Abashiri.
The temperature is 15°C to 17 °C during the day in Sapporo, but at Lake Akana, which is at a higher altitude, the temperature is below 15°C.
In the seaside area of Wakkanai, the temperature is 14°C to 15°C, but strong winds make it feel colder.
Hokkaido begins to get ready for autumn after August, and the first snow is observed in mid-to-late October.
At that time, mornings and evenings are fairly chilly.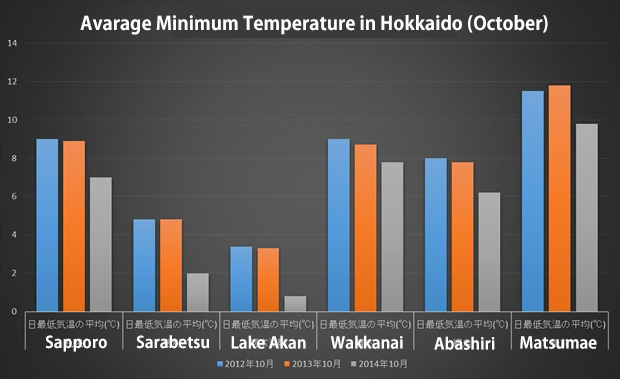 Data by weather forecast
This is the lowest recorded daily temperature in the same places as described above.
The Tokachi region of Sarabetsu and around Lake Akan is less than 5°C.
Based on the previous data, the area around Lake Akan and Sarabetsu has the widest daily temperature range.
Since there is more than 10°C difference between daily highs and lows of Sapporo, you can't feel relieved although it is inland location.
When examining data related to average rainfall from 1981 to 2010 from the Japan Meteorological Agency, there is an average of 108.7mm of rainfall in October compared to the driest month of June where there is only 46.8mm of precipitation.
The months with the heaviest precipitation (snow rather than rain) are December and January, with more than 111mm of snow.
5. Appropriate Clothing for Hokkaido in October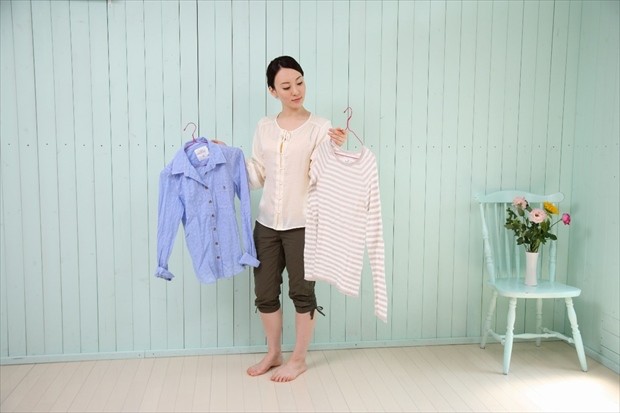 Chilliness increases across Hokkaido in October.
In particular, since the mountains and coastline tend to have strong wind, you will need warm clothes and a jacket when traveling in these areas.
Even though your body warms up when you wear a coat, your hands and face will still feel cold.
So, we definitely recommend for you to bring a scarf and gloves when I go to Hokkaido in October.
Even though your body is protected, if your face, ears, and hands become freezing cold, your whole body will become chilly.
You can keep your scarf in your bag if you get too hot, or put it on your neck once you get cold. It is very useful, so be sure to bring one with you.
Make sure to wrap it from under your eyes to your ears.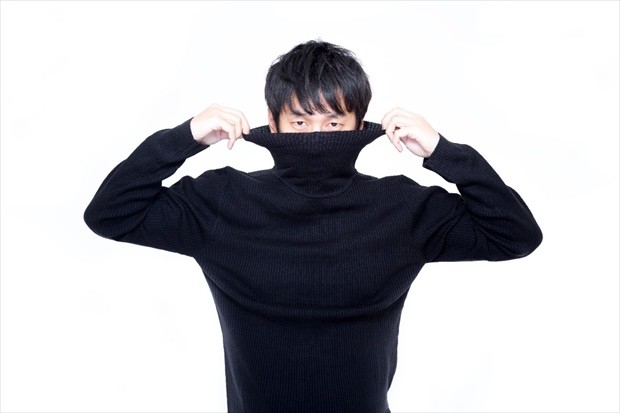 The most typical thick clothing to bring along is a sweater made from warm animal fibers such as wool or cashmere.
However, thick wool knitted sweaters allow the wind to pass through easily.
If you wear a sweater, it's best to wear layers underneath. For example, wearing a long-sleeved shirt underneath will prevent you from getting cold.
Now that you are well-prepared for the cold, let's have fun in October in Hokkaido!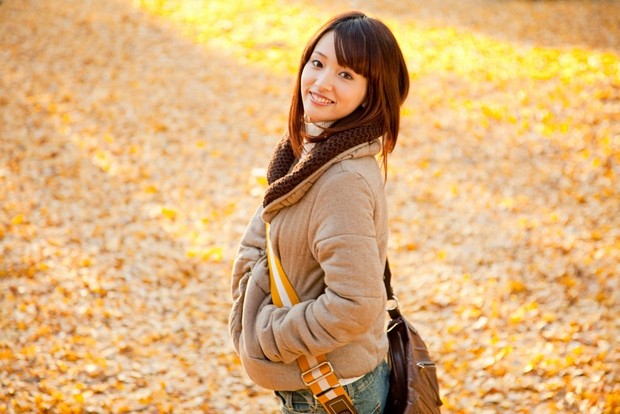 Summary
Autumn in Hokkaido has tourist attractions and plenty of gourmet options.
Although we would like to introduce all the autumn leaves sports in Hokkaido, they are dispersed around a lot of different places.
Therefore, it is difficult to see them all within one trip.
So, this time we introduced the main spots you should visit.
Since many events are coming up, please enjoy October in Hokkaido!