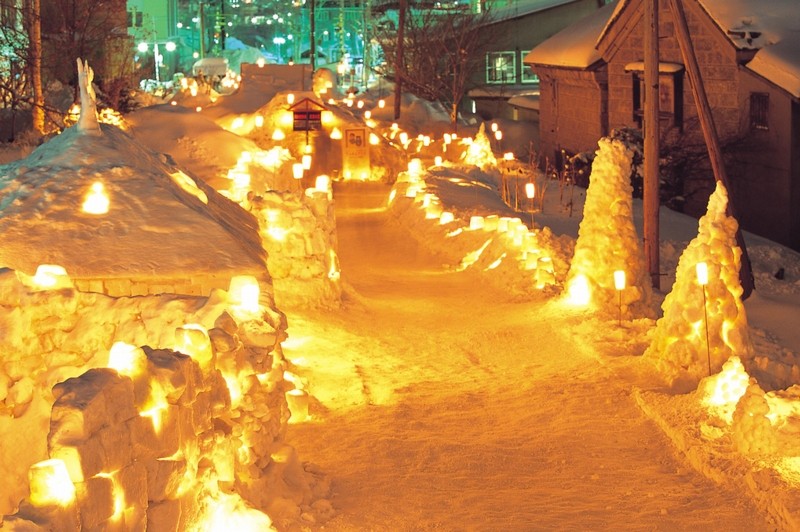 Otaru, a historical port town located near Sapporo is frequented by visitors all year round. The Otaru Snow Light Path is an annual event that will be marking its 20th year. This popular event lasts only 10 days, but is able to welcome up to 500,000 visitors every year.
When people talk of Hokkaido, the most famous event that comes to mind is the Sapporo snow festival. When it comes to the the Otaru Snow Light Path words such as phenomenal or romantic would be more suitable to describe this event.
It would probably not be an overstatement to say that this event is well suited for couples. It is also recommended by locals as a must see event for tourists  We will let you know how to prepare, and our recommendations for the day you visit.

1.Event Summary
2.How to Prepare
3.Getting There By Train ! (Canal Bank).
4.The Phenomenal Otaru canal
5.Owl Candle Guides and the Temiya Line
6.End
1.Event Summary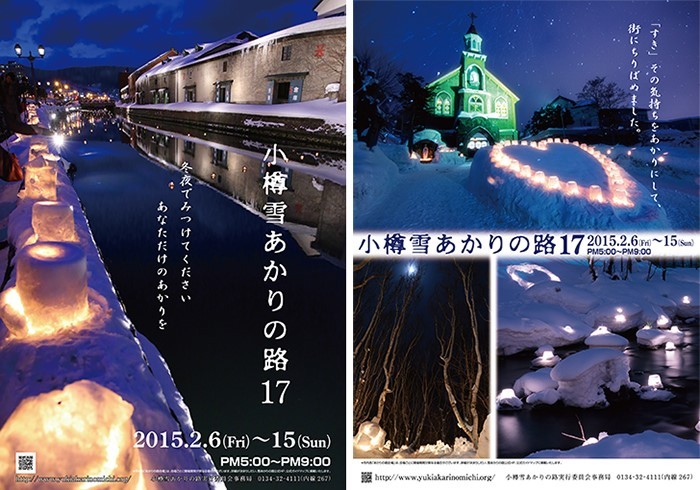 (Photo of a poster from 2015)
Firstly next year's event (2019), the 20th Otaru Snow Light Path  will be held from February 8th (Friday) till February 17th ( Sunday). Starting at 17:00 and ending at 21:00 everyday. The Sapporo Snow Festival will also be held between January 31st and February 11th around the same period. Both events are visited by a large number of tourists.There are also a large number of large and small scale events dotted around the city. Too many to get through in only one day.
First stop should be the main attraction the grounds of the Temiya Line ( held at the remains of the Temiya railway line) and the canal meeting place (Otaru Canal bank)
Tengu Mountain has brilliant night views, it is a little far from JR Otaru Station but during the event period there is a convenient shuttle bus available to get you there. The phenomenal colors of the night sky created by the hues of the beautiful scenic background are out of this world.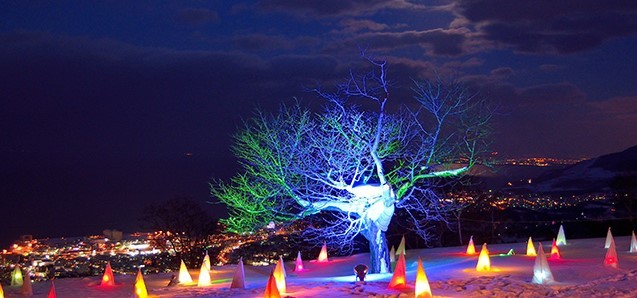 The shuttle bus is run every year by Chuo bus a Sapporo based bus company.  This extremely convenient service connects, Otaru station, City hotels, the Temiya Line grounds, Otaru Canal, Otaru Canal Terminal and Tengu mountain.
The price is a flat ¥210 for adults and ¥110 for children. Specific details about bus stop location, and bus times, etc can be found on the Chuo bus website.
「Chuo Bus」 http://teikan.chuo-bus.co.jp/en/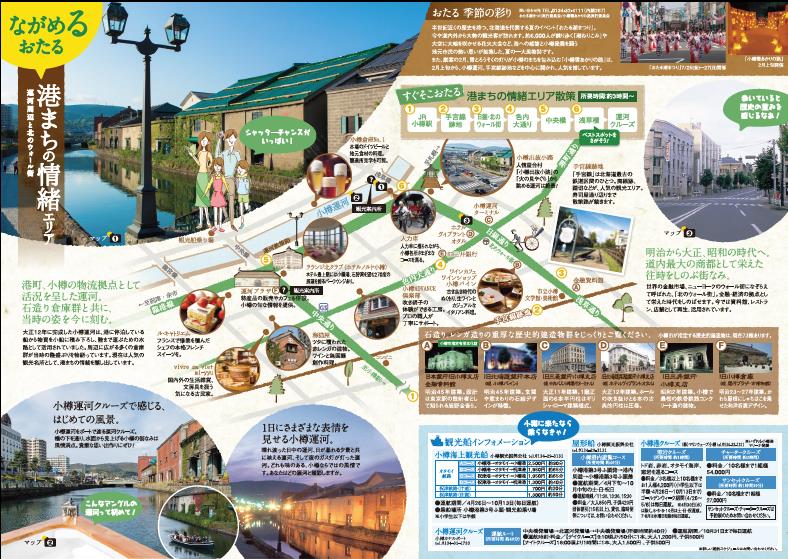 Also the Otaru Sightseeing Society management site 「Otaru Botaru」 has a useful pdf mini-map available for download Japanese site: https://otaru.gr.jp/
2.How to Prepare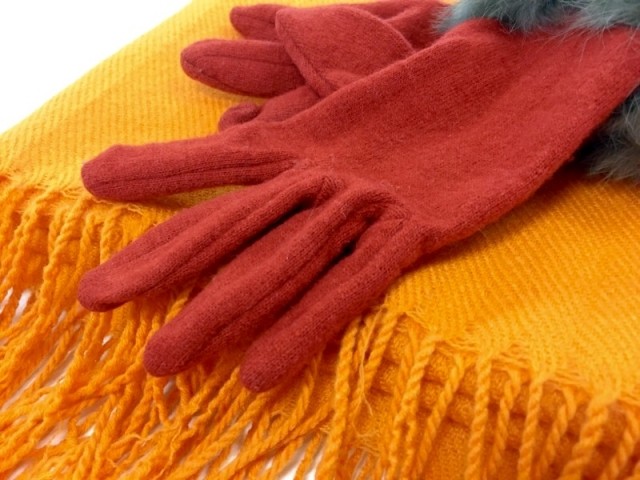 The events are held during February, in the middle of the Hokkaido winter. This is the coldest time of the year. The minimum average temperature  is -0.6℃. (Data is provided by the Otaru city home page)
Also as this is an evening event, it is expected to be cold. Make sure to take necessary precautions to avoid ruining your evening.
As a must, make sure you have the following:
・Warm outerwear
・Gloves
・Scarf, muffler, or neck warmer, etc
・ Heat pads (general and for shoes)
Everybody deals with the cold differently so if you do not fair well in cold weather make sure to take extra precautions.
This will be explained in detail further, but there will be hot beverages and refreshments available such as hot chocolate, hot wine and sake, etc.
Hot drinks are a great way to warm you up from the inside.
3.Getting There By Train! (Canal Bank).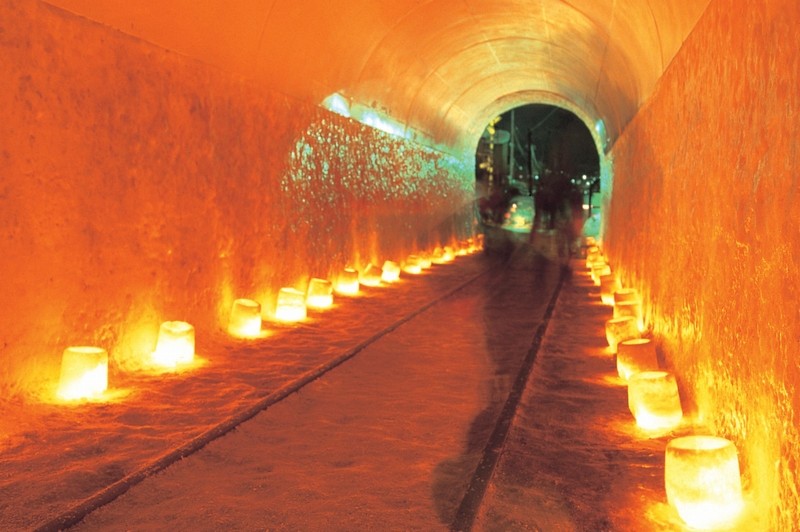 For the main Otaru Snow Light Path event, visitors are expected to travel by car from the surrounding area. This will lead to congestion, and crowded car parks. If possible, we recommend using the train (JR)
From JR Sapporo Station, it takes approximately 32 minutes on the express train to get to Otaru Station.Being reformed in 2012 Otaru station has retained a retro feel and creates a historic atmosphere instilling a sense of nostalgia.
Once you leave the station building cross the roundabout, pass the intersection and  in front of the station. You will then start to see lanterns welcoming you to the town.  Enjoy the town streets as you walk for ten minutes, after which you will come to the famous Otaru canal and the brick storehouses.
4.The Phenomenal Otaru Canal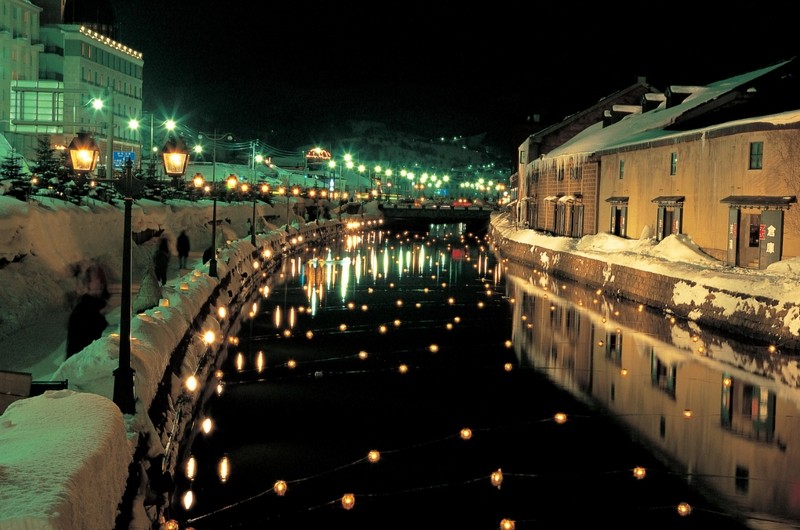 Every year candles float on the canal creating a phenomenal light display for all to see. With lanterns from a time past and the rows of old brick stores, you feel like you have been transported into a different world. The canal bank walking route is also decorated with an excellent display of candles and pieces of art Everything has been created individually by hand creating a sense of warmth during this cold event.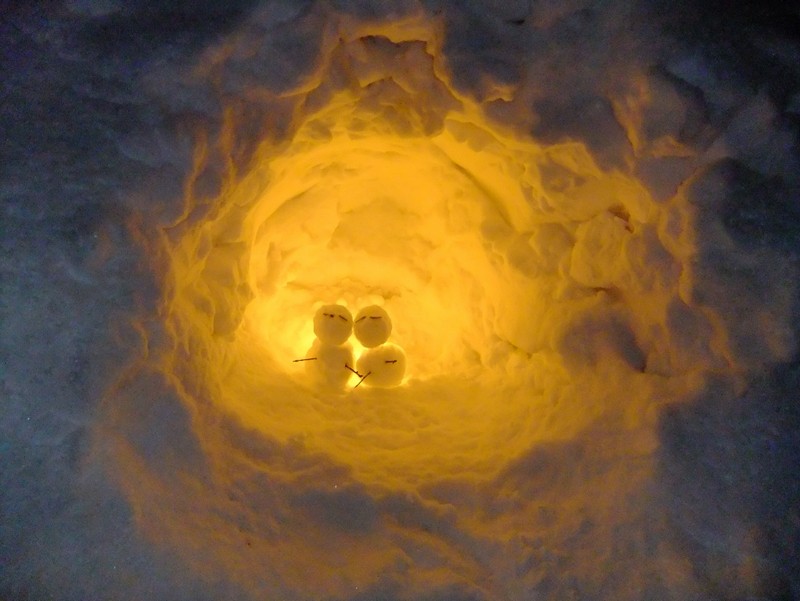 The 14th Otaru Snow Light Path photo contest Hokkaido Newspaper Award (warmth)
After leaving the station, your hand and toes might start to feel a little cold, if this happens make sure to take a break and warm up in the canal plaza.
The grey brick building by the intersection that crosses the station road and the canal bank is the canal plaza. It is open throughout the event period with a stove to keep you warm way into the night.
It is the perfect space to take a break and purchase hot drinks and Oden (Japanese winter stew), etc to take your mind off sightseeing and warm yourself up during your sightseeing.
The canal plaza garden is also decorated with candles and art pieces, so be sure to take a look if you stop by.
5.Owl Candle Guides and the Temiya Line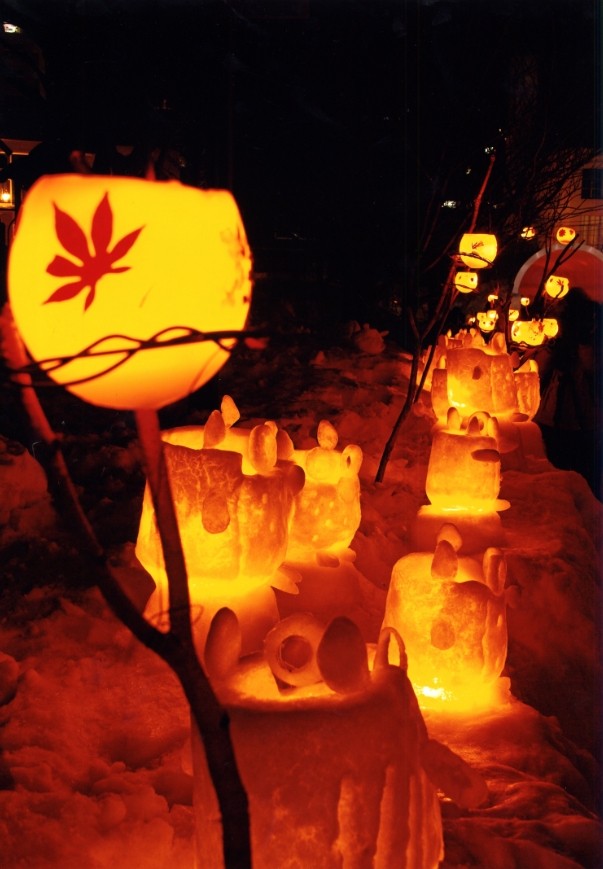 13th Otaru Snow Light Path Photo Contest priced entry 「Owl Candle Road」
Once a cargo train line, that supported Otaru. Although it has been closed since 1985 the rails still remain and is now the remains of the Temiya line are recognised as a tourist spot.
During the Otaru Snow Light Path the Temiya line is also lined with candles and other items of artwork. Along with the canal grounds the Temiya line is one of the events main sites.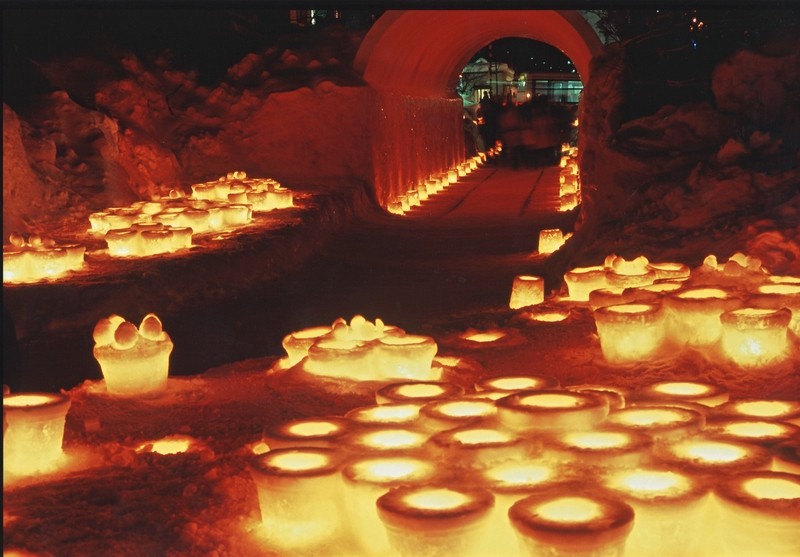 16th Otaru Snow Light Path Photo contest prize winner (Flooded with light)
The famous snow tunnel feels so warm , that you forget that you were even outside. The snow tunnel is visited by many tourists and inside there is a place to take a commemorative photo. Couples and families line up under the cold sky for this chance.
Take the rare chance to have a  photo surrounded by a countless amount of candles, something you can't do anywhere else. Create a memory to cherish forever  which is definitely worth the wait.
6.End
Otaru town with it's row of old fashioned buildings combined with the wonderful illuminations created by the candles decorating the snow path buildings creates a yearly spectacle that brings teams of visitors every year. Some may say that it is as enticing as the Sapporo Snow Festival.
I am indeed addicted, I already have plans to visit Otaru Snow Light Path next year. Make your own plans and come to the Otaru Snow Light Path next time.
Otaru Snow Light Path Official Site http://yukiakarinomichi.org/?page_id=2180

※Photos and event posters were all provided with permission from the Otaru Snow Light Path committee.