Hello! Those of you who have visited Japan may have experienced to find dishes which were hard to imagine what they were just by looking at the names on a menu. This article will show you some "dishes hard to imagine from the names" of restaurants in Kushiro and Nemuro, Hokkaido.
Table of contents
・MIYAMADON: Lake Akan area
・ESUKAROPPU: Nemuro area
・MAEHAMA KAISENDON: Rausu area
・MASHU BLUE: Teshikaga area
・AKISAKE-CHANCHAN-YAKI: Kusiro area
At the end
Can you imagine what they are from the names? Let us explain them now.
MIYAMADON: Lake Akan area
MIYAMADON is a dish that no one probably could tell what it is by just looking at the name. Here is the image.
Edible wild plants of Akanko Onsen and roast Yezo sika deer are seasoned with original sauce and served on a bowl of steamed rice. The Yezo sika deer meat served in this restaurant has relatively less smell than ordinary deer meat; rather, it's more like eating beef. Yezo sika deer meat is rich in iron and said to be good for your beauty.
Most of you would think it'd be better to have a dinner at the hotel you stay since there're many hot spring resort hotels with a buffet restaurant in Akanko Onsen. However, if you want to have lunch or plan to spend more than 2 nights, you should definitely try the local cuisines.
【More Details about the restaurant】味心(Ajishin)
■ESUKAROPPU
Some people might imagine the French dish "escargot" from the spelling.
There are so many possible origins of this dish that we can't explain in this article. Here is the image.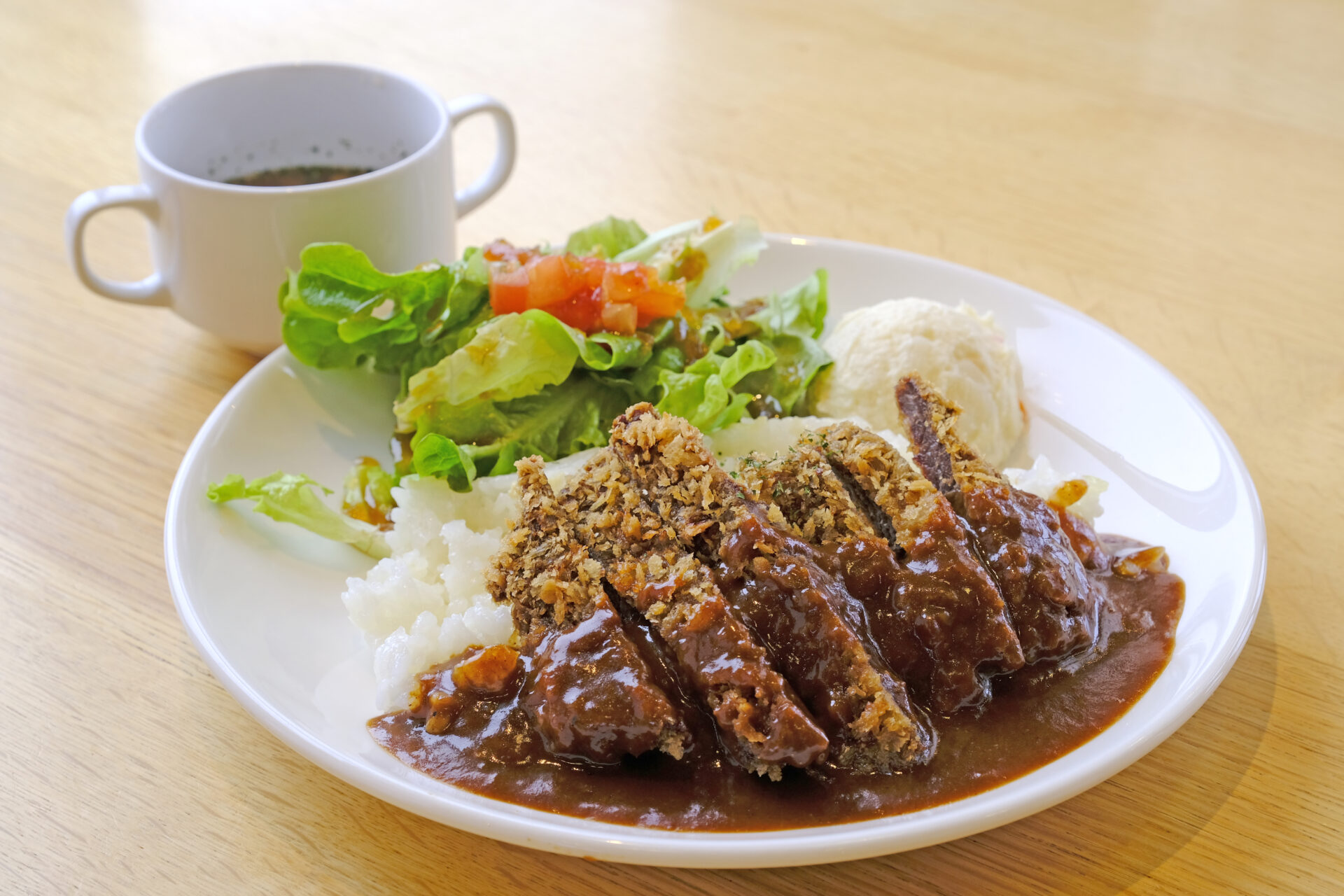 Typical Esukaroppu comes is a combination of Tonkatsu (fried pork) and butter flavored rice with demi-glace sauce. It's one of the most popular local food in the Nemuro area.
The image above is a rare style of Escalope with Wagyu Beef Shorthorn, instead of pork.The Wagyu Beef Shorthorn cattle is bred in-house, so other Wagyu Beef Shorthorn dishes such as beef stew and hamburgers are also available. We recommend you make a stop here for lunch before heading to your next destination.
【More Details about the restaurant】Restaurant ATTOKO
MAEHAMA-KAISENDON
KAISENDON is a typical Japanese dish which is a bowl of rice topped with raw seafood, but the word "Maehama" is hard to tell what it is even for the Japanese.
Here is the image.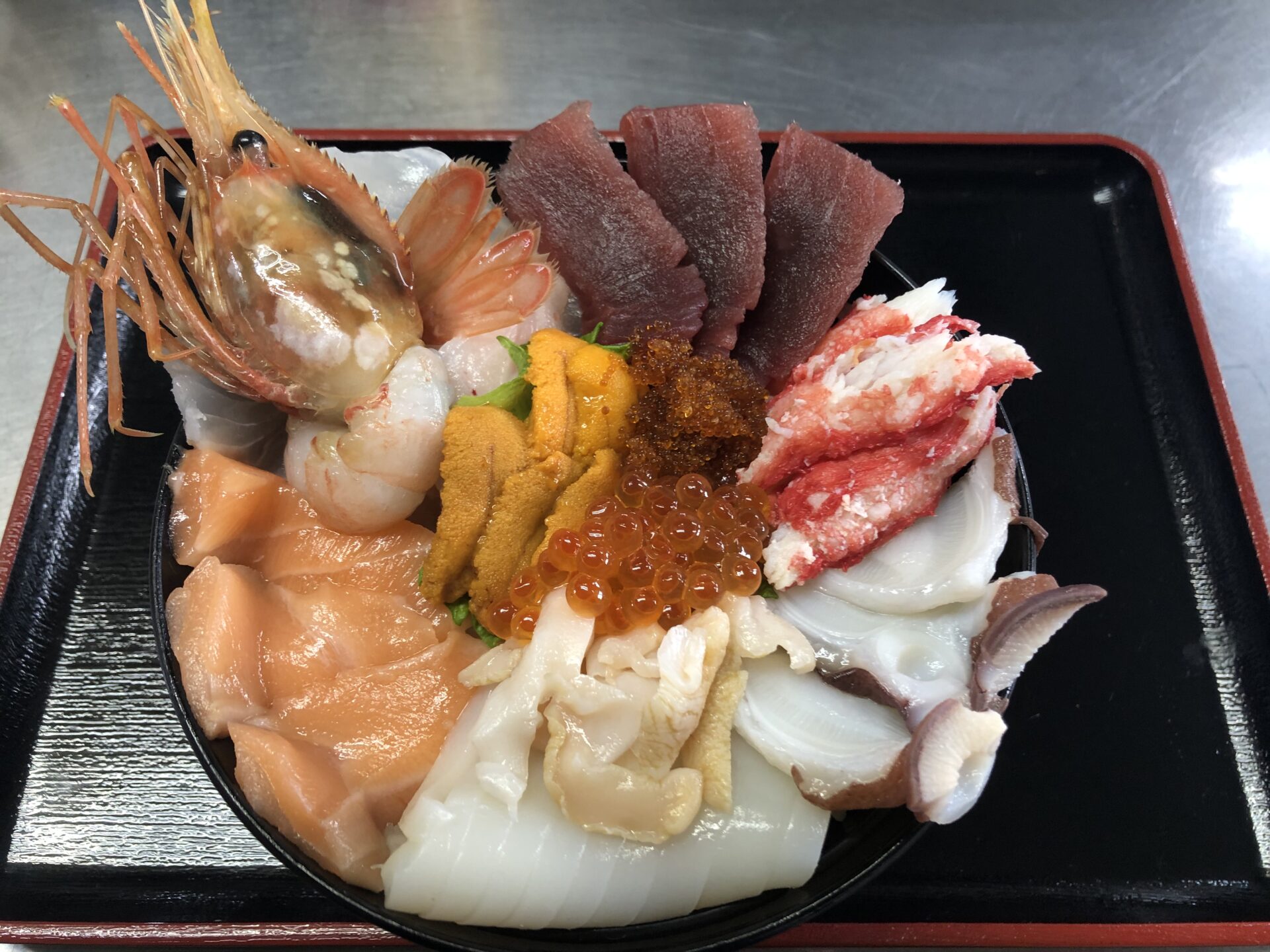 The word "Maehama" is the name of the fishing port in Rausu. This Kaisendon comes with more than 10 kinds of fresh raw seafood caught in Rausu that day. Just this one bowl lets you taste the most of the seafood in Rausu.
【More Details about the restaurant】知床食堂 (Shiretoko Shokudo)
・MASHU-BLUE
Do you know Lake Mashu? The word "Mashu Blue" represents the color of Lake Mashu. Then what kind of food do you think it is? Here is the image.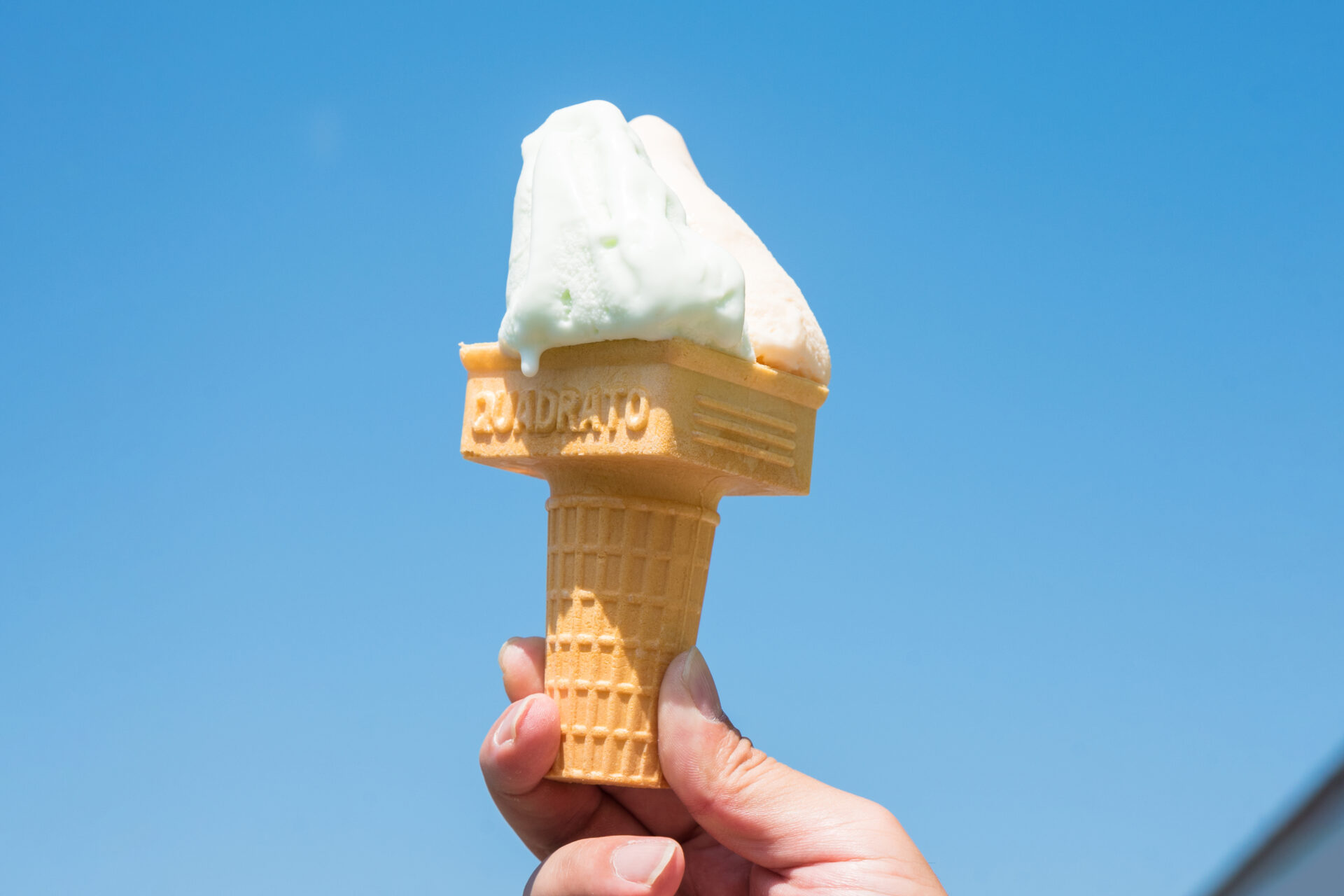 It's soft serve ice cream. You need to go actually see Lake Mashu to compare the colors.
Mashu Blue is flavored with 2 kinds of liqueur and tastes fresh. This shop serves a variety of other ice cream including rich soft serve ice cream made of locally produced fresh milk. "Mashu-Soba & Buckwheat Ice Cream", using "Mashu Buckwheat" known as the local luxury foodstuff, is also recommended.
【More Details about the restaurant】摩周湖のあいす(Masyuko no ice)
・AKISAKE-CHANCHAN-YAKI
Akisake means autumn salmon. Then what do you think "CHANCHAN" means? Here is the image.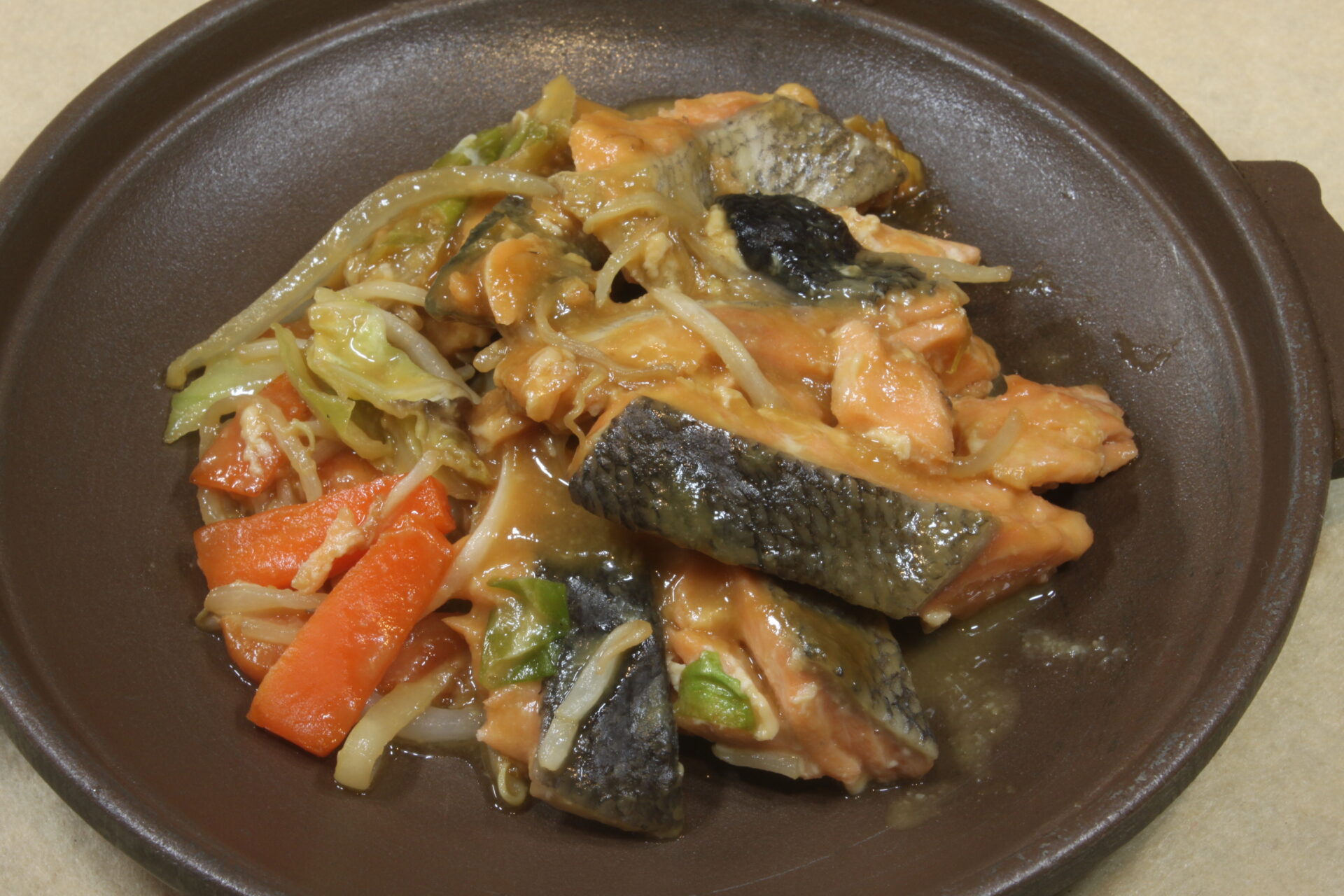 There are several explanations for the origin of the word "ChanChan."
Expressing the sound of drumming chopsticks on plates by those who couldn't wait for it to be ready.
Expressing the sound of salmon being grilled on an iron plate.
Expressing the sound of flints striking a fire.
Well, there're more. To sum up, it means a delicious dish grilled over fire.
It is basically grilled salmon and vegetables with special sauce made of miso, sake, soy sauce, and sugar. Not only "Akisake-ChanChan-Yaki" does it serve, but also the restaurant lets you grill and eat a variety of seafood and meat. Many of the accommodations in Kushiro are budget hotels which don't have facilities for dinner. In other words, if you stay at one of those budget hotels, it can be a good opportunity to try the local foods of Kushiro at this kind of place.
【More Details about the restaurant】炉ばた煉瓦(Robata Renga)
At the end
There are many more delicious foods in the Kushiro & Nemuro area that cannot be imagined from the names. Sushi and ramen noodles are of course the standards in Japan, but eating local foods like the ones introduced above can be a real pleasure of traveling.
We do understand it is still difficult to travel abroad due to COVID-19 pandemic. However, when the day comes, we'd like you to visit here and enjoy our local foods.