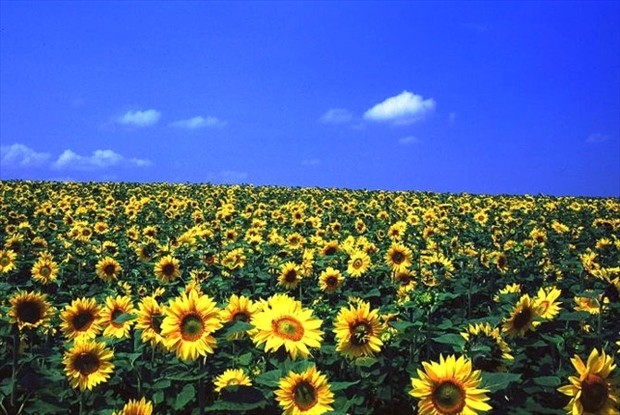 In Japan, sunflower is a symbol for summer. Hokkaido, with its vast nature, leads in the number of "sunflower farms" in Japan.
Sunflowers begin blooming in mid-July in the southern and central parts of Hokkaido, and you can continue to enjoy them through October in the northern and Okhotsk regions.
5 must-see sunflower farms in Hokkaido are introduced here!
Table of contents
1. Sunflower field in Hokuryu town
2. Nayoro Himawari Batake
3. Ozora-cho Himawari Batake
4. Hills of Zerubu (Biei-cho)
5. Ogawa Nouen Himawari Meiro (Chitose-shi)
6. Hokkaido sunflower trivia
1. Sunflower field in Hokuryu town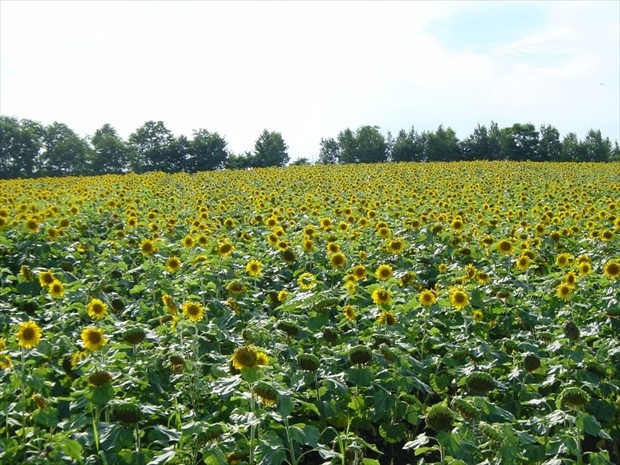 Hokuryu town is located 1 hour southwest of Asahikawa-shi and 1.5 hours north of Sapporo-shi.
It is a town of sunflowers, where many people gather from all over Japan in the summer.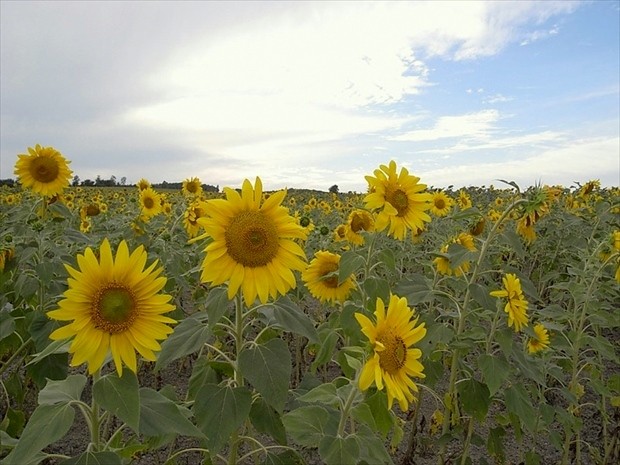 Originally, sunflowers were grown for the development of health foods. However, their magnificence and beauty have made them into a tourist attraction.
About 1.5 million sunflowers are grown here, and the largest field in Japan now.
Additionally, " Himawari Go,"a tour coach pulled by a tractor that slowly takes you around the fields.
There are also tourist center, 2 observation decks, 2 sunflower mazes, a lake, and a variety of other facilities.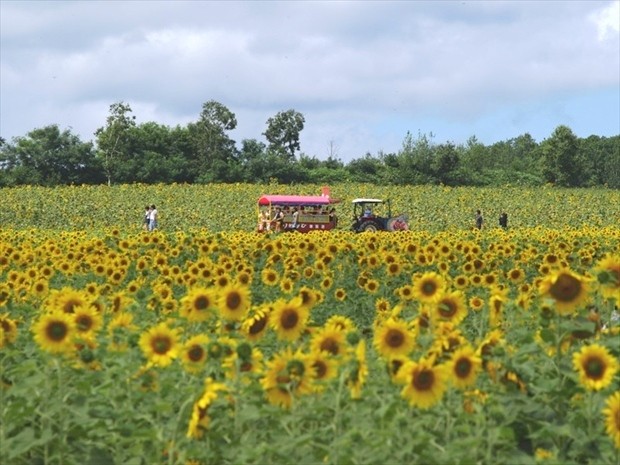 First, head over to the Observation Deck 1, located immediately below the parking lot.
From here, you can view a never-ending field of sunflowers.
Don't forget to take a picture with the sunflowers in the back, which precisely represent the colors of summer.
The field is 23 ha big, and it continues to grow every year.
Also, please take the time to observe each flower from the "Himawari Go."
The sunflowers, which powerfully face the sun, might just share their energy with you.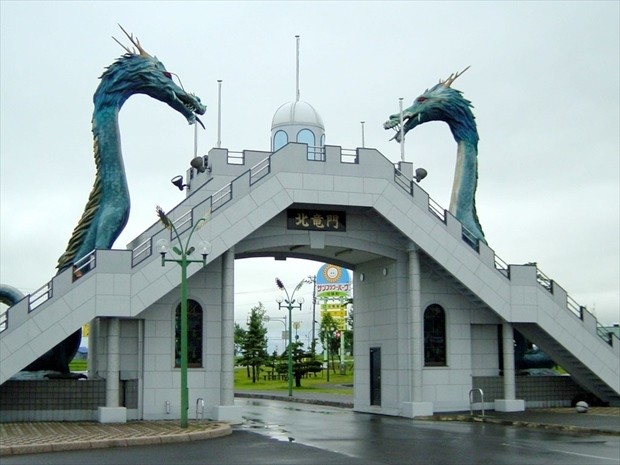 When you are tired from walking around the facility, come into the tourist center.
Here, you can enjoy melons and watermelons grown in Hokuryu town.
When you are properly rehydrated, try feeding ducks. It is one of the specialty items of Kitasorachi. You are sure to be soothed.
There are day-use Onsen and hotel facilities in the nearby areas.
The restaurant offers Hokkaido rice, a specialty of Hokuryu town. You can enjoy the summer in Hokkaido from the bottom of your heart.
It is one of the must-see spots if you are traveling north from Sapporo or Asahikawa areas.
It would be convenient if you combine your visit with a trip to Asahikawa area.
Sunflower field in Hokuryu town
143−2 Itaya, Hokuryu-cho, Uryu-gun, Hokkaid
Blooming season: mid-July~end of August
Sunflower festival Saturday, July 18th, 2015~Sunday, August 23rd
About 2.5 hours from Chitose Airport
About 1.5 hours from Asahikawa Airport
2 Nayoro Himawari Batake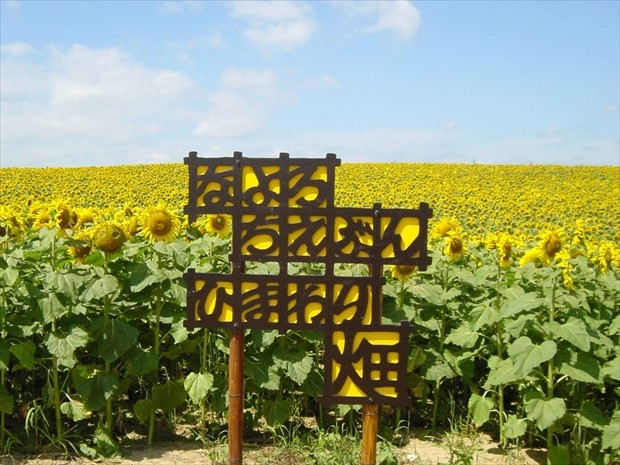 Nayori-shi is located north of Asahikawa-shi, in the northern most area within Kamikawa.
This sunflower farm is second largest after the one in Hokuryu town.
There are 2 large sunflower fields around Doritsu Sun Pillar Park.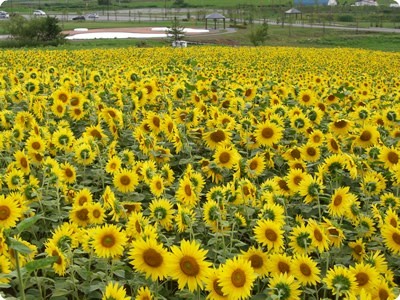 The best time to visit Sun Pillar Park is between mid- to end of August.
It is located on top of a hill, where you can enjoy other flowers as well.
It is fully equipped with day-use Onsen, indoor playground, and other facilities. Even small children will not be bored here.
This is a place where you can enjoy the magnificent view of rice paddies in Nayoro-shi.
Take you time to take in the yellow carpet-like expanse spread in front of you.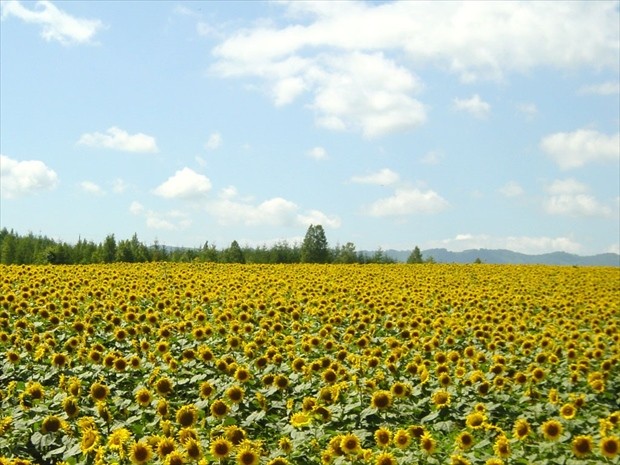 Another one is a sunflower field located in Chiebun area.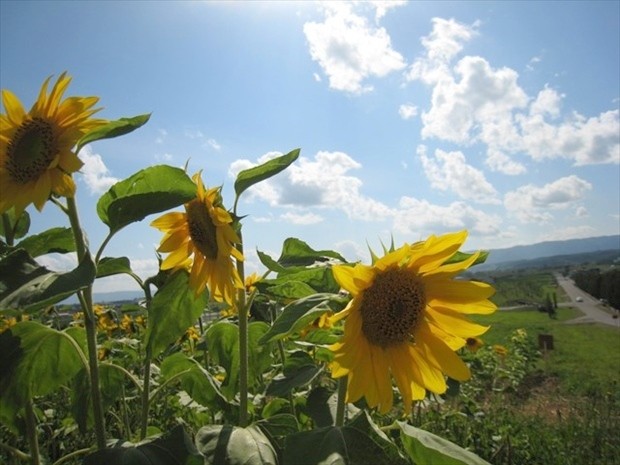 In contrast to the hilly field at the Sun Pillar Park, this sunflower field is on a flat land, extending as far as your eyes can see. You will be moved by the vastness of the fields and the beauty of the flowers.
It is frighteningly impactful, in that you feel as though you might drown in the sea of tall sunflowers.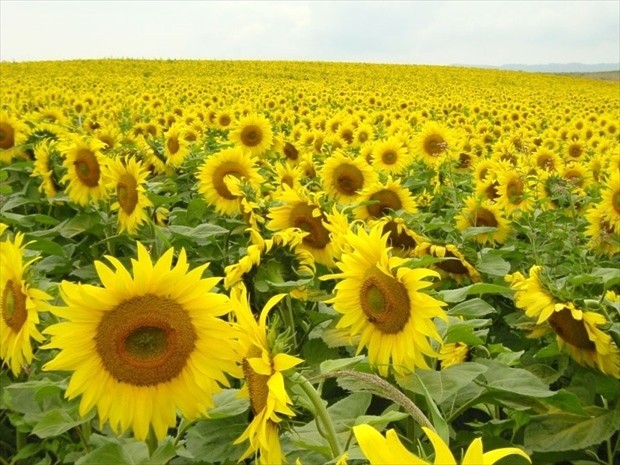 Here, the flowers are not grown just for the tourists.
Many sunflowers are grown in Hokkaido to make fertilizers for other agricultural products. Many of them here are used to extract oil. In fact, the sunflower oil is sold in Nayoro city.
The golden colored oil is packed with anti-aging essences such as, oleic acid and Vitamin E. You might be energized by the sunflowers in mind and body.
There are 2 venues in the Chiebun area. It may be a good idea to casually go see them on a free rental bike.
However, you are not permitted to enter the fields as a preventative measure for diseases and pests.
Nayoro Himawari Batake
Address: Hokkaido Sun Pillar Park
147 Nisshin Nayoro-shi, Hokkaido
Hokkaido Nayoro-shi Chiebun MOA Meiyo Bokujo
Optimal viewing: early ~ mid-August
About 2.5 hours from Asahikawa Airport
About 4 hours from Chitose Airport
For inquiries: Nayoro Sight-seeing & Town Planning Association
3. Ozora-cho Himawari Batake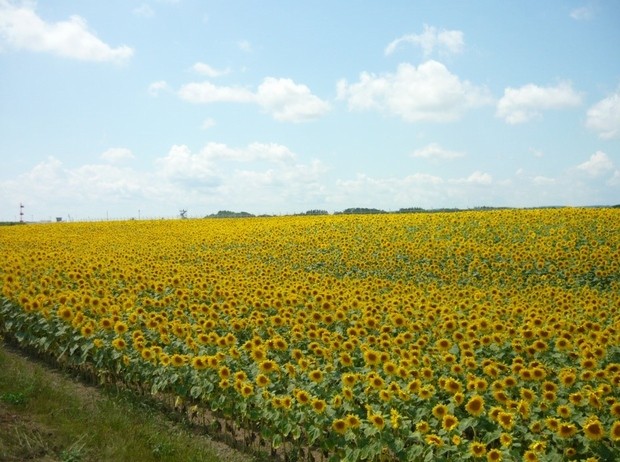 A variety of flowers bloom in Ozora-cho through spring, summer, and fall.
Sunflowers start blooming in late-July.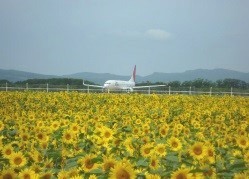 This sunflower farm is divided into 3 parts.
Among them, the field next to the airport is the best.
When you look toward the airport from the recycling center, you can see the airplanes landing and taking off amidst sunflowers.
It is a great photo spot, with a viewing deck in place.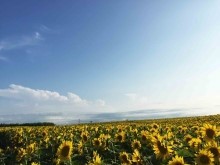 The other 2 fields are both 15 minutes away by car.
If you have time in your schedule, please go see them.
Ozora-cho Himawari Batake
Address: Ozora-cho, Abashiri-gun, Hokkaido
Optimal viewing:
[Land for airport] late July~mid-August, 2015
[Asahigaoka Park (1)] early August ~ late September, mid ~ late October
About 5 minutes from Memanbetsu Airport
For inquiries:Memanbetsu Kankou Kyoukai
4.  Hills of Zerubu (Biei-cho)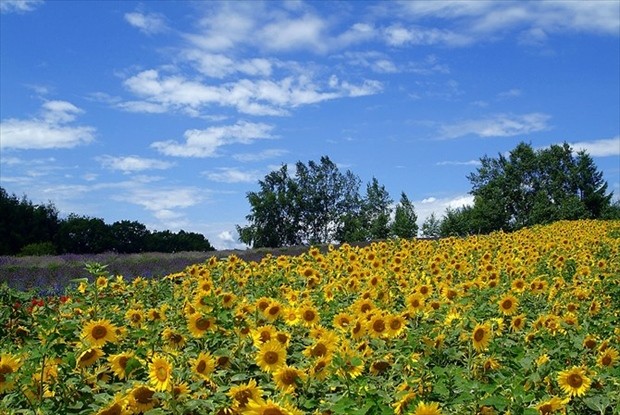 Hills of Zerubu is a very famous spot, known to be the spot for sunflowers in Furano area, unparalleled by no other.
Sunflowers, which have a very short flowering span, have 2 optimal viewing times in a year: July and September.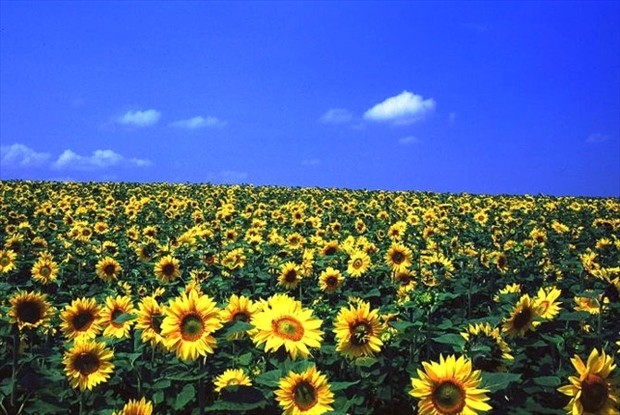 Take a look at the magnificence of fairytale-like Ken and Mary's tree from the observation deck by using a cart, or walk! You will be impressed by the expanse of sunflowers from above.
After that, enjoy the golden sunflowers from up close.
The contrast between the pale purple of lavender, which appears cool even in the summer heat, and sunflower is sure to make your trip to the Furano area a memorable one.
The park, filled with a variety of flowers that add colors to your summer trip to Hokkaido, also offers a restaurant serving fresh vegetables and a souvenir shop.
Also, there is a kids' room to keep the children from getting bored.
It is one of the must-see spots, when traveling to Furano area from the Asahikawa Airport.
Hills of Zerubu・Atomu no Oka
〒071-0225 Daisan Biei-cho, Kamikawa-gun, Hokkaido
TEL.0166-92-3160
Business hours: 9:00am~5:00pm
About 20 minutes from Asahikawa Airport
About 3 hours and 30 minutes from Chitose Airport
5. Ogawa Noen Himawari Meiro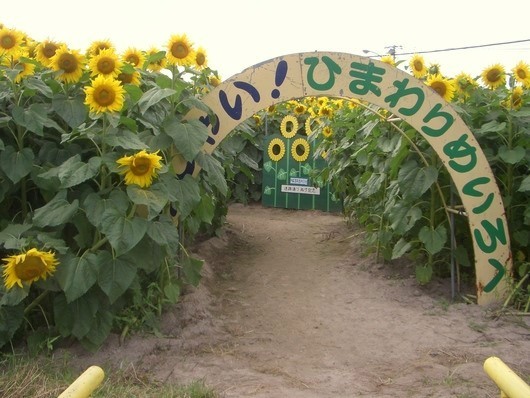 If you want to enjoy a sunflower farm, and are using Shin-Chitose Airport, we recommend Ogawa Noen. It is a farm located on the eastern part of Chitose city.
Of note, majority of the sunflower farms in Hokkaido are agricultural farms. As such, you are prohibited from entering them.
Many places allow visitors to view sunflowers from afar, but prohibit them from entering the fields to get close to the flowers. Ogawa Noen is different. It is a farm to actually enjoy the sunflowers.
The proof is evident in its super fun, giant sunflower maze. About 160,000 (!!) sunflowers were used by the staff to thoughtfully create the challenging maze.
There are people who cannot make it out in 1 hour. This memorable experience will stay with you for a long time.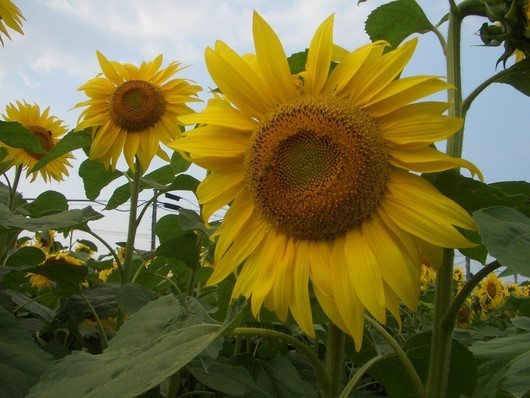 Since the farm is easily accessible from the airport, please do come try the giant sunflower maze, either at the beginning or the end of your trip.
If you are willing to travel a bit farther, there is are large sunflower fields. Entry to these, however, are prohibited.
Ogawa Nojo Himawari Meiro
Address: 518-3 Izumisato Chitose-shi, Hokkaido
Optimal viewing: early to mid August
About 20 minutes from Chitose Airport
6. Hokkaido sunflower trivia
When driving around Hokkaido in the fall, like October, you may see shorter, unseasonal, sunflowers blooming their yellow flowers.
These are planted not for viewing or shipping, but to prepare the soil for the following season.
Farming methods utilizing the power of nature, rather than relying on chemical fertilizers.
Don't you find these flowers, that bloom and die for this purpose, appealing in a different way?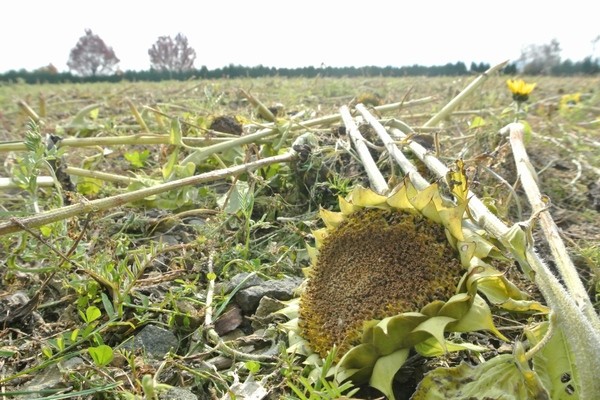 Conclusion
We have introduced a few of our sunflower farm recommendations here. What did you think?
You are sure to be in awe once you see the large-scale sunflower fields, unique to Hokkaido!