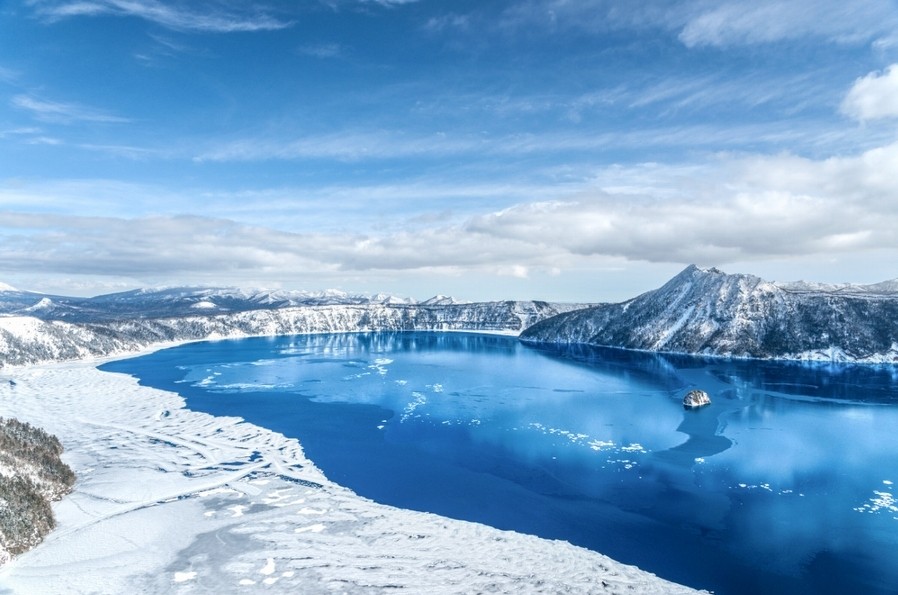 Which of Hokkaido's lakes is the most beautiful?
If you asked this question, one name would surely be given to you. Lake Mashu.
It holds a sublime beauty which instills awe in people. So much so, that the indigenous people of Hokkaido, the Ainu, called it the Kamuy-to (Lake of the Gods). Lake Mashu is at its most radiant in the season when it is almost frozen over.
The season when Lake Mashu starts to freeze over comes every year from the last third of January to around the 20th of February.
It's especially beautiful while the freezing is still in process. The white ice makes the lake look much nicer, until its surface sparkles radiantly in sapphire blue.

1.The Secret of this Blue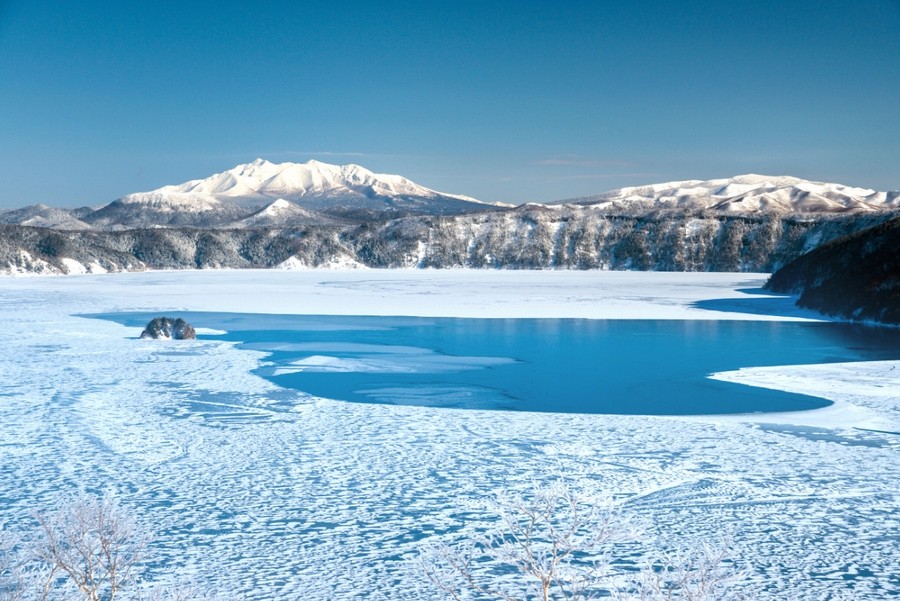 How can Lake Mashu be this blue?
The main causes behind its unique color are thought to be that its waters are highly translucent, and also extremely deep (its deepest point being at 212m). In fact, the lake is in the crater of a volcano, so maybe it being a hot spring may be a component in this, too.
Mashu's lakeshore in the Summer looks like a greener shade of blue. In the Winter it turns even more translucent than in the Summer and brings with it once more that white realm upon which the color blue floats above the lake's reflection.
2.Frost which changes with each year, with each date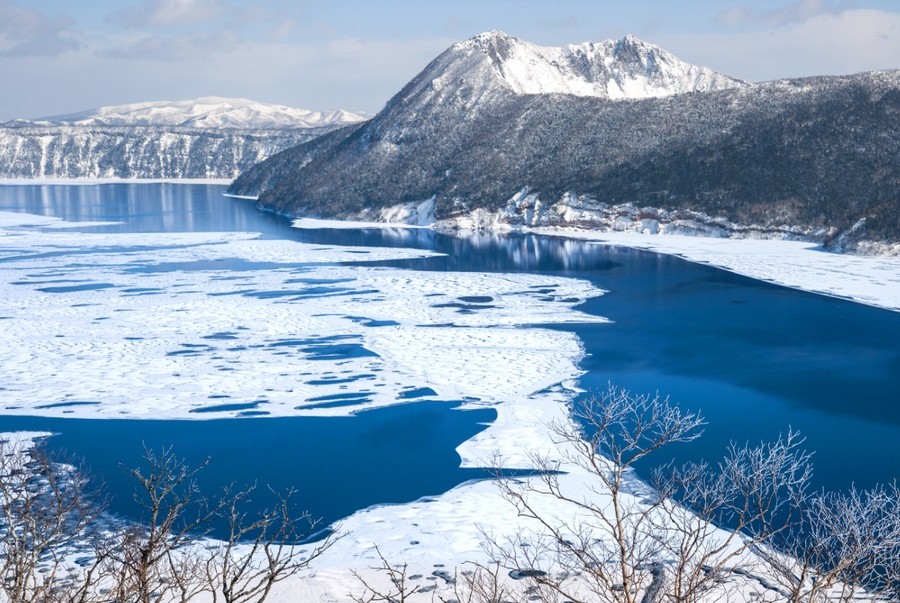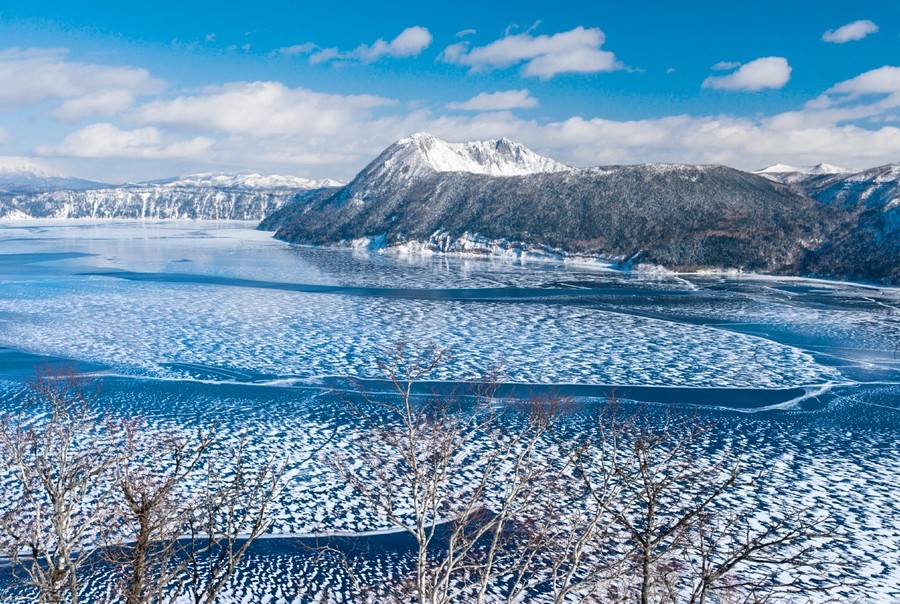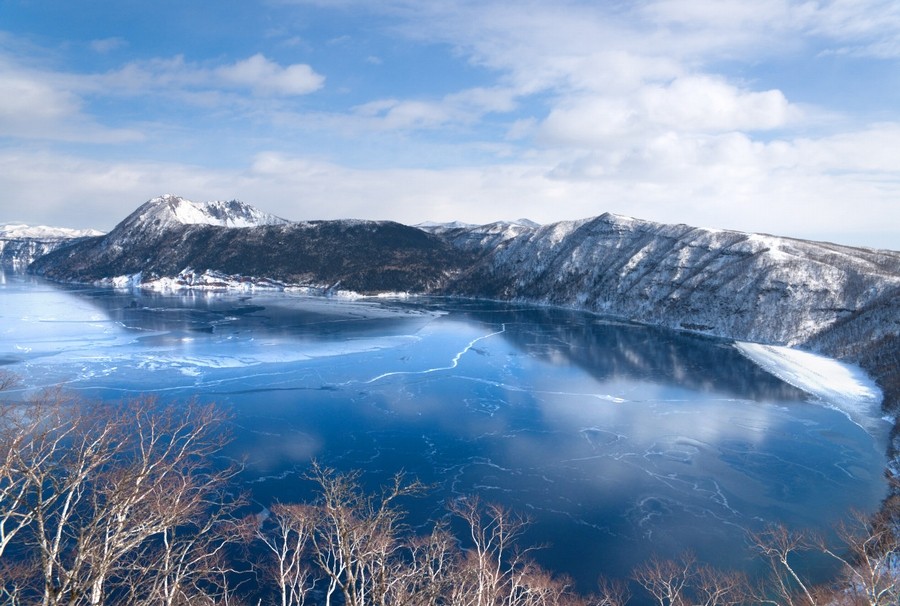 The freezing process varies depending on the year and date. Each time it is unique.
There are even days when it changes between morning and afternoon. Sometimes it starts freezing from the shore inwards, or the whole surface becomes speckled; sometimes it snows while the freezing happens, sometimes it doesn't.
It really keeps you excited about what kind of art display one will get to see each Winter!
3.How to enjoy the frost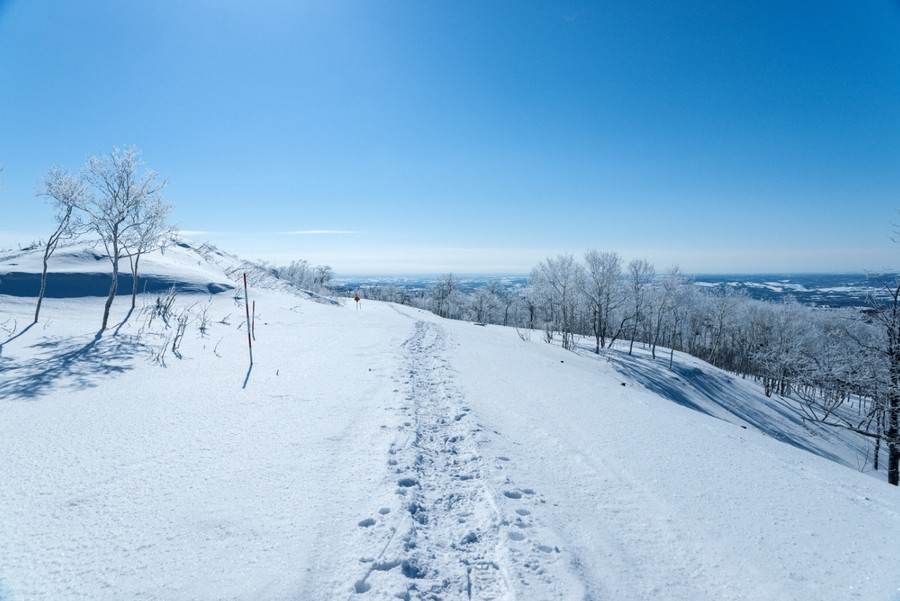 So, what is the best way to enjoy the freezing over of Lake Mashu?
Our recommendation is to go on a snowshoe hike from observation deck nº1 towards observation deck nº3. Compared to observation deck nº1 it is much closer and allows for a more impactful viewing of the lake's surface.
Snowshoes allow one to walk on snow without one's feet sinking into it. If you wear them under your regular shoes you can enjoy a nice hike.
If you were to hike with normal shoes on, they would get very muddy and prevent you from walking. So the most appropriate method for hiking on snow is to wear snowshoes, or if you're skilled enough you could try wearing skis instead.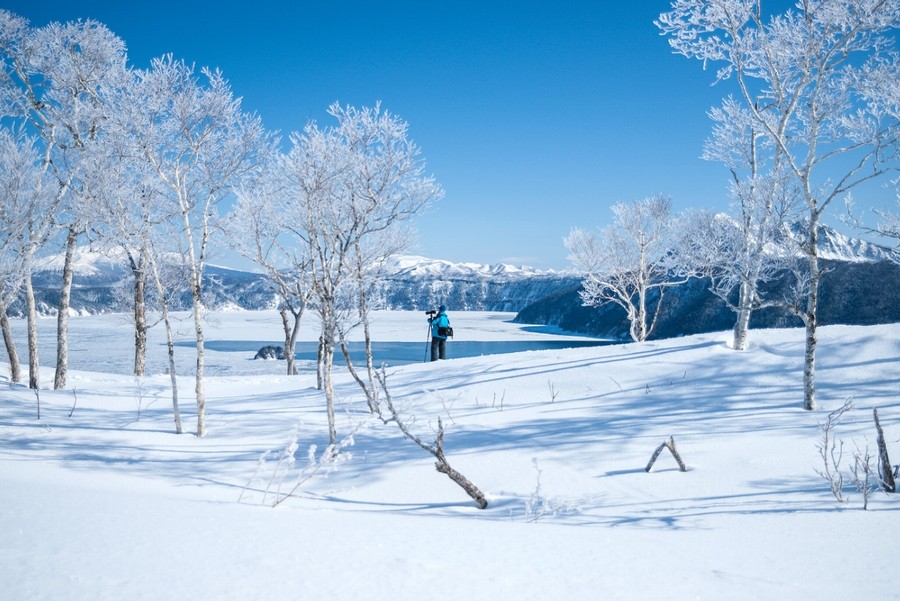 There are even some days when the temperatures get down to between -5 and -10 ℃ by midday, and yet while hiking it can often feel very hot. However, if you don't properly protect your ears, fingertips and feet, they can severely freeze so it's very important to equip yourself well. Be sure to take plenty of disposable pocket heaters with you. And of course, food and water as well.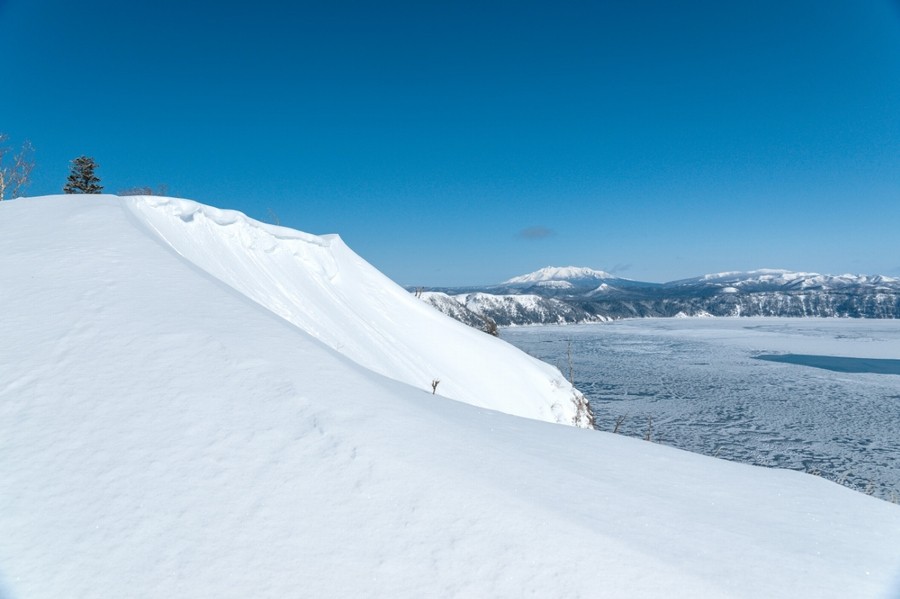 And yet, carrying a pair of snowshoes with you for the whole journey would be pretty tough. However, one must still keep in mind that this is no secure theme park, it's an intimidating garden of the Gods right in the middle of nature. If you were to venture into it unprepared and lacking in the right gear or knowledge, you could lose your life. As the image above showed, [[[https://hokkaido-labo.com/wp-content/uploads/2015/01/lake-mashu-snow.jpg]]], a lot of this hanging snow structures could easily collapse if you got too close to them.
Our recommendation, therefore, is to take part in a guided tour lead by a guide who knows Lake Mashu inside out.
You can request this at "Tourism Teshikaga", located at the local Kawayu Hot Springs.
"Tourism Teshikaga" http://www.tourism-teshikaga.co.jp/
There you can also rent snowshoes and long boots, which allows you to travel empty-handed.
4.The art of traveling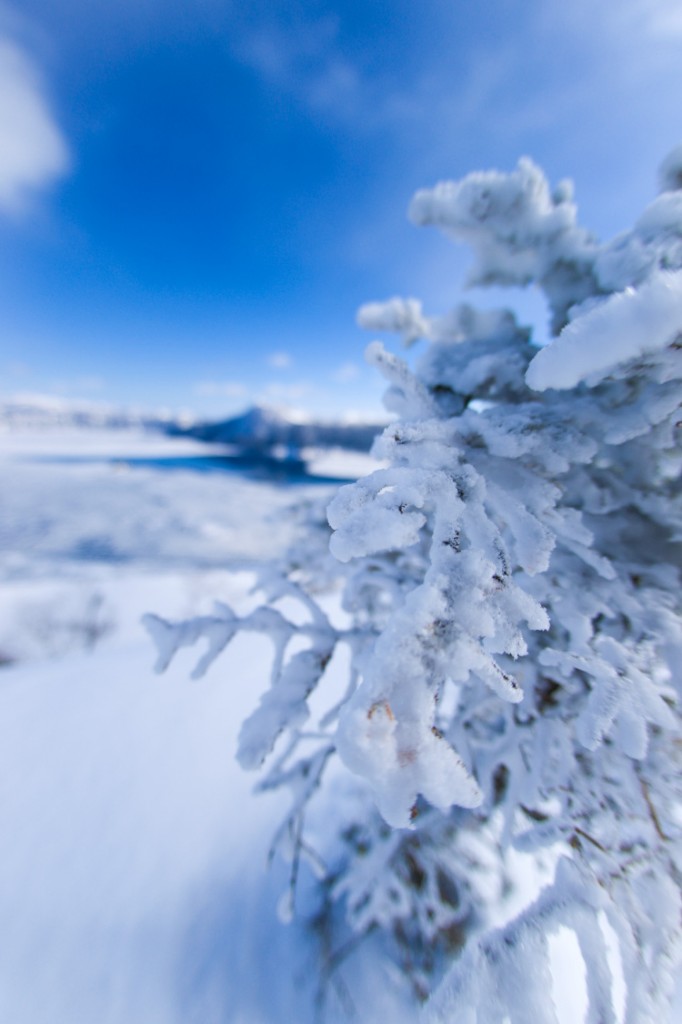 Hiking through Lake Mashu one finds many frost covered trees, with icy snow all over them.
And on days when the temperatures drop to around -15℃ you can see hard rime silver frost in the morning.
After 10 AM, this silver frost will often start to flutter and fall.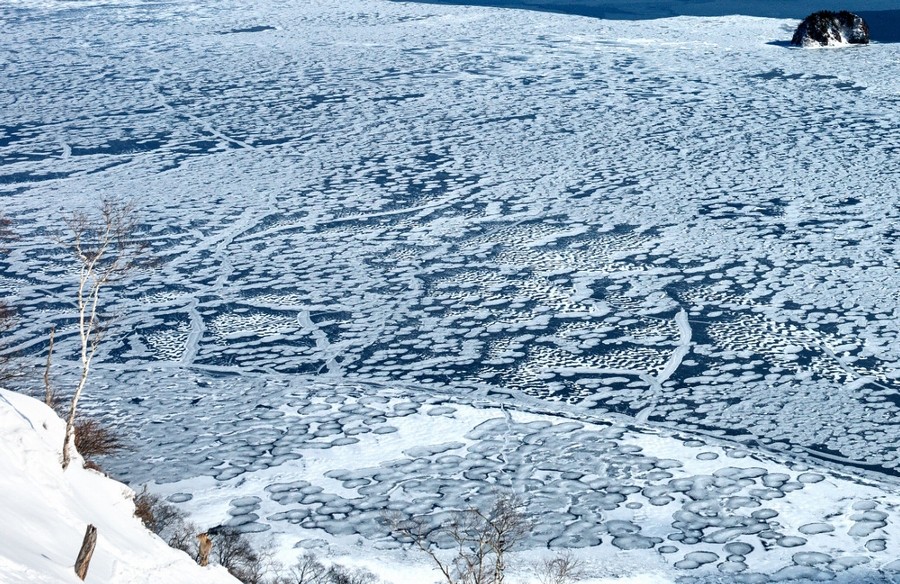 And sometimes the surface of Lake Mashu will become artistically covered in geometrical patterns of ice.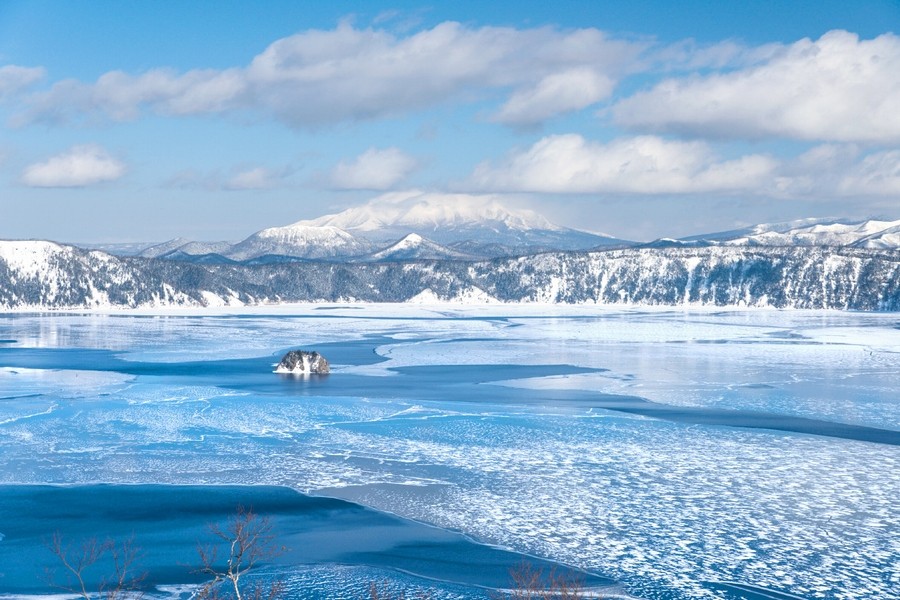 Upon this frozen surface of the lake, oftentimes one will see frost flowing down like little streams. Many different patterns emerge in the frost, and when that unique shade of blue blends into the icy white it becomes particularly beautiful.
When you stand in front of such a mystical landscape, it can move you so deeply that you stop feeling the cold. It's the moment when you feel it was really worth making the effort to come on this long journey.
5.Data collected from past frost seasons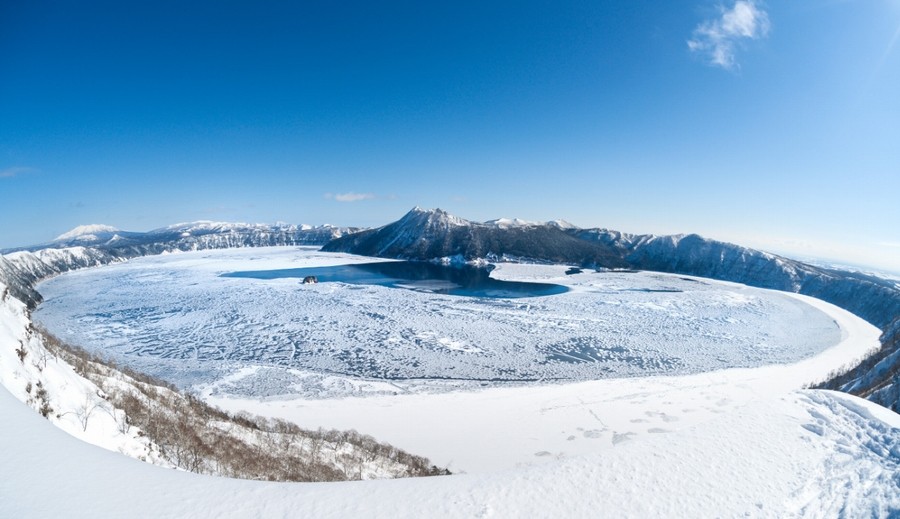 When does the lake freeze over? Here are a few dates from past years.
2010: it began to freeze over on 2/14, reached its best peak on 2/20, and from then onwards it began to thaw out without achieving a complete freeze-over.
2011: it began to freeze over on 2/9, and from then onwards it rapidly thawed out without reaching a complete freeze-over.
2012: it began to freeze over on 1/21, reached its best peak on 2/5, and froze over completely by 2/11.
2013: it began to freeze over on 1/14, reached its best peak on 2/12, and froze over completely by 2/14.
2014: it began to freeze over on 1/14, reached its best peak on 2/12, and from then onwards it began to thaw out without achieving a complete freeze-over.
It's not easy to catch the best peak dates, but if you manage to do so and contemplate that view it will become a once in a lifetime memory to truly cherish.
So why not give it a try, everybody, and take on the challenge!
The best dates are the 1 to 3 days before and after the peak moment, but all other days will offer just as impressive a scenery, where you will be able to see the frost spreading over the lake's surface. Lake Mashu has a livecam feed, so be sure to check that in order to decide if the timing is right or not.
When it comes to the actual hours, between 11 and 12 in the morning on a clear day tend to be the best times for catching a lot of sunlight, which in turn allows the lake to sparkle. So if you set out on your hike from observation deck nº1 at around 9 or 10 AM you should be fine.
6.Access

It takes 1 hour and 20 minutes to get there by car from Kushiro Airport.
It takes 1 hour and 20 minutes to get there by car from Memanbetsu Airport.
It takes 20 minutes to get there by car from the Mashu JR station.
It takes 2 hours to get there by car on the integrated circuit Doto Expressway.
In the Winter months you can reach Lake Mashu's observation deck nº1 by car, but past the gate that leads to Kawayu Hot Springs you can no longer go by car.
7.Afterword
There tends to be a lot of fog, to which the lake owes its nickname of "Foggy Lake Mashu". However, from the last third of January to February the lake is comparatively clear, which makes it a safer period, with better weather. Despite this, one should still take care. On some days temperatures reach -5℃ at midday, so one must also go properly equipped against the cold.
Finally, some extra information. There are some superstitions circulating which say that "if you look at Lake Mashu, your marriage will be delayed", or "your success in life will come later", and so on. Apparently these were invented on the spot by a tour bus guide in order to console customers who hadn't been able to see the lake due to the thick fog. So if you hear this, please don't worry about it and enjoy the view of Lake Mashu in clear weather. Lake Mashu on a bright day is exactly the opposite from this superstitious rumor: it is a thing of beauty which empowers people with a sense of honesty with which to live one's life fully.