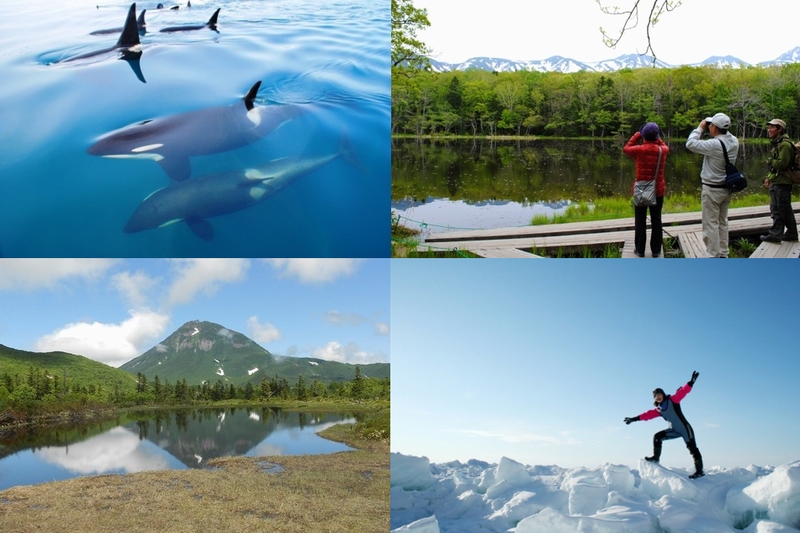 The season for summer traveling is just around the corner! For those who are nature enthusiasts, a great many of them might be thinking "This year I'll definitely go and visit Shiretoko!"
With that said however, you might also hear a lot of confusion and uncertainty from people who do not know how to properly enjoy Shiretoko; "where should we go?"- "Umm, the Shiretoko Go Lakes?" are usually the way these things go.
So to amend that, today we will introduce several ways to enjoy Shiretoko's beautiful locale, list its most famous hot spots and guide you to a smattering of trial experiences on offer!

1: Sights and Experiences at the Forests and Mountains
2: Sights and Experiences at the Sea
3: Calm, Relaxed Driving Spots
4: Sights and Experiences at Wintertime
5: Things to know about touring in Shiretoko
1: Sights and Experiences at the Forests and Mountains
1 – 1:First and Foremost, Shiretoko Go Lake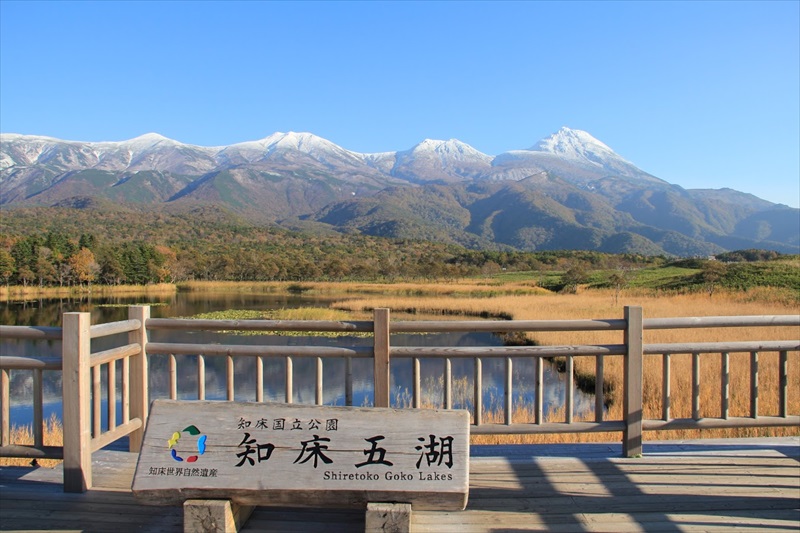 The first thing that comes to mind when people hear about Shiretoko would be this, the Shiretoko Go Lakes.
The Shiretoko Go Lakes are located 30 minutes by car (14km) from Shiretoko Peninsula's northwestern metropolis of Utoro.
・There are 2 ways of enjoying a stroll through the Shiretoko Go Lakes. An Elevated Boardwalk and a Natural Trail.
When talking about enjoying the scenery of the Shiretoko Go Lakes through a stroll, there are two main methods; an Elevated Boardwalk and a Natural Trail. So, what are the differences between the two?
・The Elevated Boardwalk is more Relaxed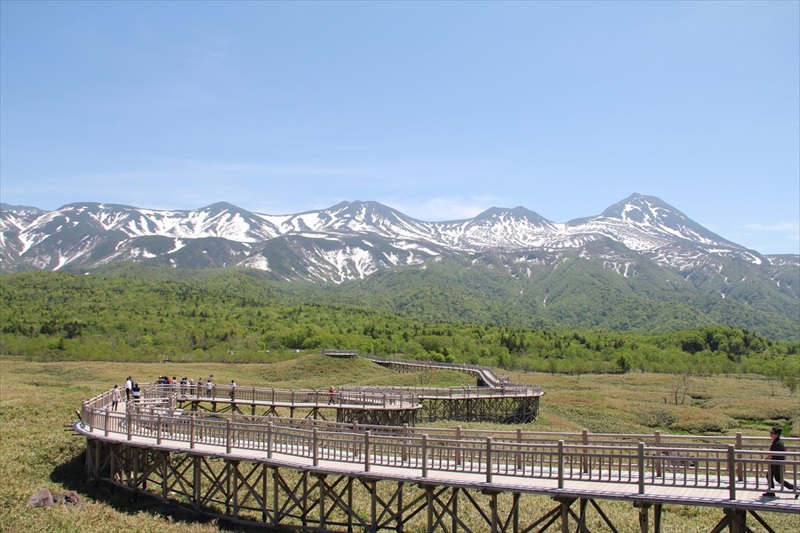 The Elevated Boardwalk is, as it name implies, an elevated boardwalk that stretches 1.6m from one end to the other, starting from the Shiretoko Go Lake's parking lot to one of its individual lakes. Since it has no stairways and is barrier-free, those who are in wheelchairs are able to participate and enjoy the sights provided by the Boardwalk.
Please note that if the majority of bus tours are scheduled for the Shiretoko Go Lakes, you will have to walk here for the sake of convenience.
Though its ease of traffic is one of its merits and strong points, those who are looking to enjoy the full package of the Five Lakes of Shiretoko Go might find this route a little underwhelming.
・The Natural Trail normally has Restrictions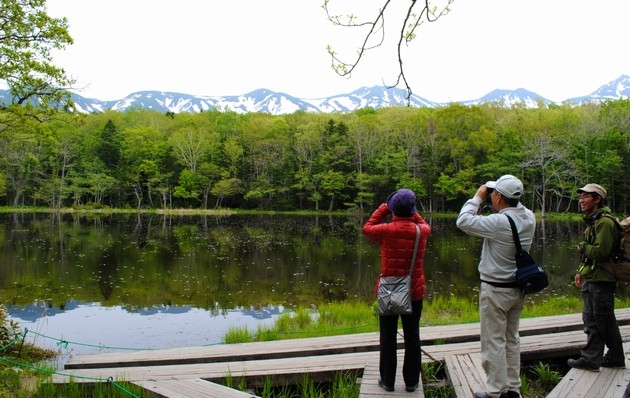 The Natural Trail is a route that goes through the forest of the Shiretoko Go Lakes where brown bears have also made their habitats.
For that reason certain restrictions might apply in the name of your safety, such as having to participate in a guided tour; receiving instructions and lectures beforehand even if you have no need for escorts; and limitations on headcount.
In addition, for walks outside the time-period where the participation of tour guides is a must (May 10 ~ June 31), we recommend having tour guides accompany you on your exploration as you will be able to further enjoy the forest and its sights with an expert woodsman at your side.
Tour guides are operated by many on-site nature tour companies.
1 – 2:The Hot Springs of Kamuiwakka Falls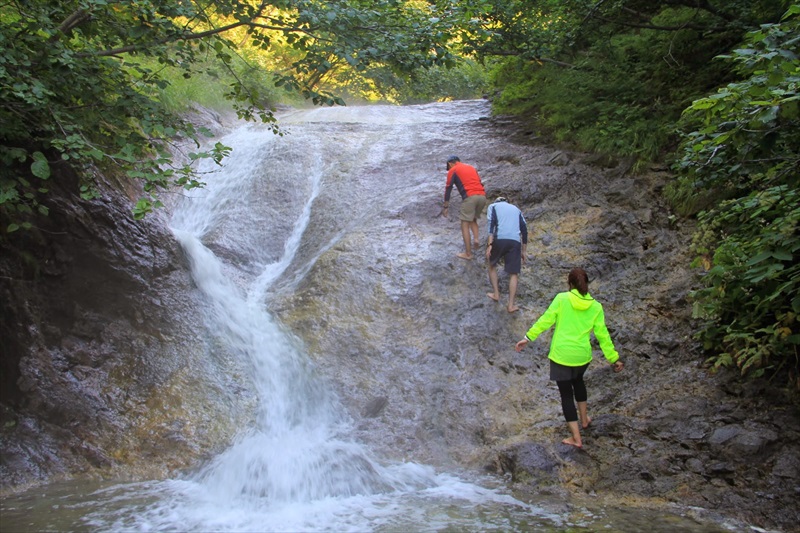 Even further at the back of the Shiretoko Go Lakes are 「the Hot Springs of Kamuiwakka Falls.」The Falls itself have become hot springs due to natural circumstance and looking at pictures of people plunging and playing at the basin of the Falls, many visitors might be tempted to go there themselves!
・The road towards the Hot Springs of Kamuiwakka Falls is unpaved and there is a restriction on going there with your own car.
The Hot Springs of Kamuiwakka Falls are located at an even further distance of 12km from the Shiretoko Go Lakes' parking lot. And the road leading there is an unpaved dirt road of bad quality. For the sake of your own safety, we advise you completely avoid this way if you have no confidence or unsure about your driving abilities.
Moreover there are regulations set in place for traffic based on certain time periods, and from the 1st of August to August 25th, the usage of privately owned cars and bikes are prohibited and all must proceed on shuttle buses.
・The trip to the Falls is a little Wild
So, we have reached the parking lot of the Hot Springs of the Kamuiwakka Falls. And though we must reach the the Falls by foot, partway through we will have to wade in the hot spring river flowing from the top. It is not so dissimilar on river-climbing. For those accompanied by their children, please enjoy this without too much physical exertion.
1 – 3:An Easy Nature Experience♪The Furepe Waterfalls
Now, there are other spots in Shiretoko besides the Shiretoko Go Lakes where you can walk and enjoy nature.
One of them is the route towards the「Furepe Waterfalls」
・The Furepe Waterfalls is a course that is approximately 2~3km in a round-trip, and we will walk through a forest where brown bears have made their habitat.
Usually the way to reach the Furepe Waterfalls would be to go by foot from the 「Shiretoko Nature Center」 which is located 8 minutes away by car from Utoro. With that said however this is still brown bear territory. For those with few experiences we strongly recommend that you join a guided tour.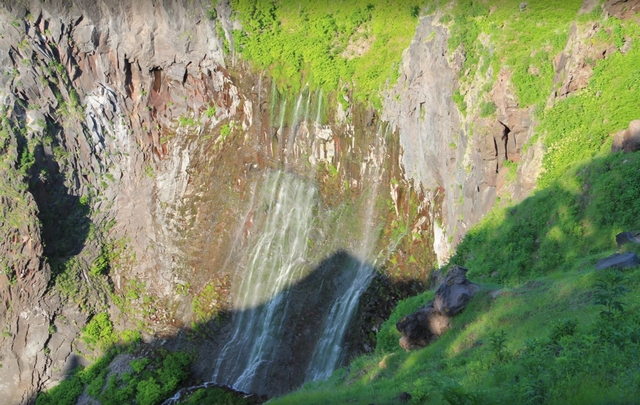 The Furepe Waterfalls is rugged and wild in that it flows from Shiretoko's sheer cliffs down into the waiting embrace of the open sea. And while the waterfall is impressive enough on its own, the chance of you encountering majestic animals such as Hokkaido deer along is extremely high, making this a heavy recommendation for those who want to experience the natural environments of Shiretoko.
1 – 4:A Proper Trek!Lake Rausu
Up next, we have trek towards the Lake of Rausu, a hearty recommendation for those who want to properly experience the great outdoors of Shiretoko!
Alpine plants bloom in excess along the path towards Shiretoko's largest lake and at the months of June and July you will be able to walk upon the whisper-soft surface of vestigial snow, making this a very attractive trekking route!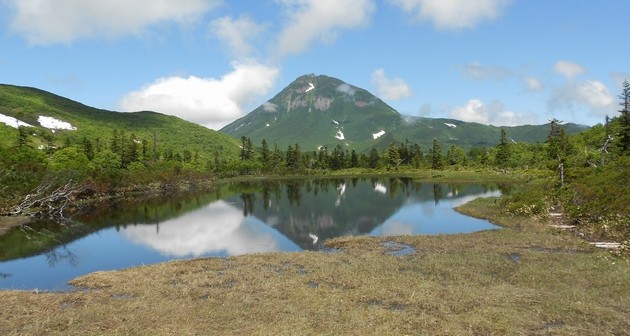 ・The access to Lake Rausu's entryway is inconveniencing
The way towards Lake Rausu is located at a spot partway from Shiretoko Ridge of the Shiretoko roadways that connect the two sides of Shiretoko-Utoro and Rausu. There are no parking spaces here and moreover there are only four stops for buses available (from Utoro to Rausu), making its extremely difficult accessibility one of its black marks.
Because of that, we suggest you go there via a guided tour with an escort familiar with the area, as there is also the ever-present danger of brown bears to worry about.
The route towards Lake Rausu, a path where you can enjoy exotic sights other than the Shiretoko Go Lakes. Please, why don't you visit and experience an alternative way of encountering the beautiful locale of Shiretoko?
1 – 5: Experiencing the Nights of Shiretoko
After experiencing the natural outdoors of Shiretoko in the day, would all that's left to do in the evening be a relaxing bath in the hot springs?
No sirree, Shiretoko still has atttractions, even during the night!
Said attractions are special tours operated by respective companies where you can search for nocturnal animals while in a car, and stargazing tours where you will guided to some of the best, and rare, spots.
Please enjoy the attractions of Shiretoko that can only be experienced in the night!
2: Sights and Experiences at the Sea
2 – 1:Cruising at Utoro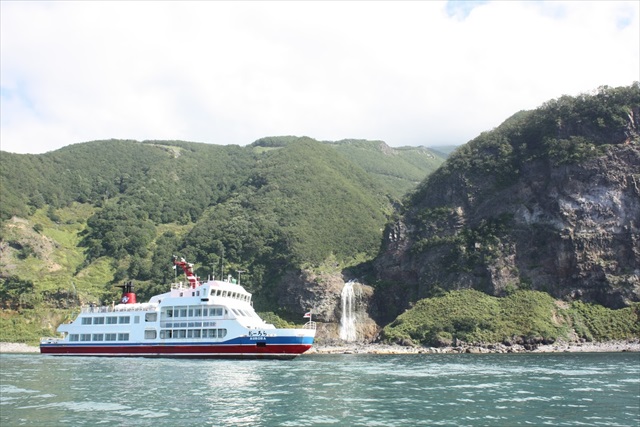 Photo Courtesy of: Dotou Kankou Kaihatsu
In Utoro, northwest of the Shiretoko Peninsula, there are cruising tours operated by various companies where you can enjoy the Shiretoko Peninsula from the sea. Furthermore, there are various methods to enjoy the cruising experience from large sea vessels that can accommodate 400 people at once to small, sleek and snug cruisers.
・Routes mainly have three 3 types. The duration ranges from an hour, which is the shortest, to 4 hours.
Now, in regards to the cruise at the Shiretoko Utoro District, there are mainly 3 routes.
The shortest would be the one that goes near the Hot Springs of Kamuiwakka Falls and Mt. Iou. This is a relaxed route where you can see Shiretoko's sheer cliffs and wild birds. The duration would approximately be an hour to an hour and a half, and the price would around 3,300 Yen.
Next is the longest route, where it goes until Shiretoko Ridge, which is Shiretoko's farthest point. Along the way we will pass over Rusha Bay, an area where there is a high probability of brown bears passing through. There is also a chance where you might be able to see dolphins and whales.
The trip duration would be around 3~4 hours, and it would cost about 6,500 to 8,000 Yen.
And last but not least, though this would be in-between the two previous routes, this is a route that would take you partway to Shiretoko Ridge mentioned earlier and until Rusha Bay. This is a hearty recommendation for those who want to see brown bears since they're already in Shiretoko. (Of course, it should be noted that encountering them is not promised.) It is a cruise that would take around 2 hours, and the price would be about 5,500 Yen.
2 – 2:Cruising at Rausu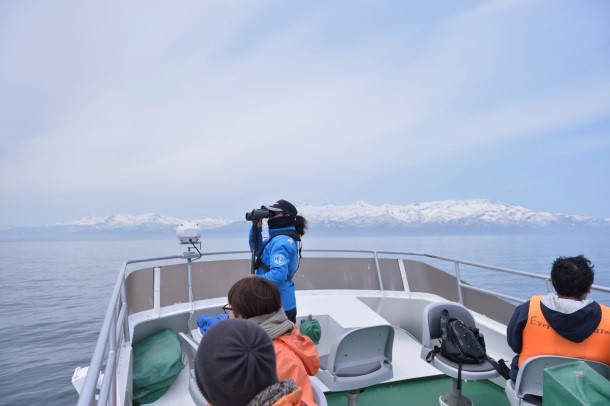 Photo Courtesy of: Shiretoko Nature Cruise
The next thing we would like to introduce would be the Cruises at Rausu-cho, which faces towards Nemuro Strait at the southeastern part of the Shiretoko Peninsula. This, too, is an area where there are many operations handled by numerous corporate bodies.
・The charm points of the Rausu Cruise would most definitely have to be its marine wildlife!
The Rausu Cruise during the seasons of Spring to Fall, with locations where you can see the Kunashiri Islands near the Shiretoko Peninsula being a matter of course, is as expected an area that large animals pass through with high probability.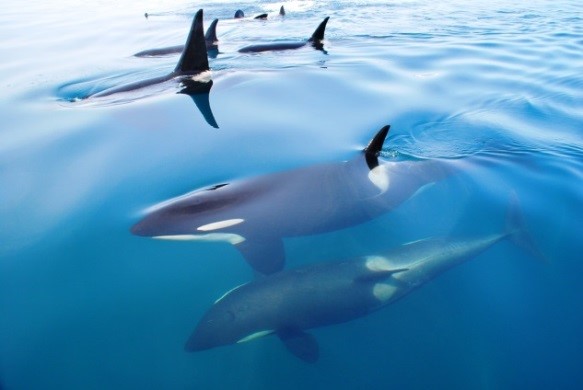 You can meet summer dolphins and awe-inspiring sperm whales, and at the start of Summer from the months of May to July, even orcas too! On top of that there are also various species of birds, such as large flocks of streaked shearwaters! In this cruise, you will be able to drink in the mighty presence of Japan's farthest sea.
With that said, the cruise fee is around 8,000 Yen and the cruise duration is around the range of 2 to 2 and a half hours.
3: Calm, Relaxed Driving Spots
3 – 1:Shiretoko Ridge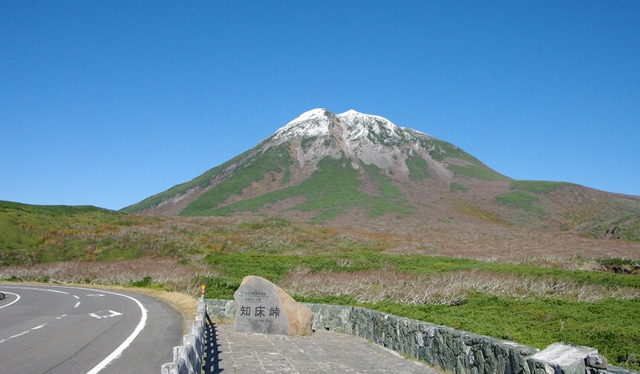 Now at Shiretoko there are numerous sightseeing spots that you can easily reach by car. Our first recommendation among them would be, Shiretoko Ridge.
As Shiretoko Ridge is annually closed in with snow at the last days of October until before the Golden Week Holidays, you can enjoy the exotic sights of each season of Spring, Summer and Fall!
Moreover if the weather conditions align, you might be able to encounter the breath-taking sight of a Sea of Clouds in the early morning!
3 – 2: The Oshinkoshin Waterfall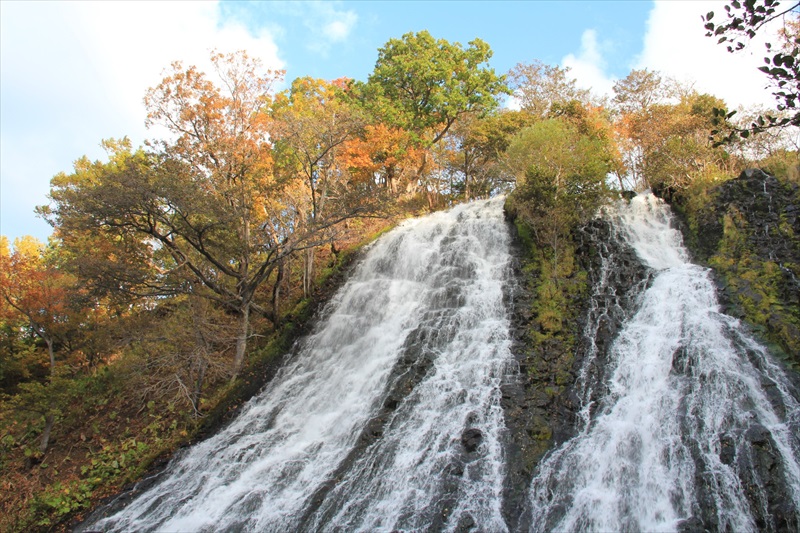 The next hot-spot we would like to introduce would be the picturesque scenery of the Oshinkoshin Waterfall, located along the National Highway in front of Utoro.
This powerful waterfall, boasting a 50m drop, can be seen up close so much to the point that onlookers can be splashed. This particular waterfall has been listed in Japan's 100 Waterfalls and starting with organized buses many tourists visit this site.
3 – 3:The Road to Heaven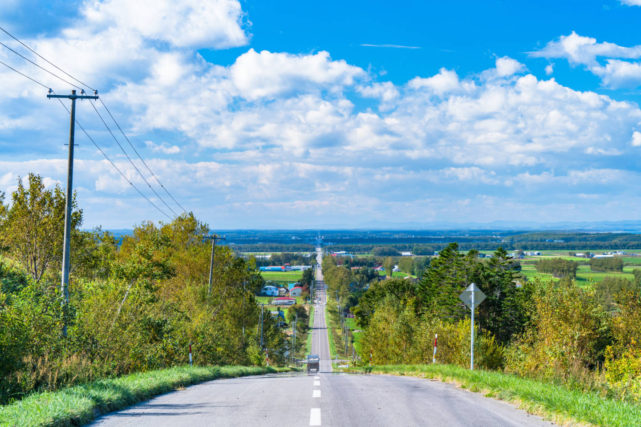 Our final showcase would be the Road to Heaven, a beau-spot in Shari which is the root of the Shiretoko Peninsula.
This straight road with a complete length of 27.5 km looks like a place that can continue anywhere and its popularity grows yearly by word of mouth.
4: Sights and Experiences at Wintertime
4 – 1: Popularity Rapidly Rising!Drift Ice Walk
From the blooming greens of summer that turns immediately to the omnipresent blanket of snow, the winter of Shiretoko sets in quick. Even while being a season of extreme cold, many tourists visit here, particularly during the month of February.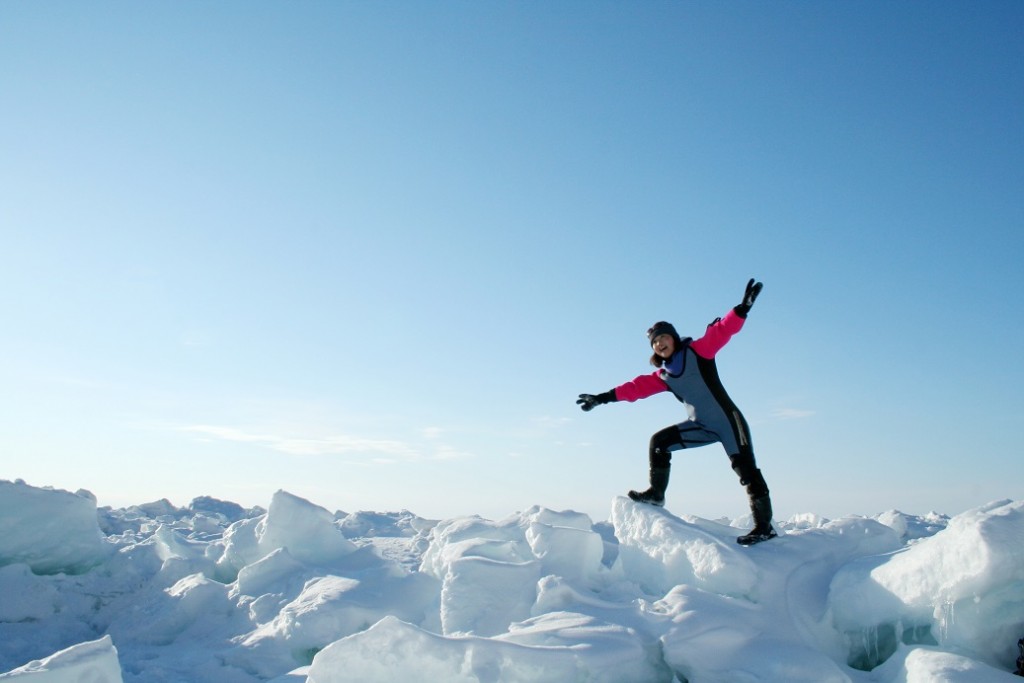 One particular event among them that is especially gaining recent commercial attention would be the「Drift Ice Walk R」This experience, where you will wear custom dry suits to walk on top of drift ice (or fall into the ocean and float), is held at Shiretoko where drift ice gathers so it is always available during winter.
Its popularity growing annually, this year's participation numbers, during a period of 4 to 50 days, were reported to have been at an astounding 10,000; both by domestic AND international visitors. (※As reported by the Eastern Hokkaido Council of Tourism Development)
In the extremely cold Shiretoko, this current activity, which you most definitely have to try, is on fire.
4 – 2;A Legion of Eagles & Drift Ice Cruising in Rausu
Next, we would like to introduce a cruise at Rausu that you can board at February and March; the Drift Ice and Bird Watching Cruise!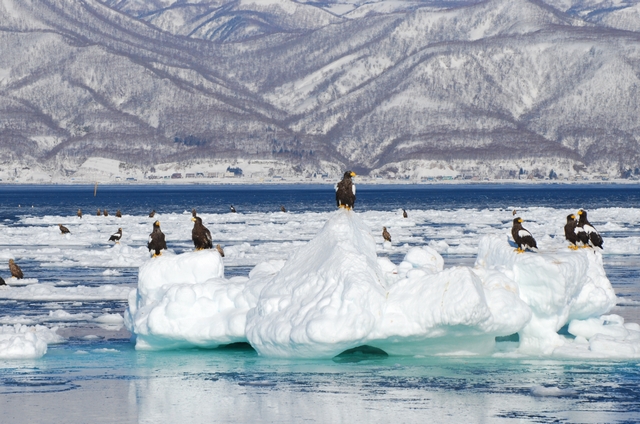 This has 2 points of attraction. The first one is cruising through the drifting ice that floats in the sea during certain periods and the other one is also cruising through a sea that has more than 100 heads of majestic wild birds such as Stellar's sea eagles and white-tailed eagles.
From that value, many photography enthusiasts mainly from the West gather here annually, and has also been broadcasted in numerous television shows.
4 – 3: Shiretoko Go Lakes: You are now able to go there even at Wintertime.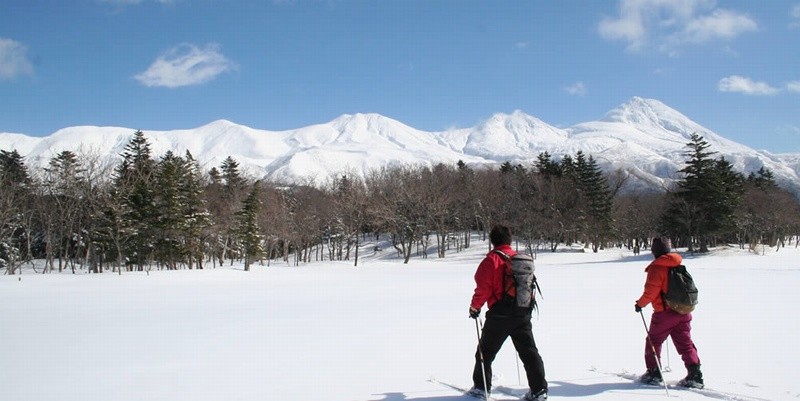 Continuing from that is Wintertime trekking in the Shiretoko Go Lakes. Though the Lakes prohibit entry during the winter season, from 2015, you will now be able to enjoy it at the snowy season via an exclusive, headcount-limited guided tour!
Turning into a completely white snowfield, wintertime Shiretoko Go Lakes is a veritable ultra-natural environment!
5: Things to know about touring in Shiretoko
Finally, for those who now want to visit Shiretoko, we would like to introduce several things you should know in advance!
・Shiretoko Go Lakes experiences heavy traffic at peak Summer!
For those who plan on visiting Shiretoko Go Lakes during the Summer vacation season, please be forewarned.
As there is a limitation on how much the Shiretoko Go Lake's parking space can accommodate (at 100 vehicles), there might be cases where a traffic worth several hundred meters erupts and you have to wait around an hour.
However, as there are shuttle buses coming out from the Shiretoko Nature Center during peak commercial periods, we strongly recommend that you utilize such services.
・Shiretoko Ridge is closed off during November until before Golden Week starts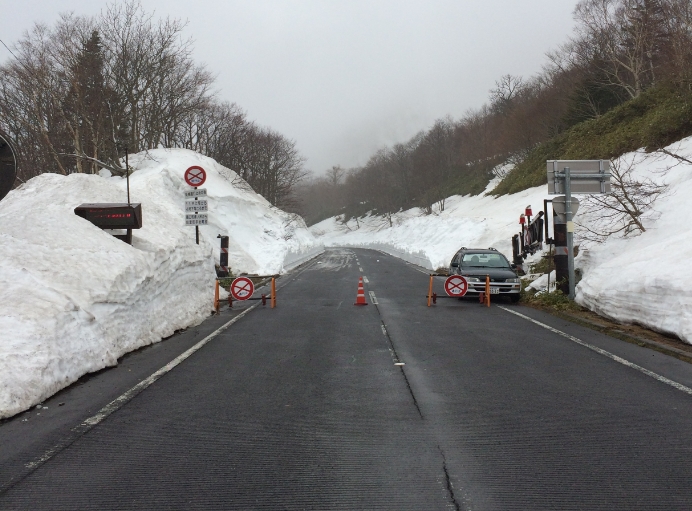 As stated previously, the Shiretoko Ridge that connects Utoro and Rausu will be closed off for a long period starting from November.
During this period, should you go to Rausu via Utoro, you will have to commute through Konpoku Ridge (approx. 110km, around 2 hours and 30 mins.).
・Hotels are many in Utoro, few in Rausu
Fully enjoying Shiretoko's natural scenery should be a slow and relaxing 2~3 day endeavor. In regards to accommodation during that case, Utoro has more inns and guestrooms; Utoro District, in particular, has large hotels that boasts more than a hundred guestrooms! In contrast, even large hotels in Rausu District only have 50 rooms or less.
With that said, Shiretoko's peak commercial periods are during July to August, and February. We recommend an early reservation if you are planning on staying at these periods, especially at Rausu.
・The weather is different at Utoro and Rausu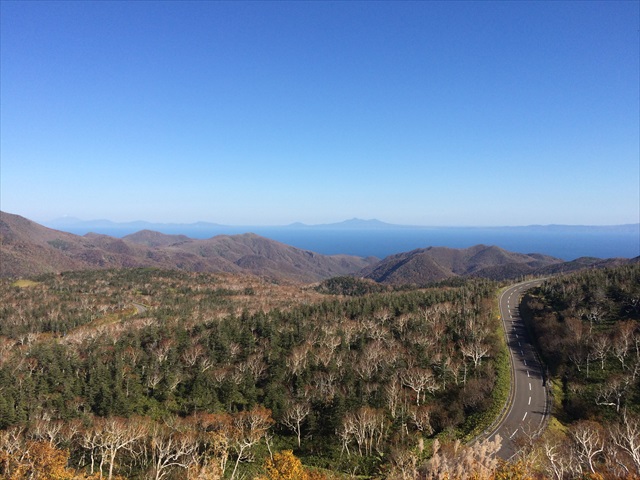 So if we remove the wintertime blockoff in place during wintertime Shiretoko, and if for example you are supposed to stay in Utoro but the weather's leaning towards rain, then playing at the other side of Rausu should also be a consideration! Utoro and Rausu, two cities separated by a high mountain. There are numerous cases of them experiencing disparate weathers; one experiencing rain, the other experiencing clear skies.
・There are periods-exclusive buses
At Shiretoko, farthest in Japan's eastern side, it cannot be said with certainty that commuting is convenient. Since you can count periodical route buses on one hand, it is a place where we recommend touring via a car (or a rented one) if you can drive.
With that said however, it is not a place where we can recommend driving especially during wintertime. In that case we would like to suggest commuting around in period-exclusive bus.
Listed below are two types of buses that are in service annually.
・Shiretoko Airport Liner
Exclusive during the following periods; from the first part of June up to the first part of October, and from the last part of January to the first part of March. It runs through Memanbetsu Airport・Abashiri・JR Shiretoko Shari Station and Utoro. There are 3 operated rides per day. (Operated Company:Joint service by Shari Bus・Abashiri Bus).
・Eastern Hokkaido Express Bus
Exclusive during the wintertime sightseeing season, this is a period-limited bus service that runs through within Eastern Hokkaido with numerous liners (※Reservation Beforehand Only, Can usually receive bookings two day before the event). Regarding the Shiretoko districts, it runs annually on the sections listed below.
・Utoro ~ Rausu ~ Nakashibetsu Airport Line
・Utoro ~ Abashiri ~ Mombetsu・Sounkyo Line
・Utoro ~ Mashu ~ Shibecha (SL "Fuyu no Shitsugen" Departure/Arrival Station)
※Only operated during SL service days
※At 2019, Janurary 26 ~ March 10 are planned service days.
Furthermore、at 2018 we have also planned the service of an Autumn edition of the Eastern Hokkaido Express bus exclusive during September to October. Listed below is its route.
・Utoro ~ Mashu ~ Lake Akan
We have now introduced Shiretoko's hot spots, activities and ways of enjoying them! Shiretoko; surprisingly easily accessible, even from Tokyo if you use a plane. Please feel free to visit and be charmed by the magnificence of Shiretoko's quaint attractions♪