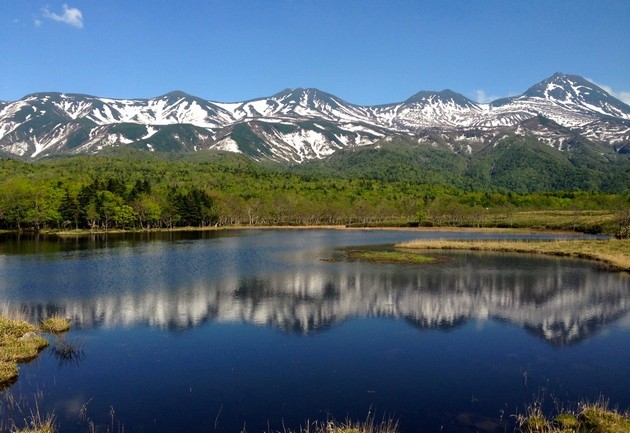 Shiretoko was designated a World Heritage Site in July of 2005, and is home to "Shiretoko Goko Lakes," famous for its five beautiful lakes, untouched forests, and the Shiretoko mountain range.
Today we joined by a professional nature guide (also an expert on brown bears) and taken on a guided tour to enjoy fresh new verdure of the Shiretoko Goko Lakes!

The Guided Tour
While Shiretoko Goko Lakes hosts around 500,000 visitors a year from all around the world, it's also home to a population of brown bears.
Mating season for the brown bear lasts from May into July, and for those of you wanting to stroll the nature paths, that means you'll have to pay a fee to enlist the services of a guide to take a special course instead.
Keep in mind it takes about three hours to fully enjoy this three kilometer course, so be sure to put aside enough time to fully enjoy it!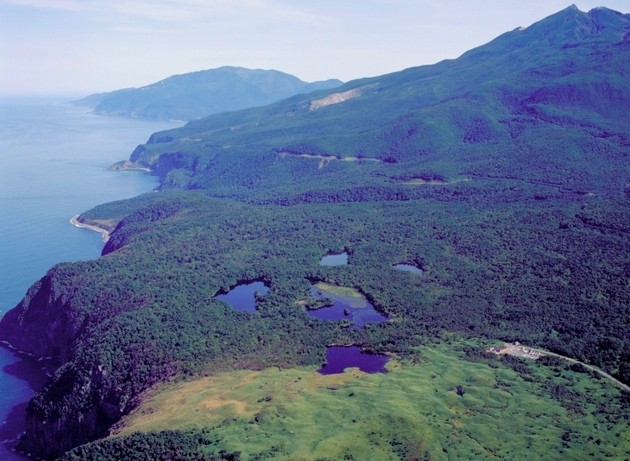 A aerial view of Shiretoko Goko Lakes. You can see the field house in the lower right corner.
Taking in the sights from a wagon
First, let us introduce our guide, Mr. Haruma Shibata. Pictured here with his trademark brilliant smile, Mr.Shibata is the youngest guide at Shiretoko's Nature Center.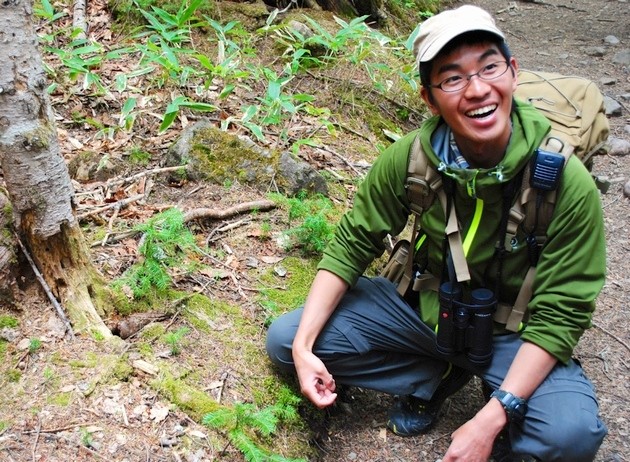 After boarding a wagon from the nature center near the center of Shiretoko, it was about a 15-minute ride to Shiretoko Goko Lakes.
Once we hit the road, we looked out the window and were absolutely shocked to come face to face with wild deer, right in front of our very eyes! Even better, our guide entertained us with all sorts of facts about Shiretoko while we traveled to our destination. (For those who will stay in Utoro, they'll even come to pick you up.)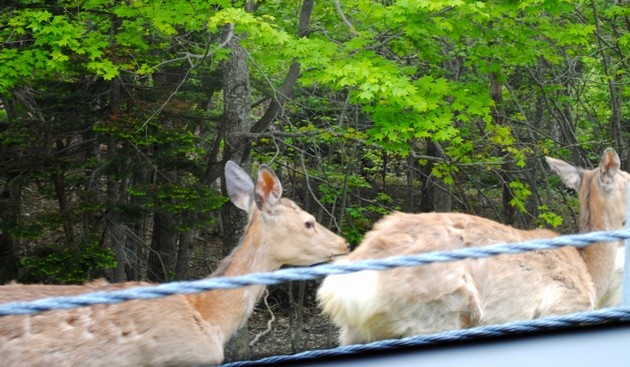 Finally, we reached the entrance of Shiretoko Goko Lakes' nature trails. After refreshing ourselves in the washrooms and hydrating ourself with the water and tea, we settled in for a short lesson.
We watched a 10-minute educational video, after which our guide informed us of some recent bear activity in the area. It turns out some bear tracks had been spotted right on the trail of the nature walk that day!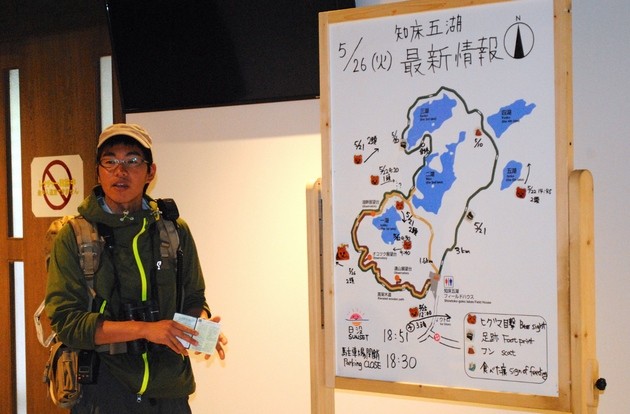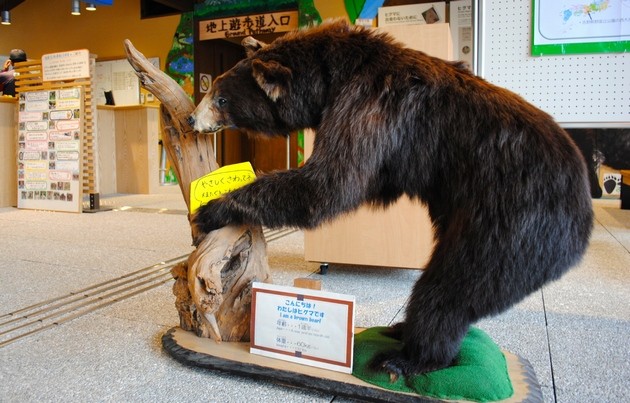 In fact, we were even greeted by a brown bear right there in the field house.
Let the tour begin!
Armed with newfound knowledge, we were ready to begin our hike. We entered the untouched forest, filled with Sakhalin fir trees.
Our guide filled our heads with all sorts of information while we walked, teaching us that the 'koumori sou' leaves along the trail were named for their resemblance to bats (koumori, in Japanese), pointing out the acorn shells in bear droppings, and informing us that the beautiful bird cries we heard in the forest came from the narcissus flycatcher… We learned a lot about the forest's wildlife.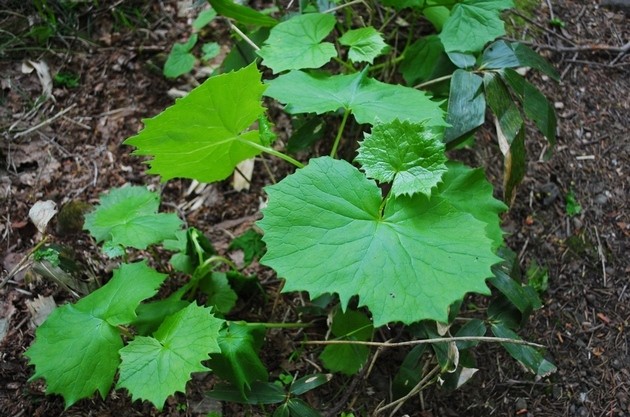 Koumori Sou leaves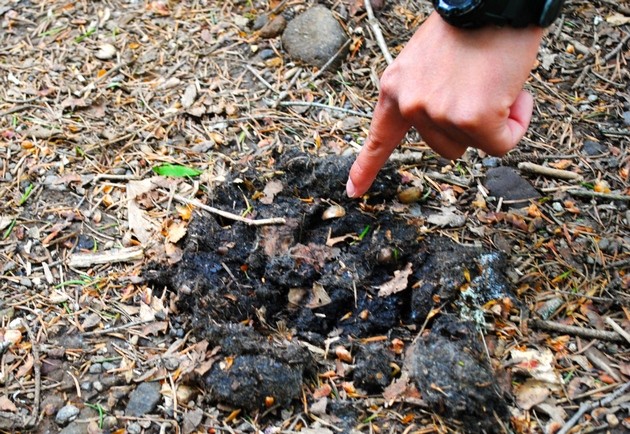 Bear droppings.
Trees and mountains reflected in the lake
Here we arrived at the first of the lakes, "Lake Five"! Despite the overcast skies, the lake reflected the trees and mountain range in the background just a clearly as a mirror. We used the binoculars our guide provided to get a good look at the ducks on the opposite shore.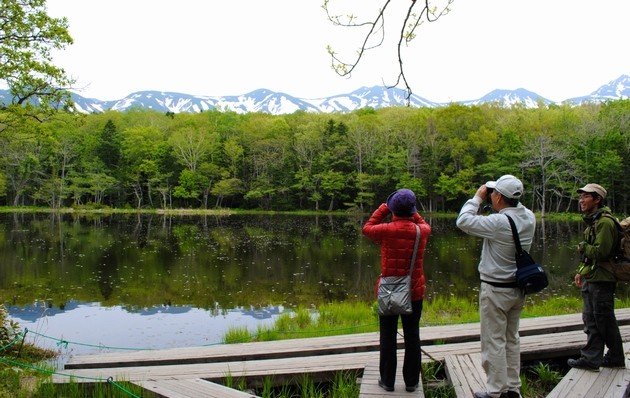 Lake Five
Our next visit was to "Lake Four," and then "Lake Three." The serenity of both, the beautiful snow-peaked mountain ranges… It was a sight we were sorry to leave.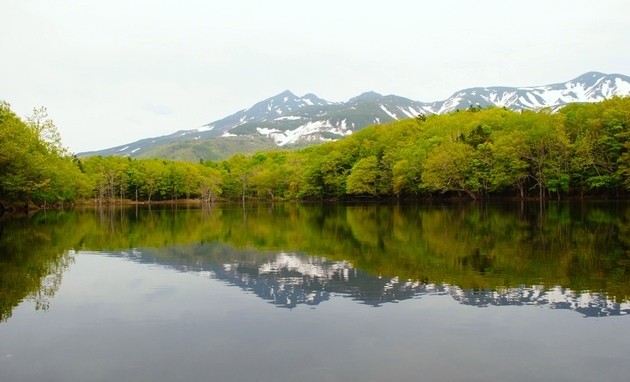 Lake Four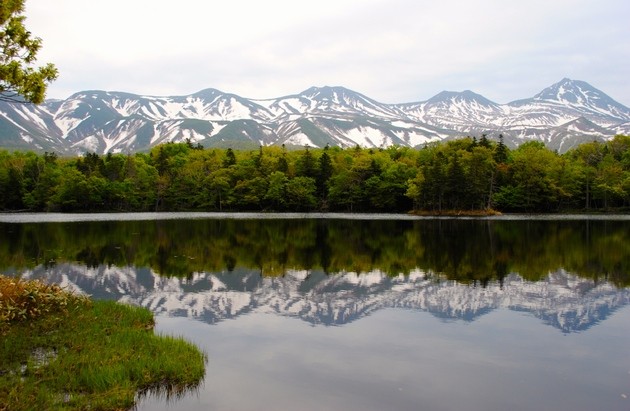 Lake Three
The signs of nature and wildlife were in abundance as we hiked the path around Lake Three. For example, holes drilled into trees by great spotted woodpeckers searching for a bugs to munch, not to mention the scratch marks left from bears climbing the trees etc… There was life all around us.
We might have overlooked every single one of them, had it not been for our guide directing our eyes. At the same time, the terrain was very uneven, so watch where your feet are going, too!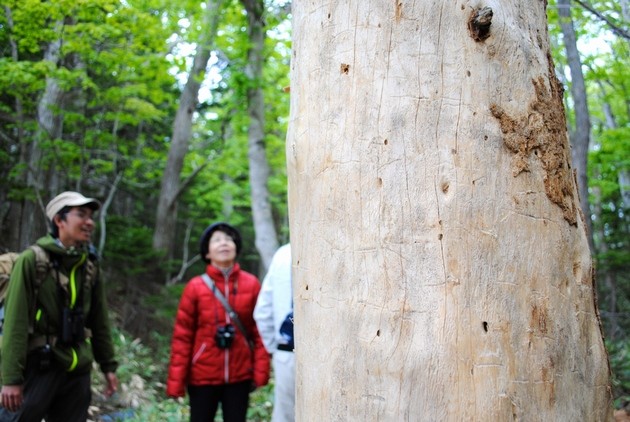 A hole drilled by a great spotted woodpecker.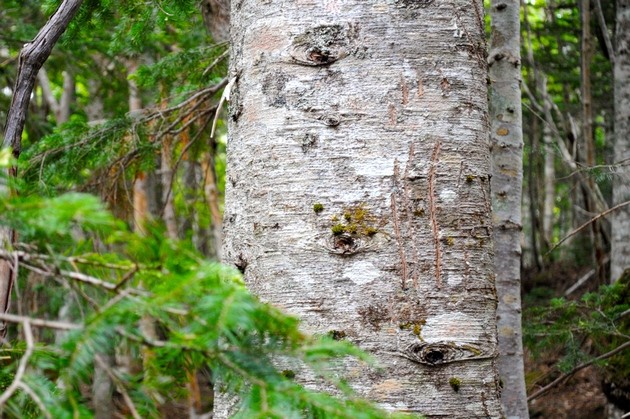 Scratches from a brown bear.
It finally ended up raining a little later on, but under normal circumstances Lake Two provides the best view of the mountains, since it's so close to them.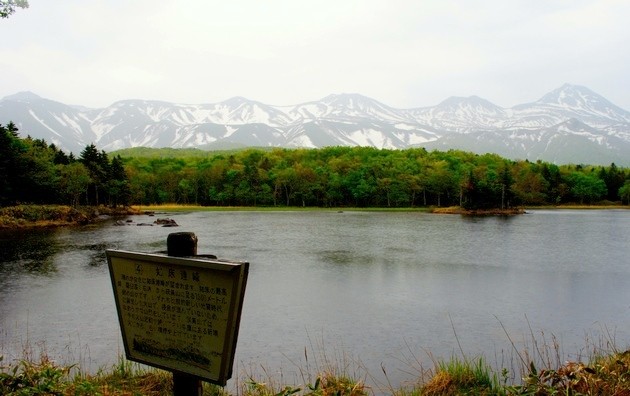 A rainy shot of Lake Two.
Visiting the elevated boardwalk
After finishing up our guided tour, we headed off to visit the elevated boardwalk. An electric fence spans the entire length of the boardwalk, so there's no need to fear bears here.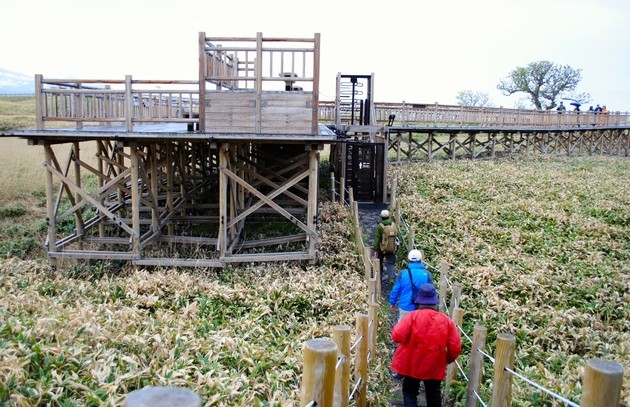 The outlook post at Lake One features a sign that shows where you can take a picture with both the mountain range and the lake in the background for a nice souvenir photograph. In addition to its view of Lake One, the boardwalk also offers visitors a glimpse of the Sea of Okhotsk.
This is how it looks when the weather's nicer!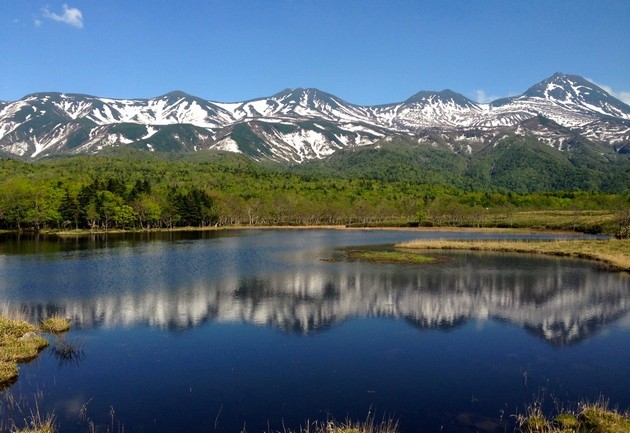 Breathe in the calm of nature
The guided tour is a marvelous attraction suited for men and women of all ages, where you can enjoy the calming peace of the forest at a leisurely pace.
Chatting with the guides was another wonderful point in the tour's favor. Mr. Shibata said, "The sun's position is best in the afternoon if you want to take pictures of the lake. The forest springs to life when the seasons are getting ready to change, so it's fun to visit then, too!"
The forest, mountains, lakes, living creatures, and encounters with other people… The guided tour of Shiretoko has so much to offer, we sincerely recommend it!
Corporated and conducted optional tour by :Shiretoko Nature Office
Shiretoko Goko Lakes round tour; Adults(above junior high school- Age 13~):JPN 5,000 YEN(≒46.79 USD) Elementary school students(above age seven~):JPN 3,000 YEN(≒28.07 USD)
TEL: 0152-22-5041
Things to know about hiking in Shiretoko

Reserving your Tour
On the homepage for Shiretoko Goko Lakes, you'll find a list of companies that offer guided tours detailing their dates, times, and prices. For your convenience, each tour also lists available vacancies and introductions to each of their guides.
・Reservation for Shiretoko Goko Lakes Tour
・Nature Guide List for Shiretoko Goko Lakes
You can also book optional tours of Shiretoko's various locales with a travel agency, or sites that specialize with optional tours in general.
・Japanese Activity Booking Site:TABI PLUS ONE
Appropriate things to wear and bring during the tour
Make sure you're comfortable on your tour by wearing things appropriate for the season on your hike. For more information, Shiretoko Goko Lakes' website features a handy guide of ways to dress according to the season!
Traveling to Shiretoko Goko Lakes
From Shiretoko to Shiretoko Goko Lakes, guide tour guests can use a shuttle bus from Shiretoko; if not, the park is easily accessible by either car or bus. But keep in mind the traffic is especially bad during O-bon and long holidays, so the shuttle bus may be a more convenient option.
Can you visit Shiretoko Goko Lakes any time of the year?
Shiretoko Goko Lakes is closed during winter due to snow. However, it usually stays open through most of November, snowfall allowing.
Shiretoko Goko Lakes used to be closed during winter, but in recent years, smaller groups can enjoy a "Winter Tour of Shiretoko Goko Lakes" that lasts from late January into late March.