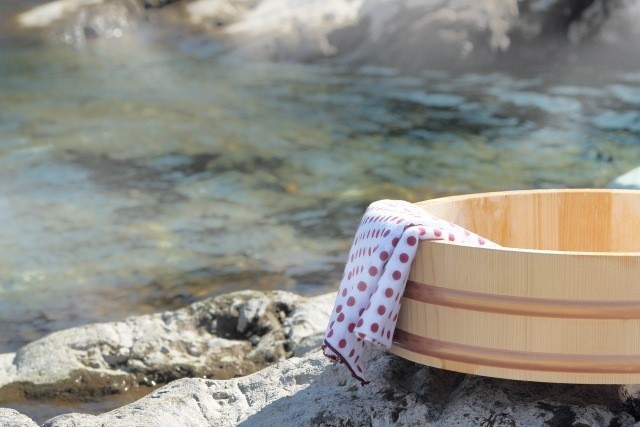 Touring through Hot Springs is one of the more popular parts of Hokkaido tours.
Fitting for a place that boasts the most number of hot springs in Japan, Hokkaido houses many attractive Onsen places such as famous springs that represent Japan and hot spring villages loved by the locals as a place of rest; there are even mystical baths only known to experts!
Among the greatest joys of Hokkaido's hot springs is that you can enjoy the great outdoors while being fully satisfied by warm hot springs.
However, Hokkaido is still a large, large place; there are only so many hot spring villages you can go to during your travels!
So on this occasion, let us introduce 7 best and popular Hot Spring picks heavily recommended for your first Hokkaido travel. We will also fill you in on their locations, commendable points, as well as the properties and effects of their spring waters!
<TABLE OF CONTENTS>
1. Jozankei Hot Springs
2. Noboribetsu Hot Springs
3. Toyako Hot Springs
4. Sounkyo Hot Springs
5. Akanko Hot Springs
6. Tokachigawa Hot Springs
7. Yunokawa Hot Springs
In Conclusion
1. Jozankei Hot Springs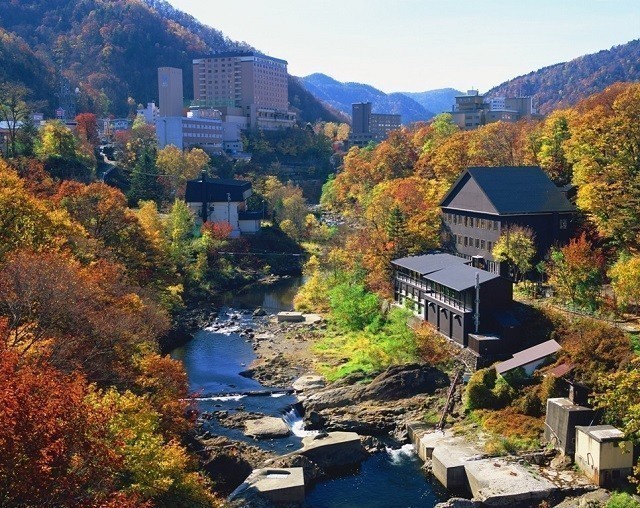 Jozankei Hot Springs is located in Minami-ku, Sapporo. It is approximately 26 kilometers south from the city district of Sapporo, located in the premises of the nature-rich Shikotsu-Toya National Park. From way back when it has been loved as Sapporo's outskirt hot springs village.
This hot springs village is spread along a valley that is upstream of the Toyohira river running through the central region of Sapporo City; this enables you to fully enjoy the beauty of the great outdoors, season to season!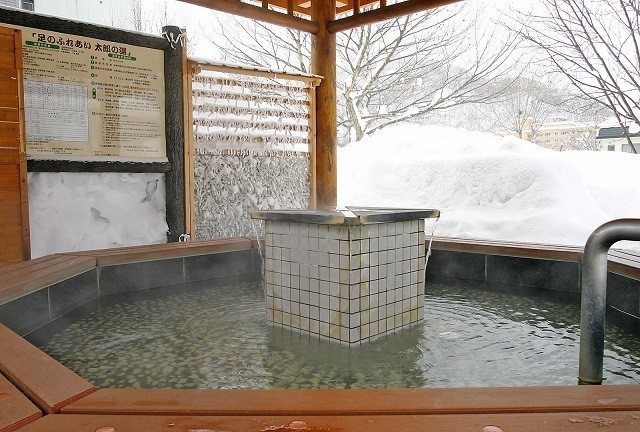 Jokanzei Hot Springs has 56 spring sources. Most of them flow out naturally from the riverbank and riverbed of Toyohira River that runs in the hot springs village.
Its colorless and soft-textured hot springs is one of the more popular spring water qualities, and the sodium chloride springs offers a salt and spicy flavor.
If you submerge yourself in the hot springs, the salt in the water will stick to your body and prevent your sweat from evaporating, keeping your body warm.
It is said that it has other therapeutical effects, such as lessening the symptoms of neuralgia and muscle cramps, as well as maintaining the health of the digestive organs.
*Jozankei Hot Springs Commendable Points*
– Easily accessible Onsen, near the heart of Sapporo!
– Abundant amount of spring water, for a large scale Onsen resort!
2. Noboribetsu Hot Springs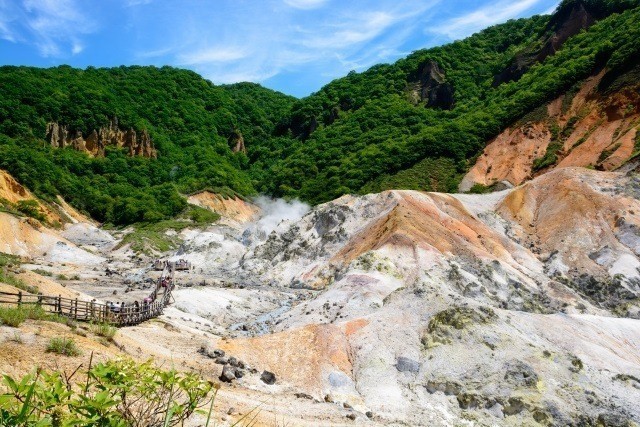 "Noboribetsu Hot Springs", located in Noboribetsu City, is an hour away from the New Chitose Airport via the highway and boasts excellent accessibility; tourists, both domestic and overseas, visit it in droves.
Nearby are tspots where you can really feel the dynamic outdoors of Hokkaido, such as the Jigokudani Valley, an explosion crater formed by a volcanic eruption and the hot springs of Oyunuma flowing from the river-bottom. There are also theme parks and attractions such as the Marine Park Nixe and the Noboribetsu Datejidai Mura (historical village theme-park).
This is a hot springs village that can be enjoyed by anyone regardless of age, and is a hearty recommendation for your first travel in Hokkaido.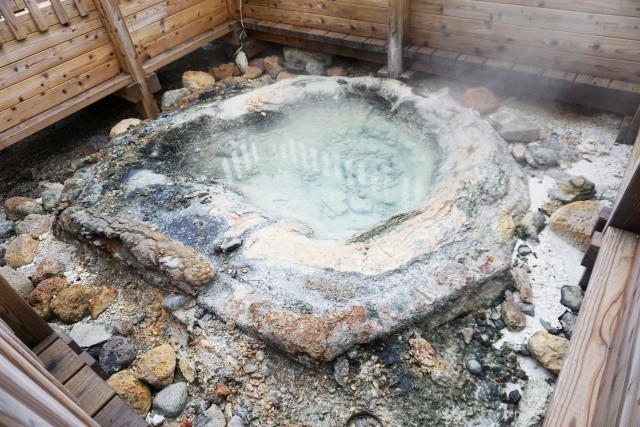 The abundance of spring water quality is without a doubt Noboribetsu Hot Spring's strong point. Starting with its milky-white sulfuric hot spring that has its own distinct aroma, Noboribetsu Hot Springs has 9 different types of hot springs; it owes its nickname of the "Onsen Department" because of that.
Other than day-trip onsen baths, this hot springs village also has Sento (communal bath houses), for springs tours!
*Noboribetsu Hot Springs Commendable Points*
– Hokkaido's Representative Onsen Resort! Abundant Selection of Hot Spring Types!
– 1 hour by car from New Chitose Airport!
3. Toyako Hot Springs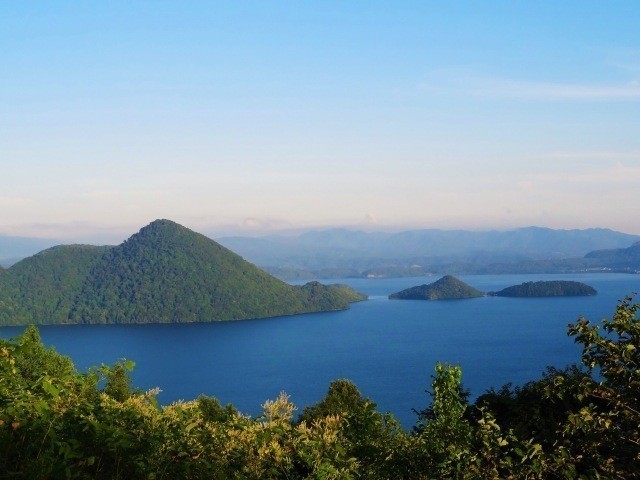 The Onsen inns of "Toyako Hot Springs" stand in rows that it looks like they are surrounding the banks of Lake Toya. Many Rotenburo (open-aired baths) offer a view of Lake Toya and Mount Usu, and the Onsen resort of Toyako Hot Springs boasts many vistas that are pre-eminent even within Hokkaido.
Toyako Hot Springs also boast attractive Lake Toya activities and local gourmets. Offering good accessibility by being 90 minutes by car from New Chitose Airport, it lets you enjoy a resort-like experience!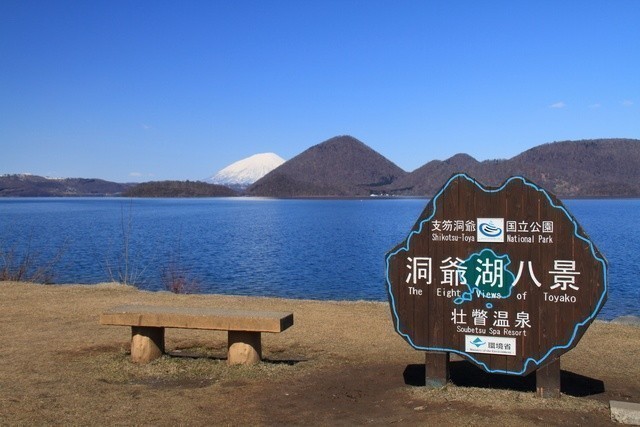 Toyako Hot Springs is a sodium chloride-based hot spring (neutral hydroponic spring water). It is said that it has the therapeutic  effects of lessening neuralgia, joint pains and fatigue.
If you submerge yourself in the springs while taking in the absolutely scenic sight of the beautiful Lake Toya and the large Mount Usu, then the fatigue of your travels is guaranteed to be blown away!
*Toyako Hot Springs Commendable Points*
– Popular Onsen District with Beautiful Lake View!
– Fireworks everyday from the third part of April till October!
4. Sounkyo Hot Springs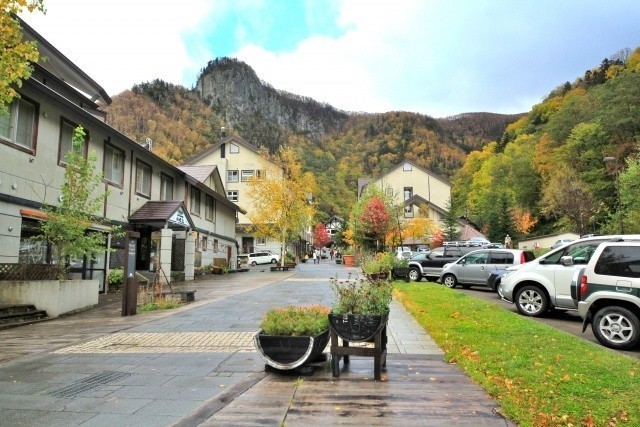 Sounkyo Hot Springs is located 1 hour and 30 minutes from Asahikawa Airport by car. It is at the foot of Daisetsu-zan and is surrounded by a smattering of spots where you can enjoy Hokkaido's representative vistas and outdoors.
In the central town of the Hot Springs there is a "Canyon Mall", an establishment based on the mountain resorts of Canada, imparting western atmosphere uncharacteristic of an Onsen district.
There are many inns that has Rotenburo (open-aired baths) where you will be able to take in the sight of the Daisetsu-zan mountain ranges, allowing you to enjoy a sense of spaciousness while being embraced by the great outdoors!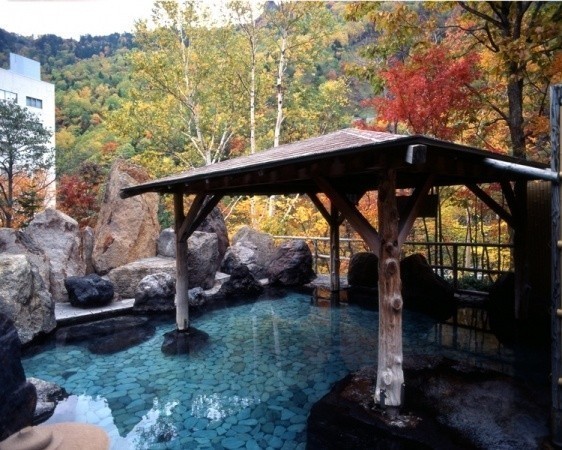 The spring types of Sounkyo Hot Springs are simple spring water and sulfuric spring water. There are over 60 spring sources and the springs are colorless. It is effective for rheumatism, diabetes, high blood pressure and skin diseases. The low Alkaline-type hot springs have low intensity, making it safe for children and people with vulnerable skin.
*Sounkyo Hot Springs Commendable Points*
– You can enjoy Japan's earliest Autumn leaves here at September!
– The peak-winter event, the "Sounkyo Onsen Hyoubaku Festival", is also a hearty recommendation!
5. Akanko Hot Springs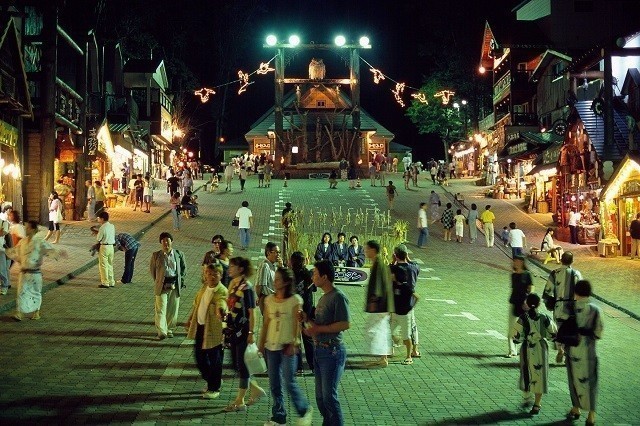 The representative Onsen district of East Hokkaido is "Akanko Hot Springs", located in Kushiro-shi Akan-cho. It is the habitat of Marimo Natural Monuments and there are around 150 hot spring facilities and associated establishments at the southern side of Lake Akan's riverbank, which is known for having a deep sea of trees.
The place we heavily recommend you pay a visit to would be the Ainukotan, an Ainu settlement right beside the Onsen village. Other than a spectacle of traditional Ainu dances you can also enjoy other cultural treats such as the Ainu Seikatsukan, a museum that replicates an Ainu Homestead.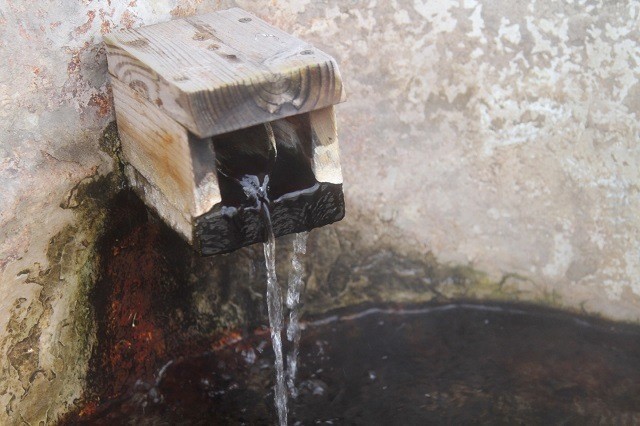 Akanko Hot Springs' spring types are simple springs and sulfuric springs. It is said that they therapeutic effects for neuralgia, poor blood circulation, fatigue, rheumatism, chronic digestive problems and hemorrhoids. There are also hand-baths and foot-baths at the Onsen district, perfect for breaks mid-way through your strolls!
*Akanko Hot Springs Commendable Points*
– A lake surrounded by deep forest. Bask in the great outdoors!
– In the winter, there are events and activities atop the frozen lake! Fireworks too!
6. Tokachigawa Hot Springs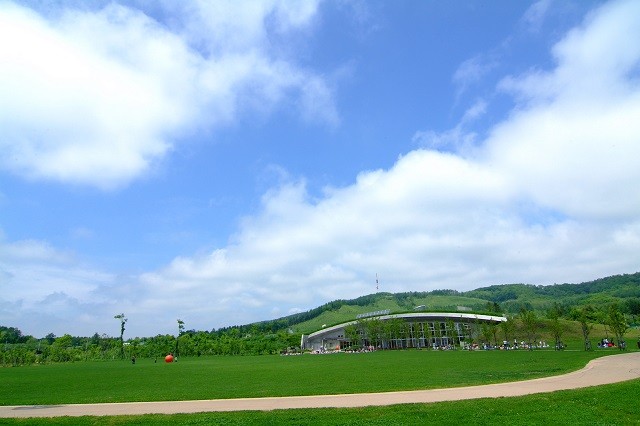 "Tokachigawa Hot Springs" is located in an area 20 minutes by car from the heart of Obihiro city. It is located at the banks of Lake Tokachi that runs in the Tokachi Plains, boasting an idyllic surrounding with rolling sights such as barns and farm fields. Near the hot springs run the Hokkaido Expressway, offering an excellent access to hot-spots within the prefecture.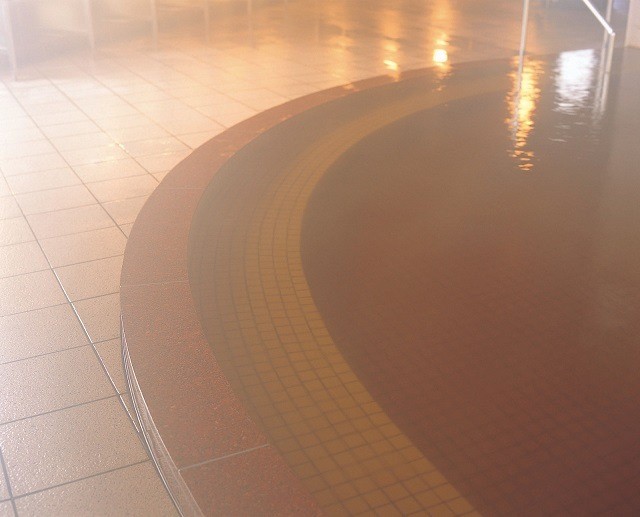 Tokachigawa Hot Springs is a Moor-type spring, said to be rare even across the world. Moor-type springs are hot springs which contain many organic components of plant life. It is said that the plant life that grew in the banks of Tokachi River accumulated overtime and passed through the deep, heated underground bed of the Tokachi Plains before flowing out.
The brown-colored moor springs is distinctive for its slick texture. The moisturizing effects are quite high, and the way it makes the skin velvety smooth after a submersion makes it very popular for women.
*Tokachigawa Hot Springs Commendable Points*
– Precious and unique moor-type spring, recommended especially for women!
– Many delicious food to be had, such as gourmets, sweets and dairy products!
7. Yunokawa Hot Springs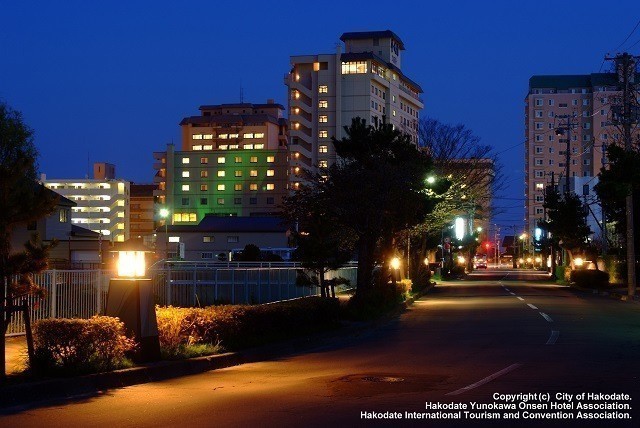 "Yunokawa Hot Springs" is located in Hakodate. Though hot springs are usually on the outskirts of cities, Yunokawa Hot Springs is quite different; it offers good accessibility from Hakodate Station and Hakodate Airport, and can also be used as the main location for sightseeing trips.
In the vicinity of the Hot Springs district there are tourist spots such as the Hakodate Tropical Botanical Garden, where Japanese Macaques can be found bathing , as well as the Kosetsu-En Garden which is famous as a hot-spot for cherry blossoms and autumn leaves.
It can be enjoyed throughout the seasons; for example, in the summer, the luring-fires of boats fishing for squids are available for viewing and there are also firework festivals.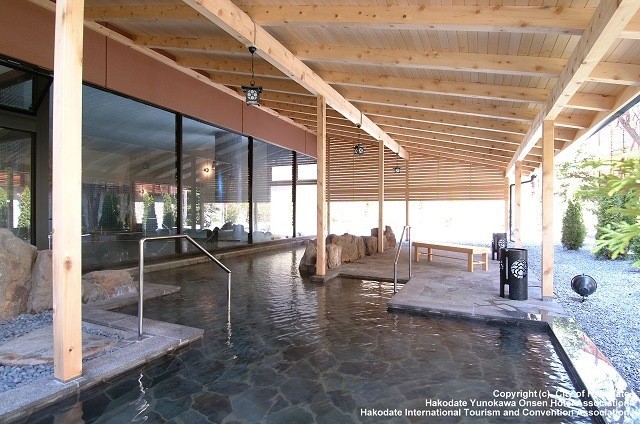 Yunokawa Hot Springs is a Sodium Chloride-type hot spring (neutral hydroponic spring water). It has therapeutic effects for neuralgia and joint pain, as well as helping fatigue recovery. The waters are incredibly warm and keep you from getting chilly after bathing. Yunokawa Hot Springs faces the Tsugaru Coast; a view of the sun setting in the Tsugaru Strait while enjoying an Onsen bath might be the height of luxury!
*Yunokawa Hot Springs Commendable Points*
– Within 10 minutes by car from Hakodate Airport!
– Good location for Hakodate tourism and viewing Hakodate's night sceneries!
In Conclusion
We have now introduced the 7 recommended Onsen districts for your first trip in Hokkaido.
All of the hot springs have comparatively excellent access, and they are also replete with tourist spots other than the hot springs. Please visit them whenever you are on a trip to Hokkaido!