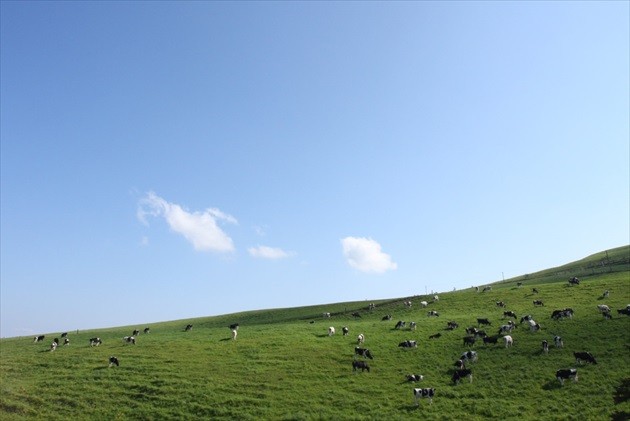 The Tokachi region has the most "Hokkaido-like" flavor.
Steep mountains of the Tokachi range in the west; valiant peaks of Daisetsu to the north.
In addition to this amazing landscape, rich produce and delicious sweets are plentiful no matter which season.
However, with so many highlights perhaps there are many people who can't choose what spots they should see.
This time we introduce Tokachi's tourist spots.
Here are some recommendations that everyone from repeaters to first time visitors to the Tokachi region can enjoy.
Please use this as a reference when you travel to Tokachi.
Contents
1. The Tokachi Region
2. Tokachi Tourist Spots
2-1. Lake Shikaribetsu
2-2. Rokka Forest
2-3. Lake Onneto
2-4. Nissho Pass
2-5. Naitai Plateau Farm
2-6. Ikeda Wine Castle
Onsens (Hot Springs) of the Tokachi Region
3-1. Tokachigawa Onsen
3-2. Nukabira Onsen Village
4. Cuisine of the Tokachi Region
4-1. Hageten
4-2. Ryugetsu Sweetpia Garden
In Closing
1. The Tokachi Region
The Tokachi region is just a part of Hokkaido, but its total area exceeds 10,000 km2.
As one of the Japan's leading farm belts, its food production self-sufficiency rate exceeds 1,000%.
It is where the expansive landscapes that most travelers picture as "Hokkaido" are.
This region which centers around Obihiro is a land overflowing with Hokkaido-like tourist resources.
The Mount Daisetsu mountain range to the north is a tourist spot with much untouched nature.
In the south, the endless farmlands and vast pacific ocean are nearby. It would take three days to see it all.
2. Tokachi Tourist Spots
2-1. Lake Shikaribetsu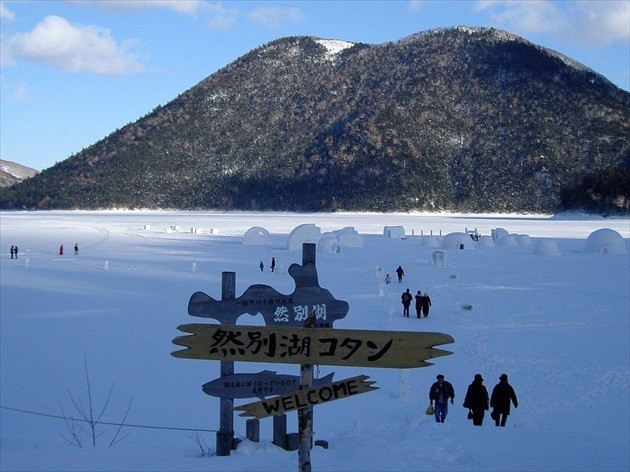 Photo Credit byHokkaido Free Picture Sources:DO PHOTO

With a surface 800 m(≒2,624ft)above sea level, this beautiful lake is on Hokkaido's highest spot.
The unique subarctic forest serenely covers the area. Here you can enjoy Hokkaido's nature all year long through various activities.
The protected species Miyabe Char live below the deep navy blue surface of the water .
Rainbow Trout and various other fish also live here.
The rainbow trout can be also viewed from the shore while canoeing or rafting.
In the summer, there is more nature than you can experience in a day.
In the winter, you can explore the forest with a guide and experience the charm of Shikaribetsu Lake.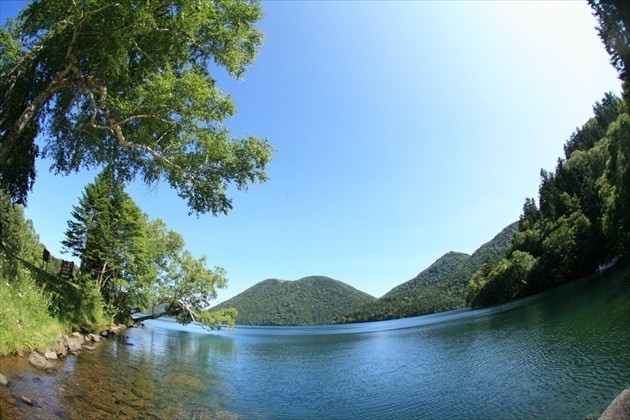 Speaking of winter fun, the Lake Shikaribetsu Kotan is a famous ice village that spreads across the lake's surface.
Here you can experience the extreme arctic cold of a polar region that reaches -20℃(≒-4°F).
It is a spot you can enjoy whenever you come, no matter how many times you come.
【Spot Information】
Address:Kitaurimaku Katogun Shikaoicho, Hokkaido081-0344 Japan
TEL:0156-69-8181
2-2. Rokka Forest
"Rokkatei" is considered as the representative of Hokkaido's confectioners.
This confectionary maker, whose birthplace is the Tokachi region, maintains the Rokka Forest, a nature inspired garden.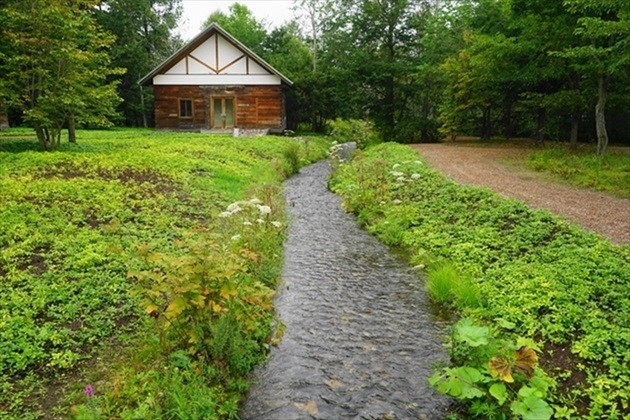 Photo Credit:PIXTA
Here, the representative flowers of Tokachi grow wildly.
This garden that is most vigorous in the summer has an area of 10ha.
This large-scale garden is like a forest.
The Tokachi Rokka, or six flowers of Tokachi ( gentiana triflora, rosa rugosa, trillium camschatcense, erythronium japonicum, marsh-marigold, and glaucidium) soothe the soul of anyone who sees the appearance of their proud blossoms.
An old Croatian folk house reconstructed as a museum is located in the middle of the forest.
You can enjoy a piece of Tokachi captured on canvas while taking a stroll.
It is a popular spot in the vicinity of Obihiro, so you should definitely check it out.
【Facility Information】
Rokka Forest
Address:Tokiwaki nishi 3 sen 249-6 Kasaigun Nakasatsunaimura, Hokkaido 089-1367 Japan
TEL:0155-63-1000
Opening Hours: 10:00~17:00 / 10:00~16:00(October)
Holidays:The middle of October to the late of April (Winter season will be closed)
Access:15 minutes drive from Tokachi・Obihiro Airport, 40 minutes drive from JR Obihiro Station
Parking Lots:50 spots
Admission Fee:Adults – JPN 800 YEN(≒USD 7.63) / Elementary・Junior High school – 500 YEN(≒USD 4.77)
2-3. Lake Onneto
[[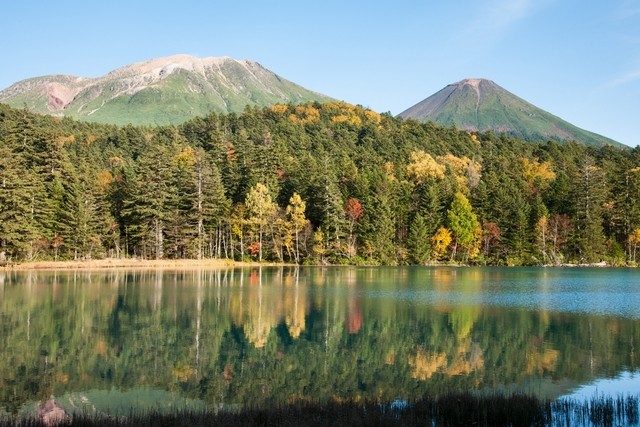 Photo Credit:PIXTA
The town of Ashoro is also in the Tokachi region, located in the northern part. It is a key transportation point with many people coming and going.
Although it is called the "mystic beauty," there are few visitors on the ground, and it has come to be called the hidden region.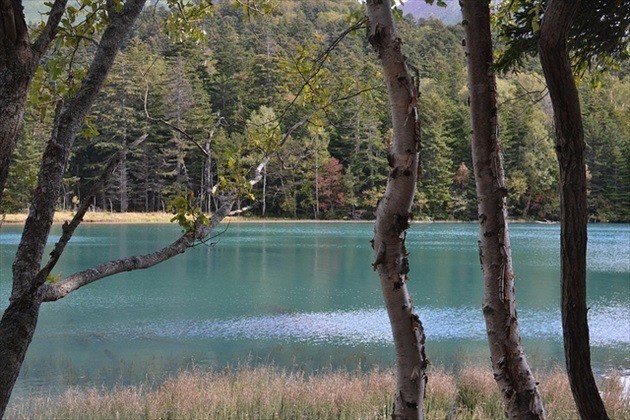 Photo by Flickr: Onneto / nikunoki
Its attraction is the beauty of the ever changing surface of the lake.
From the season of fresh greenery to the crimson foliage of autumn, an instantaneous change of lighting and the shade of the clouds, the colors change dramatically.
It is widely admired among the locals because you can see a different colored lake no matter how many times you visit.
Another name is "The Five Colored Pond" because it changes colors five times a day.
Through volcanic activity and the movements of complex bacteria,the colors are different even within the same lake.
Through the interplay of light and shade, a breathtaking display can be seen often.
In recent years, the local roads have been well maintained and its popularity is rising.
Your heart will be drawn into those colors that change from moment to moment.
【Spot Information】
NPO Ashoro Tourism Association
Address:Kita 1 jo 1-3 Ashorogun Ashorocho, Hokkaido 089-3701 Japan(Roadside station – Ashoro Ginga hall 21)
TEL:0156-25-6131
※Lake will be frozen during winter break
2-4. Nissho Pass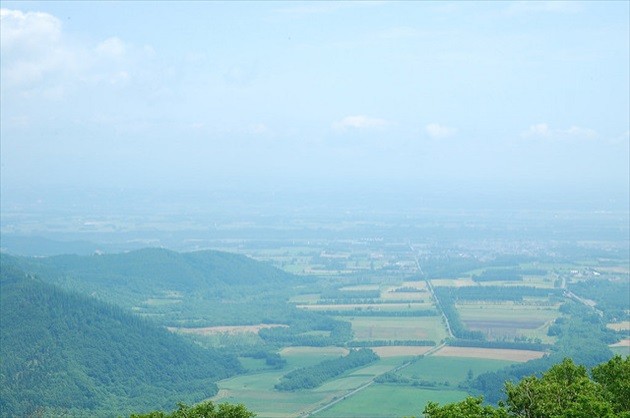 Photo by Flickr:Nissho Pass/sendaiblog
Nissho Pass is the bottleneck point of National Road 274 which connects Hidaka and Tokachi.
Even though a highway has since opened, it is an important transportation point.
There is the Nissho Pass No.1 Observatory on your way. From a height of 740 m(≒2,427 ft) on the mountain.
You cam see a panoramic view of the Tokachi plain.
In clear weather, You can enjoy watching the panoramic view of Akan.
That isn't the only appeal.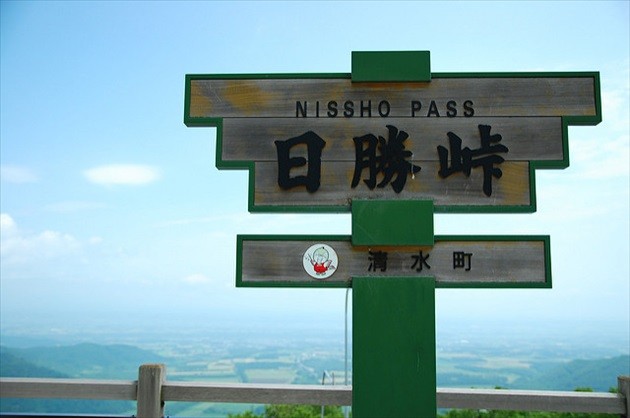 Photo by Flickr:Nissho Pass/sendaiblog
When the rain clouds are low, you can also see the Tokachi plain covered in a sea of clouds.
In the evening, we especially recommend seeing Tokachi set against the evening sun.
2-5. Naitai Plateau Farm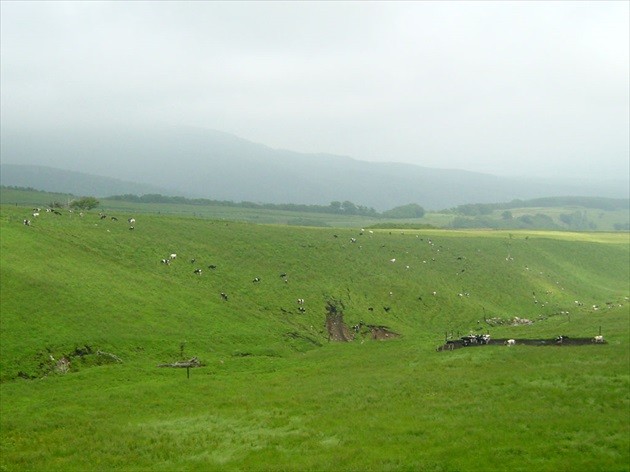 Photo Credit:Hokkaido Free Picture Sources:DO PHOTO

The Naitai Plateau of Kamishihoro Town is said to be the No. 1 tourist spot of Tokachi plain.
Here the cows leisurely graze on grass at a farm boasting a total area of 1,700ha.
On distant pastures, you'll see tiny grains the shape of dairy cows, and feel the grand scale of it all.
When you follow the road through this farm to the peak, there is an observatory.
In clear weather, the mountains of Akan and the super-sized man made patchwork of the fields of Tokachi Plain spread out before your eyes.
It embodies the image of "Hokkaido."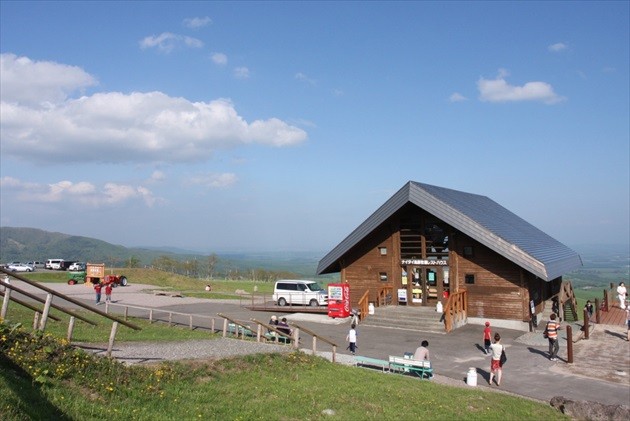 The plateau's height is about 800 m(≒2,624 ft) and winter clothing is necessary even in the summer.
At the rest house on the peak, you can catch your breath over delicious coffee and soft ice cream.
It is a must see tourist spot of the Tokachi region, so definitely go for a visit.
【Spot Information】
Naitai Plateau Farm Rest House
Address:Kamiotofuke 85-2 Katogun Kamishihorocho, Hokkaido 080-1407 Japan
TEL:090-3398-5049
Opening Hours:10:00-17:00
2-6. Ikeda Wine Castle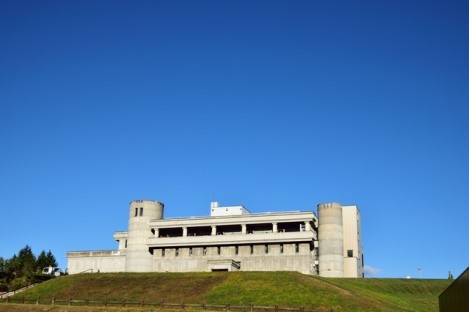 Photo Credit:Ikeda Wine Castle
For the residents of Hokkaido, Tokachi is full of attractions like the "summer fireworks display," and the "fall harvest festival," etc.
But if you drive there, you should definitely enjoy some shopping.
Among the agricultural products, animal products, and sweets, this wine castle is one of the places which you shouldn't miss.
Ikeda Wine Castle is located east of JR Ikeda Station, on the Kiyomi riverbank.
It is a historical building constructed in 1974.
On the tour course you will see the underground maturation barrels, and tour the factory.
The guided tour is recommended if you have extra time.
You can fully explore the insides of a winery that can't usually be seen.
After finishing a quick tour, head to the first floor shop for wines only sold in this area.
Buy something you liked at the free wine tasting corner.
Along with a faint sweetness, the rich scent of grapes lingers.
The cost performance of any of these wines is outstanding.
After looking around, enjoy the sunset from the observatory on the roof.
This is the only spot in the Tokachi region famous for its sunset.
【Facility Information】
Ikeda Wine Castle
Address:Kiyomi 82 Nakagawagun Ikedacho, Hokkaido 083-0002 Japan
TEL:015-572-2467
Opening Hours:9:00~17:00
Opening Terms:All year round
Holiday:New Year's Term (around December 30th to January 3rd)
3. Onsens (Hot Springs) of the Tokachi Region
3-1. Tokachigawa Onsen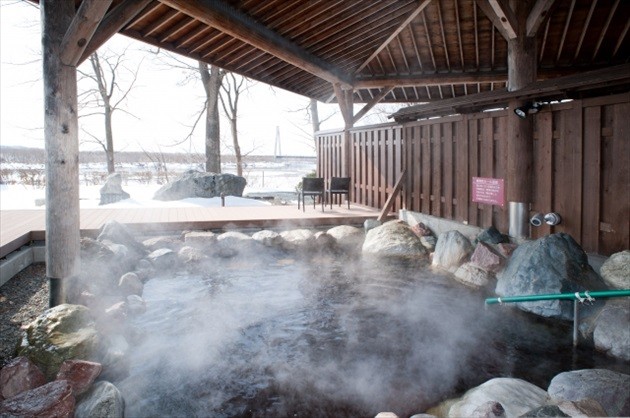 ~Kangetsuen with its signature open-air spa~
Eastern Hokkaido with its vivacious volcanic activity has a dense concentration of quality Onsen.
Among these, Tokachigawa Onsen is popular with women.
This is a moor Onsen with a plant-based water quality.
In the worldwide, this is a rare quality, and also called Bijin no Yu (hot spring for beauty) because it makes the skin beautiful.
This spa town is great because you can choose from reasonably priced lodgings to high end Japanese Inns.
Sanyoan is a high end Japanese inn with only 11 rooms.
It is distinguished by the meticulous service provided to each room.
When on vacation, this one is recommended for those who want to immerse themselves in the feeling of Tokachi to their heart's content.
Hotel Daiheigen is a large scale lodge.
As such it has various spas, a buffet using rich Tokachi ingredients and so on; it is a hotel big enough to make everyone's needs.
Or try Kangetsuen with its refined open air spa facing Tokachi.
Any of these facilities are of a high caliber second to no other spa town in Hokkaido.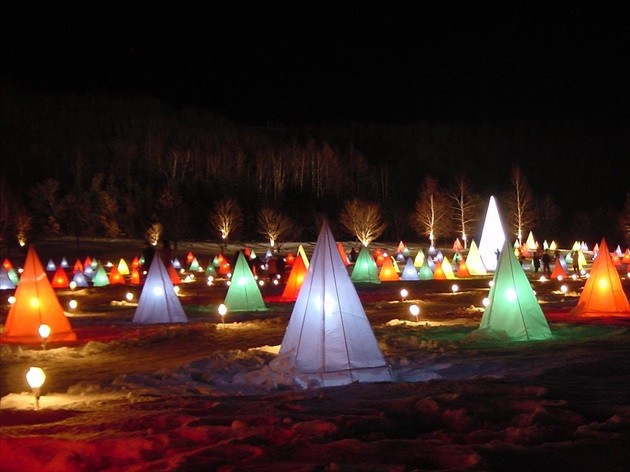 Photo Credit:Hokkaido Free Picture Sources:DO PHOTO
【Spot Information】
Otofukecho Tokachigawaonsen Tourism Association
Address:Tokachigawaonsenminami 12-1 Katogun Otofukecho, Hokkaido 080-0263 Japan
TEL:0155-32-6633
3-2. Nukabira Onsen Village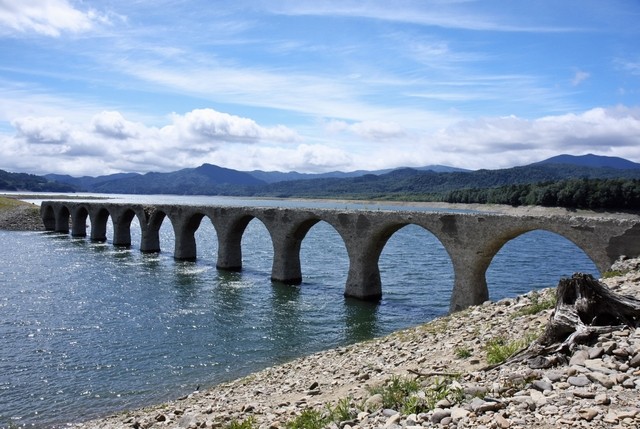 Photo Credit:PIXTA
In the northern part of Tokachi, called Higashidaisetsu, is the Nukabira Onsen Village.
Lake Nukabira is in the area and is famous for its phantom bridge, "Taushubetsu River Bridge," that is only visible during the season when the water level is low, approximately January to June.
Then, heading north from here, there is a spa town blessed with the beautiful landscape of "Mikuni Pass," etc.
There are many old-fashioned onsens, and in the summer motorcyclists come in large numbers.
It is possible to make a day trip to each of the onsens, making a circuit of the spas.
As a onsen area nestled in such a vast wilderness of mountains, the open air spas are also very primal and you can feel the oneness with nature.
The water is a sodium spring at a somewhat hot temperature of about 50℃~60℃(≒122°F~140°F).
The pension Fukurokan, although nestled in the mountains, boasts an abundant seafood menu.
The proprietress has fresh ocean catch shipped directly from her hometown of "Erimocho," and the overall level of satisfaction is very high.
Among the unique guest houses, Sankoso is famous in Hokkaido for its cavern spa.
It creates the ultimate fantasy mood.
A cottage that has a hot spring there is Primal Stage. There is also a charter spa you can reserve and eat at the on-site restaurant.
It is a recently built cottage where you can even have a BBQ when it is raining.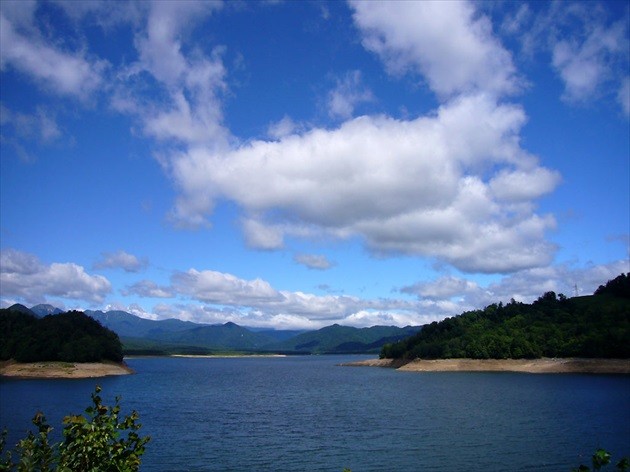 Photo Credit:Travel PHOTO
There are so many smaller lodges which each one has with its own personality. We recommend that people enjoy the hot springs in their preferred type of hotel.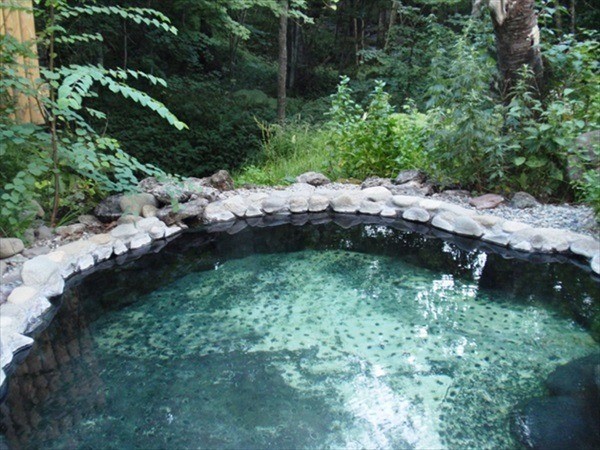 【Spot Information】
Nukabira Onsen Village
Address:Nukabiragensenkyo Katogun Kamishihorocho, Hokkaido 080-1403 Japan
TEL:01564-4-2224 (Kamishihoro Tourism Association)
Official HP:http://www.kamishihoro.info/
4. Cuisine of the Tokachi Region
4-1. Hageten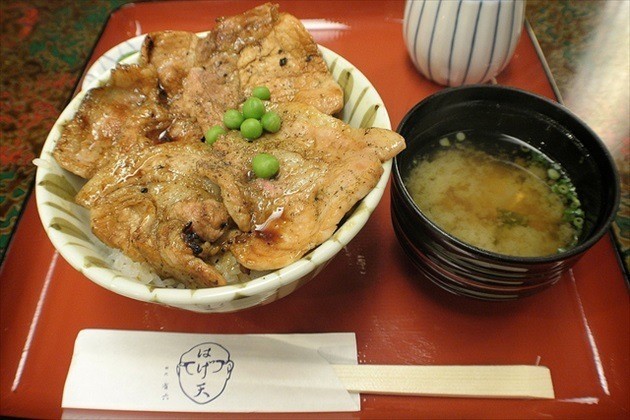 Photo by Flickr: Pork bowl. / MIKI Yoshihito (´・ω・)
Speaking of Tokachi cuisine, the rice bowl with pork is so popular that the best spots in Obihiro City always have a line.
Being such a simple dish, the sauce and the pork are very important.
Among that, "Hageten," is highly favored by the locals.
This gastric experience is only available at the "Hageten Main Shop at Obihiro."
It is highly acclaimed in the area for its authentic flavor of Obihiro and Tokachi.
To experience a taste available nowhere else makes your trip much more memorable.
As the fat drips away on the grill, it leaves a sweetness and flavor to the meat that is juicy and chewy, with a flame broiled aroma.
Taste it once and you'll become addicted.
【Facility Information】
Address:Nishi1jominami 10-5 Obihiro, Hokkaido 080-0011 Japan
TEL:0155-23-4478
Opening Hours:11:00~21:00 (L.O.20:30)
closing Days:Occasional
4-2. Ryugetsu Sweetpia Garden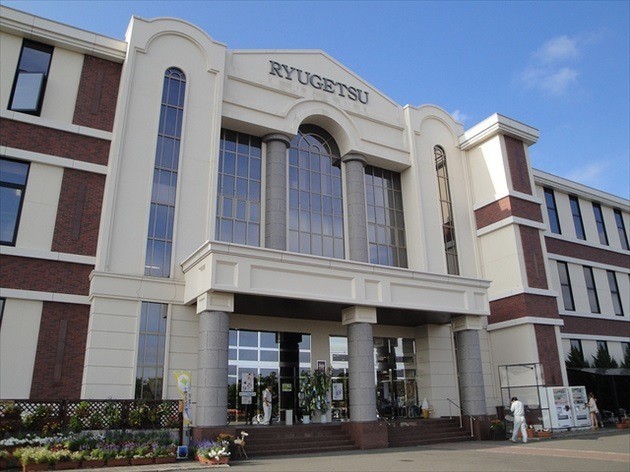 Photo by Flickr: Ryugetsu Sweetpia Garden / alberth2
From Obihiro heading to Tokachigawa Onsens by car, you will see the kingdom of sweets, "Ryugetsu Sweetpia Garden."
All the more because it is a tourist spot, it is so popular that on the weekend you have to wait for parking.
In Hokkaido, there are many baumkuchen cakes. Sanporoku is really popular for souvenirs and presents. It has moist, dense dough and various flavors to enjoy.
Not only for deliciousness, the cost performance is also great. You'll really feel like you got a bargain.
Not just a shop, on the 2nd floor, you can observe the manufacturing process.
It is a confection with many fans from inside and outside of Hokkaido.
Recently, the cakes "bite-sized pieces" are very popular.
If you are not sure about what to get for a souvenir, We definitely recommend it.
It has a good shelf life and creates a familiar Hokkaido aura.
At the comfortable cafe, you should definitely try the special menu "Garden Crepes."
The gentleness of Tokachi will melt in your mouth, this being the only place in Hokkaido where you can taste that gentleness.
【Facility Information】
Address: Shimotofuke North 9 West 18-2 Katogun Otofukecho, Hokkaido 080-0342 Japan
TEL:0155-32-3366
Opening Hours:
■Summer Term Opening Hours(third monday of April~November third)
Store:9:00-18:00
Cafe:9:00-17:00
Facility Tour:9:00-16:00
■Winter Term Opening Hours(November fourth~third sunday of April)
Store:9:30-17:30
Cafe:9:30-16:30
Facility Tour:9:00-16:00
Closing Days:Opens all year round
In Closing
How was it?
Actually, there are still many Onsens and restaurants we couldn't introduce this time.
We haven't introduced" Tomuraushi Onsen" with its secret water and "Tokachi Beef."
The "Shinmura Farm," famous for its milk jam also has a shop in the town of Kamishihoro.
In other words, there are still many other parts of Tokachi that you should visit.
The Tokachi region is a land you certainly won't regret visiting.
I hope this helps you find your favorite Tokachi tourist spots.